A Comprehensive Guide to Windows Backup and Storage Options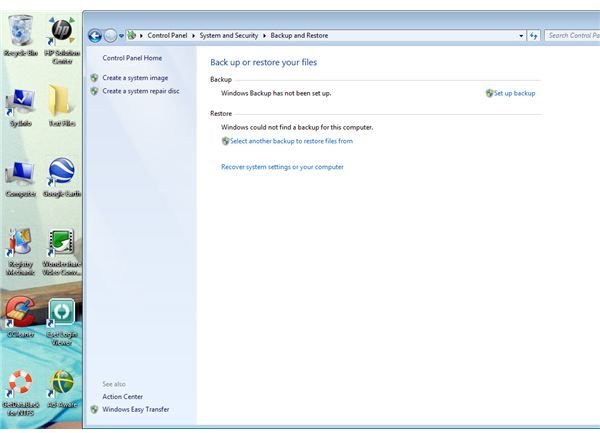 There are a wide variety of backup and storage options available in the Windows environment. One of the questions I hear most often from my users and customers is: "How do I decide which one is right for me?" Honestly, this question has no right or wrong answer, as long as you make a choice. This is especially true when it comes to backing up your Windows system. There are utilities built into the operating systems (Windows 95, XP, Vista, and 7) that are quite good for basic backup functions. You can also choose between a variety of feature-rich freeware and retail options. This guide lists a number of resources that discuss these options and how to use some of them. The same type of problem exists when it comes to expanding the amount of storage available to you in your Windows environment. You can choose between external hard drives from companies such as Iomega and La Cie. If the data to be stored external to your computer's hard drive will need to be accessed by other people on your network on a regular basis, you can choose from a variety of Network Attaches Storage (NAS) options, or, you can choose to house your data on offsite servers known as clouds. This guide also contains references to informative guides that will help you decide which storage option is right for you.
Understanding and Using Windows Backup and Restore Utilities
Every version of Windows since XP has come with a utility for backing up and restoring your system. These utilities work perfectly well for most users as methods of protecting themselves against data loss in the case of system errors, data corruption, or other types of catastrophes that can leave the unprotected with no way to recover from the catastrophe.
Each of the three versions of Windows has certain differences in how the backup process is initiated and operates and what types of data are automatically included in the backup and which aren't. Knowing how to use the utility built into your particular version of Windows properly is key to creating the most complete and easiest to use backups possible.
Whether you have Windows XP Professional, Vista Home Premium, or Windows 7 Ultimate, you can learn how to work with the backup and restore utility included in your version of Windows.
Automating the Windows 7 Backup Process
Certain versions of Windows allow you to create enhanced types of backups such as incremental backups and automated backups. Knowing how to create an incremental backup allows you to simply change the data that has been updated since the last backup was created. Automated backups allow you to set the various parameters of the backup such as what data is to be backed up and when the backup process is to start so that you don't have to manually start them. Find out how to fine tune the Windows 7 Backup process to fit your needs.
Getting to Know Third Party Backup Solutions
Windows Backup and Restore Center is a great way to familiarize yourself with making sure you protect your data integrity by keeping regularly updated backups. However, these programs are severely limited in advanced backup features such as backing up over a network or to USB drives. Freeware third party backup solutions allow you to have finer control over the backup process. Multiple backup schedules are possible, as is creating a different type of backup during each of those schedules. These functions and others are available with some of the freeware backup utilities available for Windows. Learn about some of the more popular freeware packages.
Freeware backup programs provide more functionality than the Windows Backup and Restore Center. However, they also suffer from limitations. Retail backup packages such as Acronis True Image and Paragon Drive Backup are just two of the many different options you have available for retail backup products. Find out about these and other products, such as which ones are considered the fastest products on the market.
External Storage Options - Cloud or External Drives
In the early days of home computing, if you needed more storage capacity for your computer, you had to install another drive inside the case. For a while, this was fine. But now, data portability, or the ability to access your data from a number of locations, makes this impractical.
Cloud storage, or housing your data (and sometimes your network applications) offsite and making it globally accessible over the Internet, is growing in popularity. Learn about some of the more popular options for both the home and business user.
Migrating to the cloud, as it's called, may not be for you, or maybe you are the only one that needs access to certain data. If Internet-based storage options aren't to your liking, USB external drives may be just what you need. Iomega and LaCIe are two of the more popular makers of USB external drives. Find a comparison of some of the options both companies offer and review the specifications and features they have to offer.
Maybe you have data such as pictures and videos you want your whole family to have easy access to. Network Attached Storage (NAS) may be just the option for you. This option allows every family on the home network (whether wired or wireless) to map a drive they can access across the network. If you manage the settings in your router or modem properly, you can even access the data while on vacation over the Internet, securely. Get familiar with some of the NAS options available.
References
Screenshot supplied by author. All rights reserved.
The author has more than 10 years of experience in the computer industry.