Can You Master the Windows Control Panel?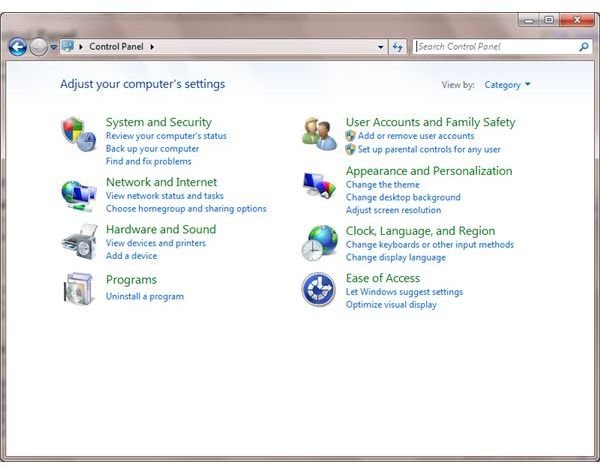 Mastering the Windows Control Panel
The Windows Control Panel is a vital cog in the successful running of your Windows computer. Housing the controls for connectivity options, power settings, security options like the Windows Firewall, regional settings and tools to add and remove software, it is also in the Windows Control Panel where you might find tools for managing user accounts and privileges and customizing your Windows desktop.
Before you start making changes to your computer, you'll first need to know where to find the Control Panel; and once you're up to speed on this, you'll need to be able to understand exactly what is going on there so that you can master it.
Managing Windows Connectivity Options
Problems getting online wirelessly or connecting to a Bluetooth device can be dealt with in the Windows Control Panel, where you will find access to tools designed to make the process easy, particularly in Windows 7. Thanks to improvements in the connectivity side of the operating system, changing your IP address, pairing with a Bluetooth device and setting up home networking in Windows has become extremely simple.
Windows Power Settings
Whether you want your PC to go to sleep when you press the power button or if you want to configure the monitor and hard disk drives to go to sleep after a specific idle period, you will need to access the power options in the Windows Control Panel.
These are very useful for establishing when your computer uses power; while they might be more commonly used on a laptop these controls also have their place on a desktop computer. For instance, using the hibernate/sleep mode on Windows 7 will allow you to quickly switch your computer on rather than sit through a long boot.
Managing Windows Security
One of the most important elements of any computer platform is security, and various tools can be accessed in the Windows Control Panel that enable you to configure how safe your computer is. Security Updates from Microsoft can be downloaded with Windows Update and you can also access the Windows Firewall.
Meanwhile you can use the Control Panel to enable and disable autorun on disks that you have inserted (optical or SD storage) to prevent malware from running,
Languages and Regional Settings
Most of us will be using Windows in English, but there are many other languages that you can use. Additionally, various regional settings can be configured via the Windows Control Panel that can make working overseas easier, which is particularly useful if you own a laptop and travel regularly.
Control Panel and Hardware
Whether you're printing or installing drivers, trying to resolve hardware issues or simply tweaking a display adapter (video card), the Windows Control Panel features all of the tools that you will need to complete these tasks. You might use the Control Panel to save a printer profile, for instance, or configure your video card to display a higher resolution on your Windows desktop.
Customize and Tweak Windows
Speaking of the Windows desktop, there are various configuration options hidden away in the operating system that can be accessed via the Control Panel, enabling you to change the desktop background, for instance.
You might enable or disable search indexing to speed up Windows 7, or even create a restore point before making any changes so that you can roll back. The Control Panel appropriately offers control over all of these elements.
Add and Remove Programs
One of the most regular reasons for any user to open the Windows Control Panel is to start adding and removing programs. Removing an app usually requires the simple Uninstall command, but for applications like Windows Live Messenger there are various options connected to this task.
Some programs require additional configuration once downloaded, and the Java Runtime Environment from Oracle is a good example of this. Once you have installed the software you must access it from the Control Panel in order to make the necessary changes for successful running.
The Power of Godmode!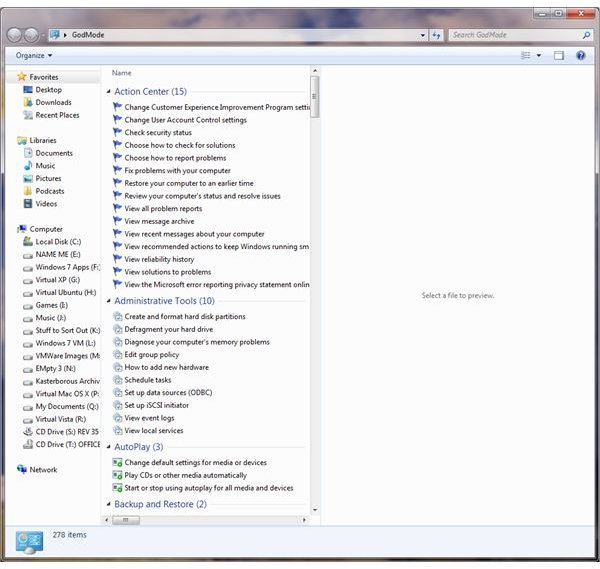 Standard Windows users may or may not have access to the Control Panel – it all depends on their profile and any group policies that have been applied.
However those that do have elevated rights will be able to access GodMode, a secret Windows 7 feature that allows users to access every single Control Panel item (and a few others) via a single desktop icon.
References