Virtual Private Networks in Business Environments - Wireless VPN Solution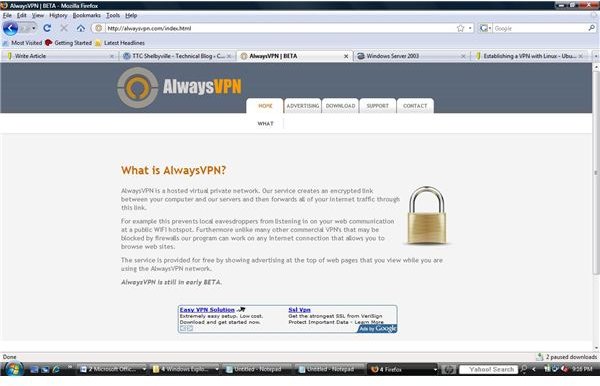 Mobile Users
With mobile users growing in small businesses, hot spots in hotels, coffee shops and restaurants can make the connection to the internet unsecure. With today's internet, wireless mobile users are more vulnerable than ever. AlwaysVPN creates a VPN protecting any connection, helping to create an encrypted network for the mobile user.
Download and Installation
AlwaysVPN supports vpn services for Windows XP and Vista, Mac and Linux. AlwaysVPN supports using the internet while being connected to your VPN.
With this install, we will look at the 1.8 mb download for Windows Vista. (The download for XP is only 1 mb) The download comes down as a zipped file. After extracting, you must right click and "Run as Administrator" in order to install. The installation is smooth and quick. Several virtual drivers are added and a warning of not changing the installation directory must be adhered to.
Installation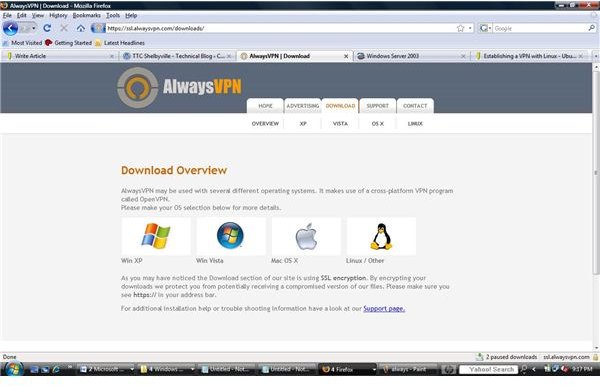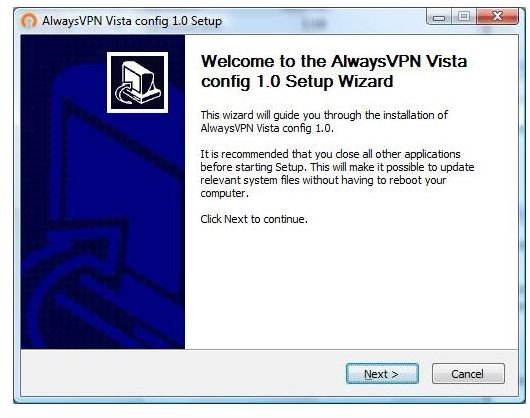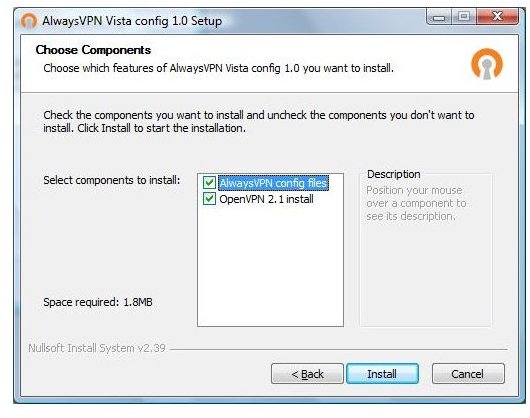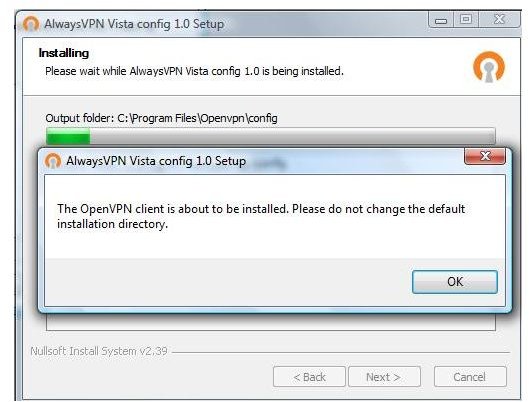 Installation Continued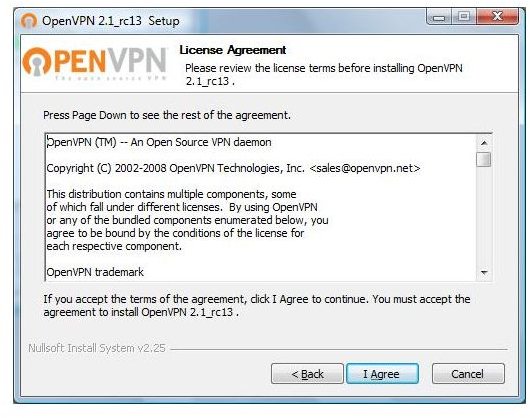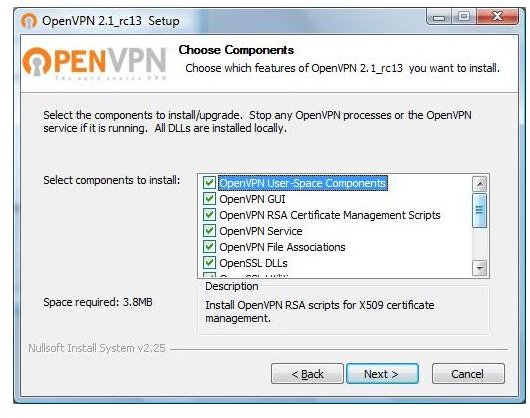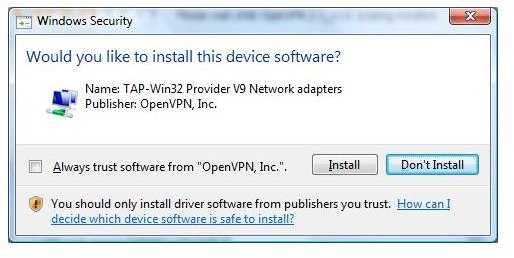 Connecting to a VPN
In order to setup AlwaysVPN in Vista, you must right click and Run As the Administrator. It is critical to run this so that the software can add routes to the routing table as necessary from the OpenVPN server. The OpenVPN GUI will run in the system tray as an applet. You will see an icon appear after the software has started. The icon will appear in the lower right corner of your desktop adjacent to the time.
To start, right click on the system tray icon. You will see the names of your OpenVPN configuration files, and have the option to connect. (The software also offers proxy options which are often overlooked in software.) The connection options offer UDP for fast connection or TCP (connection oriented).
Once connected, you are protected. Your data is encrypted and with AlwaysVPN there is no cap.
AlwaysVPN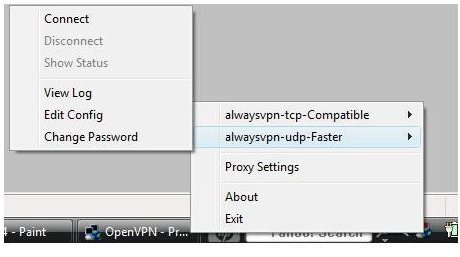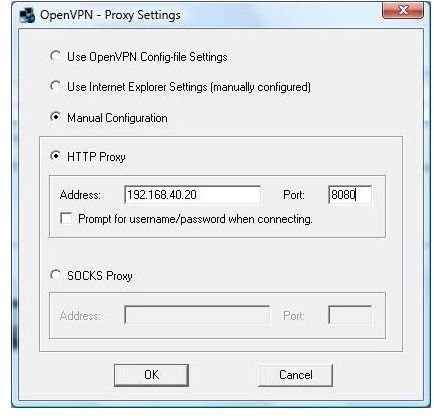 VPN Connection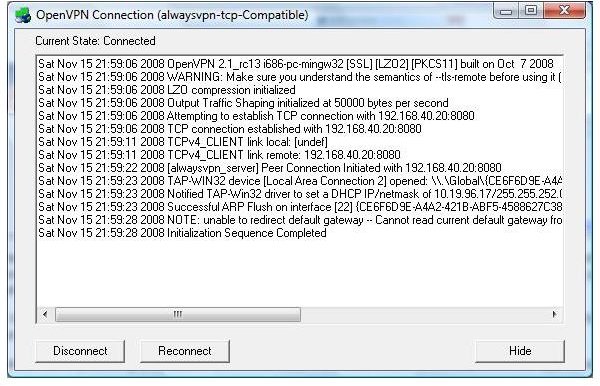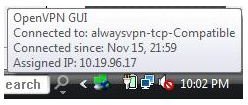 Conclusion
With most VPNs, you sometimes have to check your firewall settings if connections fail. VPNs can block outbound traffic or inbound traffic. The administrator should check any rules to ensure data is allowed out on specific ports. The most common port for a Virtual Private Network is TCP port 1723. Other ports such as ports 50 and 47 may be used if GRE and ESP are used. If ISAKMP is used, it may be necessary to open UDP port 500.
With AlwaysVPN, your connection is quick and fast. The only downside is small ads that appear at the top of your browser. Remember it is important to train users on how to use the VPN. Scripts can be added to map network drives to a desired server when using your VPN. This allows the user to have or share a folder on the server and ensures that whatever data is passed between the two is secure.
Remember VPNs play an important role in protecting your assets and critical data. With more mobile users than ever, this application can help protect these users.
This software is the easiest VPN Software to setup that I have found. The above steps which are normally taken, aren't always necessary with this software. The performance and user interface is awesome to be in beta format. AlwaysVPN is on the right track.
This post is part of the series: Virtual Private Networks in Business Environments
Virtual Private Networks provide encryption for your critical data while it is in transit to a server. This series gives a step by step tutorial on how to setup a VPN on Microsoft Windows Vista, Windows XP, Macintosh and Linux.