How to Configure Outlook Autosave Settings - Find Tips on Microsoft Office 2007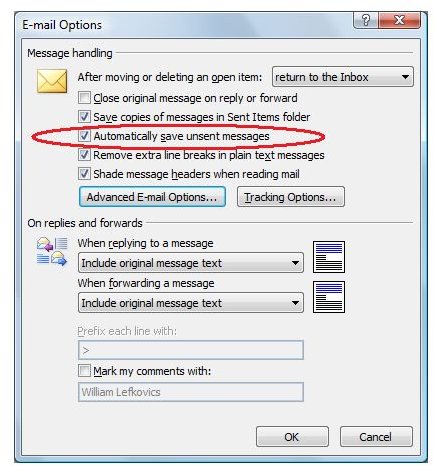 Configure Outlook 2007 Autosave
By default, Microsoft Outlook 2007 saves your unsent messages in the drafts folder if you do not send them within three minutes. They are autosaved to the Drafts folder every three minutes thereafter if changes are made. It also autosaves copies of calendar items, tasks and contacts being edited by the user but not yet saved after three minutes.
This default is reasonable for most people. Outlook offers some options for this setting nonetheless. Autosaving can be turned off completely. The frequency for saving items can be edited using the UI for any value in minutes from 1 through 99. Outlook also allows some control over which folder hosts these drafts. If the Drafts folder does not work for you, the other options are the Outbox, Sent Items and the Inbox folders. These changes are made in Outlook by navigating to Tools | Options and clicking the E-mail Options button on the Preferences Tab. Autosave can be turned off completely here by deselecting the box beside "Automatically save unsent messages" as shown in Figure 1. Click on the Advanced E-mail Options button to show the window seen in Figure 2. The setting circled in Figure 2 shows Autosave checked and the frequency set at the default of 3 minutes. Finally, Figure 3 displays the drop down box controlling the folder options to store unsent or unsaved items.
Screen Captures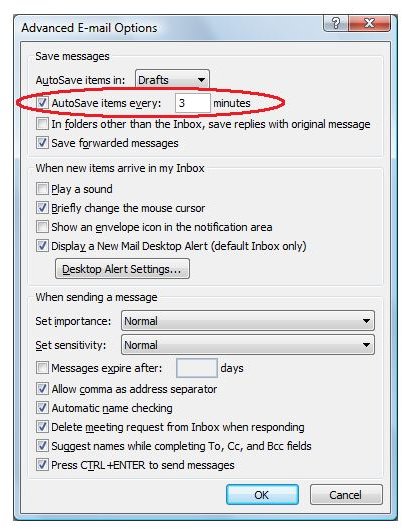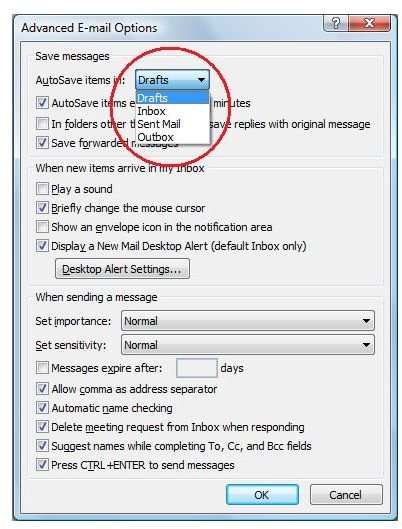 Registry Settings
These changes are made specific to the user in the registry. The DWORD values in hex are located as follows:
Autosave Time (default 3 minutes):
[HKEY_CURRENT_USER\Software\Microsoft\Office\12.0\Common\MailSettings]
"AutosaveTime"=dword:0000000e
Autosave Location (default Drafts):
[HKEY_CURRENT_USER\Software\Microsoft\Office\12.0\Outlook\Options\General]
"SAVE_LOC"=dword:00000010
For the SAVE_LOC for drafts, there are four options with their decimal DWORD values:
16 Drafts
4 Outbox
5 Sent Items
6 Inbox
While the defaults should be suitable for more, there is some control for others who may work with Outlook 2007 a little differently.
This post is part of the series: Microsoft Office Outlook 2007 Tips
A series of Tips and Tricks for working with Microsoft Outlook 2007 both as a user and an administrator.