Microsoft Outlook 2007 Tip #22 - How to Manage Outlook Add-ins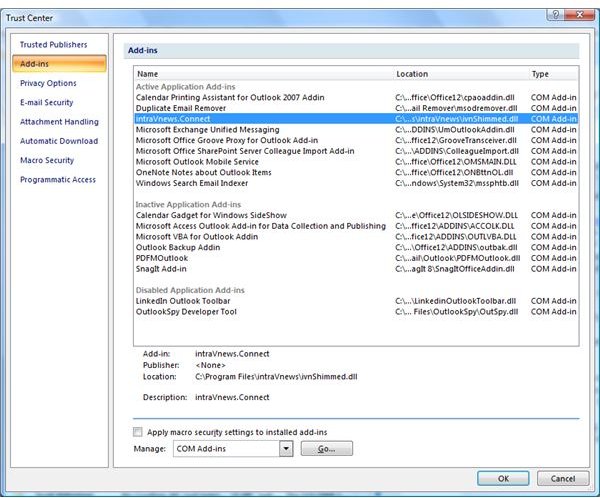 Managing Add-ins using the Trust Center
Outlook is extensible. Companies can compose add-ins to extend the feature-set of Outlook 2007. No matter what Microsoft puts into Outlook, there is always some features that are not in enough demand to include or just a different way of using the product creates a need. Whatever the inspiration, many companies have created Outlook add-ins for internal corporate use or for sale to those sharing the same need.
Not everyone makes add-ons to the same level of programming quality. Some add-ons cause problems for Outlook, especially in regards to memory use or application closing delays. Add-ins that cause issues can be manually blocked from loading with Outlook. This helps in troubleshooting performance issues, especially where multiple add-ins are involved.
Outlook 2007 has a new component called the Trust Center. Add-ins are managed within the Trust Center as shown in Figure 1. This is reached through Tools | Trust Center in Outlook and then selecting the Add-ins section. I have highlighted a COM Add-in that I installed and use regularly, which is an RSS Reader called IntraVNews. At the bottom of the window in Figure 1, there is an option Manage with COM Add-ins selected. Clicking Go will open a window like that shown in Figure 2. Again, I highlighted the IntraVNews add-in as an example. This add-in loads automatically with Outlook. If you deselect the checkbox beside an Add-in, it will not load with Outlook. This does not uninstall the add-in, only disable it. Sometimes the process of elimination can help identify what add-in is causing issues with Outlook (if Outlook itself doesn't tell you). You can also remove an add-in from this list using, of course, the Remove button. Most of the time, add-ins are installed applications that reside in this list.
Outlook MVP Robert Sparnaaij maintains a list of popular Outlook add-ins on his website, HowTo-Outlook.com. This is not a complete list, but certainly covers most of the retail add-ins out there in the marketplace.
Screenshots
This post is part of the series: Microsoft Office Outlook 2007 Tips
A series of Tips and Tricks for working with Microsoft Outlook 2007 both as a user and an administrator.