How to Configure AutoArchiving in Outlook - Learn All about Email AutoArchiving with these Microsoft Outlook Tips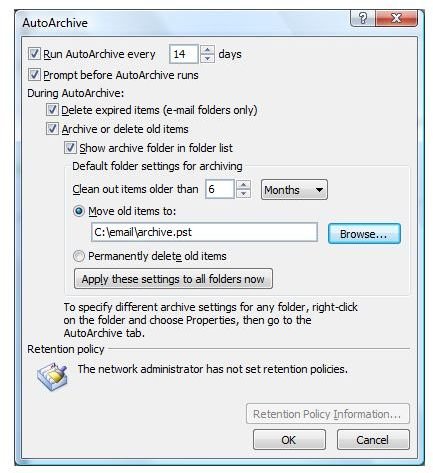 Configure AutoArchive
As your mailbox grows (and they always do, don't they?) the amount of content that Outlook has to manage grows. When that content is stored in a single .pst file or in the mailbox on the server, then resources can become strained. Backups take longer, searches take longer, and opening and closing Outlook may take longer. A lot of the content is 'stale'. That is, there may be some of the content that you either do not reference at all or would only need to look at very infrequently. Moving this content to alternative storage can improve performance of the primary storage location, whether the server's mailbox or the local .pst file.
Outlook provides an option for archiving content at the client level. In addition, this can be scheduled so as to not require user action, hence the name 'autoarchive'. AutoArchiving is configured from the Other tab in Tools | Options in Outlook. Clicking the AutoArchive button here will open up the configuration window as shown in Figure 1. AutoArchive can be configured to run at intervals up to every 99 days.
AutoArchive can be set to prompt the user, as displayed in Figure 2, or it can run automatically, silently in the background. By default, it uses archive.pst as the file storage in the default paths of:
Vista - C:\Users\\AppData\Local\Microsoft\Outlook\Archive.pst
Windows XP - C:\Documents and Settings\\Local Settings\Application Data\Microsoft\Outlook\Archive.pst
The archive.pst name and location are configurable in the window shown in Figure 1, where we have set it to c:\email\archive.pst. Interestingly, AutoArchive can be used to delete older content instead of archiving. Old content is defined by number of days, weeks or months up to 99 (so up to 99 days 99 weeks or 99 months). Otherwise the default expiration period for 'old' items in Outlook is as follows:
Inbox and Drafts - 6 months
Sent Items and Deleted Items - 2 months
Outbox - 3 months
Calendar, Tasks, Notes, and Journal - 6 months
The Archive.pst folder can be shown in your folder list in Outlook and can be searched and viewed like any other folder.
Administrators can also configure AutoArchive properties centrally through the Office Customization Tool or Group Policy and prevent users from making changes to these settings.
Screenshot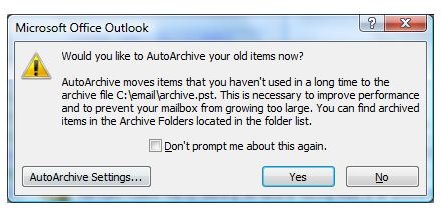 This post is part of the series: Microsoft Office Outlook 2007 Tips
A series of Tips and Tricks for working with Microsoft Outlook 2007 both as a user and an administrator.