Viewing Multiple Outlook Calendars: How to Create, View, Share & Sync Multiple Calendars in Microsoft Office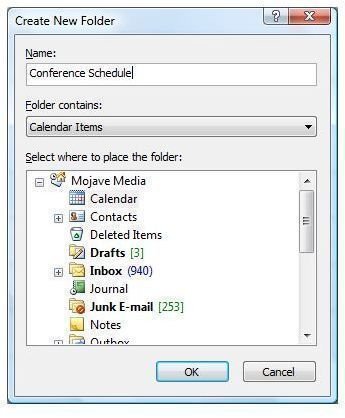 Creating Multiple Outlook Calendars
Microsoft Office Outlook 2007 adds lots of features and fine tuning from its earlier versions. The calendar is no exception to this progress. Outlook allows users to create multiple calendars and view them either separately or concurrently. After installing Outlook and configuring an account, it creates a default calendar for that account. Additional calendars can be added.
In Outlook 2007, open the Calendar folder. Then select File | New | Calendar. (This is not to be confused with Appointment or Meeting Request). This will open the window seen in Figure 1. The folder name is also the name of the secondary calendar. In our example, we are creating a Conference Schedule. Figure 2 shows the additional calendar in Outlook.
Screenshots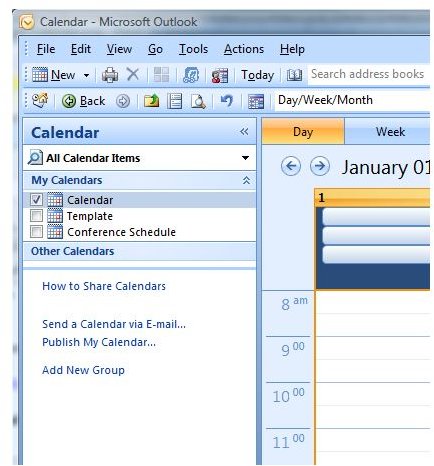 Displaying Multiple Calendars
In Outlook, you have the option of which calendars to display in the Calendars folder. As shown in Figure 2, there is a checkbox beside each calendar in the My Calendars group. Figure 3 shows three calendars being viewed side-by-side. Outlook uses colors to help differentiate the calendars viewed in 'Side-by-Side' mode. Outlook also allows you to view calendar items all in the same calendar. This is called 'Overlay' mode and is shown in Figure 4. There are tabs at the top showing which calendars are participating in the view. Changing to another tab changes the focus to that calendar with the other calendar appointments faded slightly.
When working with Microsoft Exchange especially, you have the ability to open other users' folders where permission has been granted to do so. This is a common scenario for use of multiple calendars in this view by opening calendars of your staff, supervisor or peers. Calendars in Outlook can also be divided into groups. Figure 3 also shows the default groups of My Calendars and Other Calendars. An additional group labeled 'Development Team' has been added with other calendars therein.
Viewing multiple calendars in Outlook 2007 is both simple and valuable. It helps show conflicts or just easily compare schedules.
Screenshots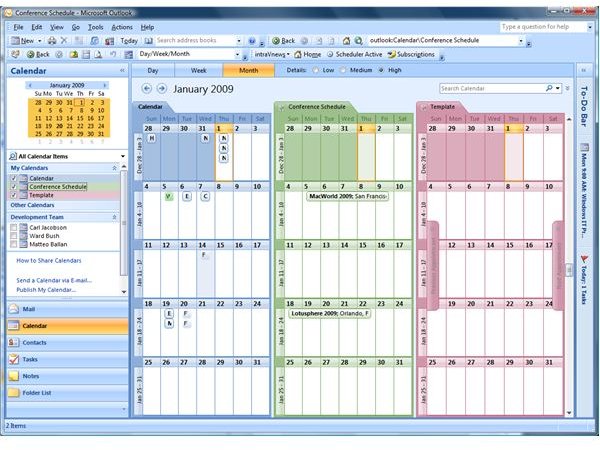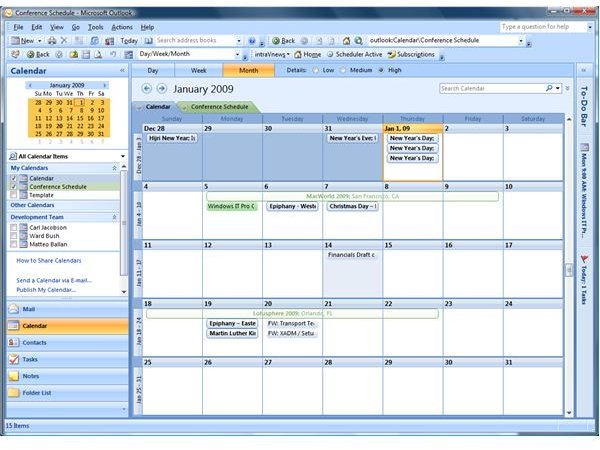 This post is part of the series: Microsoft Office Outlook 2007 Tips
A series of Tips and Tricks for working with Microsoft Outlook 2007 both as a user and an administrator.