How to Color Code Outlook Task List in To Do Bar: Organize Microsoft Office Task List by Color Coding!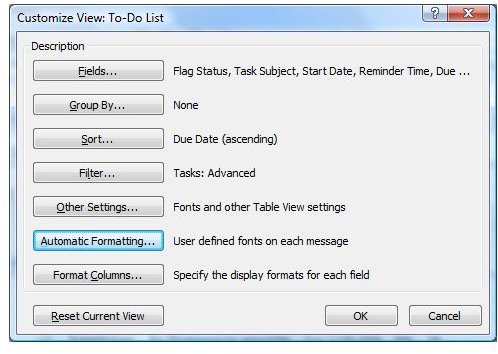 To-Do Bar with Task List
Microsoft Outlook 2007 adds a To-Do Bar on the right of the main user interface. One of the features of the To-Do Bar is the Task List. Task items are pulled from the task list or items that have been marked for follow-up with a follow-up flag. You can customize how these items are presented in this task list independent of the formatting used in their source folders. The Tasks folder has many options for formatting; however, these settings are not transferred to the To-Do List.
You can control the color and font for the items listed in the To-Do List. Right click on the top bar of the Task List, on the 'Arrange By' line, and select Custom. This will open the Customize View window as shown in Figure 1. From here, select the Automatic Formatting button. The Automatic Formatting window is displayed in Figure 2.
Screenshots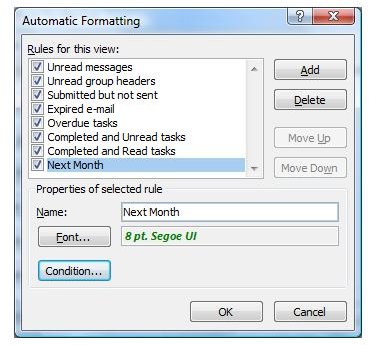 Color Code the Task List
Automatic Formating uses rules to determine how text is presented in the To Do List and what characteristics trigger that format. As seen in Figure 2 above, we added a rule called 'Next Month' where all tasks with a due date falling in the next month assume the formatting of 8pt Segui font with bold green color. There are two parts to this formatting rule: 1) setting the condition to be met and 2) defining the formatting to be used.
Clicking the Condition button near the bottom of the Automatic Formatting window will open the Filter window as shown in Figure 3 below. In this case we set the condition solely as a due date falling in the next month. The conditions available here are quite granular and should be reviewed to make better use of Outlook. After the condition is set, the Font button allows us to apply a font type, a font color and presentation. For this example we also made tasks due in the following week a purple font. Figure 4 shows a To Do bar with the task list on the bottom. You can see tasks due next week are in purple while tasks due next month (that are not due next week in this case) are in bold green font. As the due date comes closer, the task's colors will change, in this case from black to green to purple.
Screenshots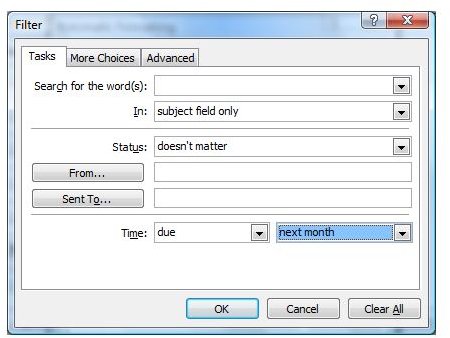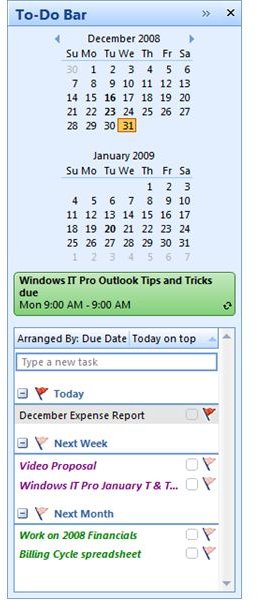 This post is part of the series: Microsoft Office Outlook 2007 Tips
A series of Tips and Tricks for working with Microsoft Outlook 2007 both as a user and an administrator.