How to View Animated GIFs Embedded in an E-mail - Microsoft Outlook Tips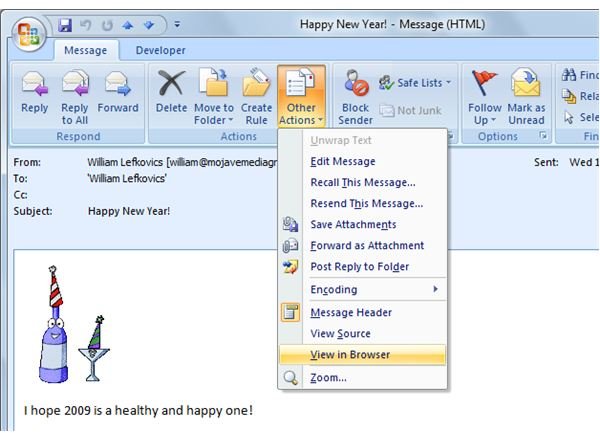 Animated GIFs in the Message Body
From Microsoft Outlook 98 through 2003, you were able to embed and animated GIF file in an HTML e-mail message and it would show the animation to the recipient within the body of the e-mail, unless the recipient took the measure of viewing inbound messages as plain text only. You could even use an animated GIF as a tiled background image. Outlook used Internet Explorer to render HTML e-mail. Outlook 2007 makes some changes. In 2007, Outlook uses components from Word 2007 to render HTML messages. Word does not need to be installed as Outlook maintains the Word components it need. That is, Outlook can be installed independently of Microsoft Office.
When you open a e-mail with an embedded animated GIF file in Outlook 2007, Word shows only the first frame of the series in the GIF file. The only way to view the animation within the context of the e-mail message, you can open the item in a browser.
To open an e-mail message in a browser from Outlook 2007, you need to open the message in its own window. Double click on the message. Outlook uses the new Office 2007 ribbon for its message forms. On the ribbon, with the Message tab selected (as is the default) click on the 'Other Actions' button to show the drop down list of options as shown in Figure 1. Select the 'View in Browser' option. A warning will arise explaining that browser security is independent of Outlook's HTML security. Indeed, it is much more likely that malicious scripts will execute in a browser than in Outlook's viewer based on Word. The default browser will open presenting the HTML for the message using a web archive file of the extension .mht. The output does not show the headers or addressing, but only the HTML message body, with GIF animation.
Screenshot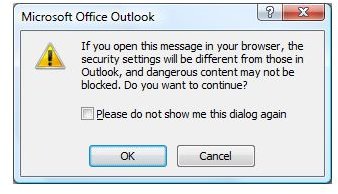 This post is part of the series: Microsoft Office Outlook 2007 Tips
A series of Tips and Tricks for working with Microsoft Outlook 2007 both as a user and an administrator.