Tips and Tutorials for Using Skype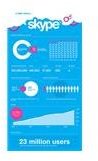 Skype is a Voice Over Internet Protocol (VOIP) program that has quickly become the front-runner in business and online communication. It offers a reliable service that allows voice, video and text calls for free using an Internet or Wi-fi connection, which is great for professional and personal use.
After so many years of land-line and cell phone usage, it's hard to break some of the habits which makes VOIP challenging. However, a good understanding of Skype and how to configure it to suit your needs will provide you with an invaluable new communication tool. This collection of Skype tip and tutorials will show you several things that aren't found in the basic tutorials provided by Skype itself.
Select one of the articles from the collection below to help you begin configuring and using Skype to its fullest potential:
How to Install and Configure Skype
The first step on any foray into a new program starts with the installation and configuring important settings is critical to starting your work with Skype. Learn about the different configurations and settings that will greatly improve your Skype's quality before you begin using the program.
Configuring Skype Through Your Firewall
Firewalls are finicky about the programs they let your computer network with other computers. Since Skype requires you to connect with peers to hold calls and conferences you will run into some trouble with certain firewalls.
Notifications are either gifts or burdens depending on what you prefer. Learning to set noise notifications and notification windows are a great way to avoid any unnecessary frustrations with Skype especially if you have a long contact list. Learning the in's and out's of notification settings will allow you to personalize your contact list with individual ring-tones and notifications.
How to Use Skype From Your iPhone
Smart phones with Wi-fi capabilities, like the iPhone, are a smart match for a program like Skype. Configure your iPhone to allow Skype calls to be made from whereever you happen to take your iPhone. This helps you to reach someone who is tethered to a computer and may not have a phone on hand or just to leave them a quick message to be answered later.
Using Skype for Conference Calling
One of the key features of Skype is the ability to have more than one user per call. Learn how to set up a conference through Skype so you're able to take full advantage of the program. There are several settings that need configured before conference calling is at its peak quality. Pay careful attention because some settings make the difference between a grainy call and an audible one.
Tips for Hosting a Skype Video Conference
Along with voice conferences, Skype also offers video conferencing, which adds a whole new dimension of personal communication with others. Video conferencing is affected by a lot of different settings, and it's important to get the best out of the program. Crystal clear clarity with video conferencing is not unachievable.
5 Options for Recording Skype Calls
Recording calls and conferences is helpful when important information is being exchanged. While Skype doesn't offer this service, there are several programs that sync with Skype and allow you to record your conversations in convenient files. It's very handy to have important conference calls on record both for personal and professional reasons.
Faxing is a difficult process that requires lots of special equipment, unless you have Skype. Skype offers a service that allows you to send and receive faxes in a digital form for easy archiving and at no cost to you or your business. Use this ingenious feature to your advantage by saving time and money when faxing documents.
Fixes For Common Skype and PC Performance Issues
Large Skype conferences and having multiple contact windows open at one time is taxing on any system that isn't specially designed to handle resource heavy environments. There are ways to improve PC performance while running Skype which should remove some of the lag and stuttering that arises when using the program.
5 Tips for Managing Your Skype Contacts
Keeping a solid list of people you contact through Skype regularly is essential for keeping a well-organized contact list. If a contact list becomes too cluttered, it will become difficult to sort through all the people to find the user you're trying to reach.
Adding Skype Capabilities to a Website
Skype offers an excellent web service which allows you to convert phone numbers into a Skype call button. This allows Skype users to call the number from their Skype client at the touch of a button.
If you're plagued with ruthless spam bots, or you're just having trouble with harassment from one of your contacts, knowing how to block them is an important skill that ends your frustration. Knowing how to block and unblock contacts is important when trying to keep you and your Skype private.
While the convenience of saving conversation logs is nice, privacy is just as important and deleting saved conversations occasionally is a good idea. Doing so will also reduce the clutter of having to see old conversations every time you open a window.
Constant spam and unsolicited messages are annoying, and Skype is unfortunately victim to users and bots that practice spam usage. There are several, easy ways to keep yourself private and prevent spam while using Skype.
Sometimes we just need to add a little extra to vanilla software to get the most out of the product and Skype is no different. Extras provide some amazing features to an already powerful program.
Configuring, bug-fixing, or improving Skype doesn't have to be a hassle for new or veteran users. Mastering the program will add a powerful communication tool that will only become more and more useful as time passes.
References