Outlook Instant Messaging - How to Use Office Communicator Within Outlook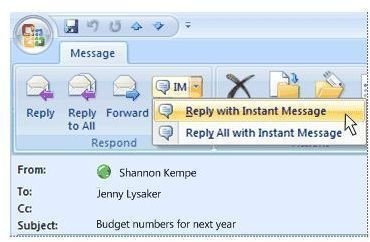 Outlook Instant Messaging
The evolution of instant messaging (IM) has grown in the recent years. They aren't just for real-time texting and chatting services anymore. With Outlook instant messaging, you can incorporate video and audio into IMs and share files on your computers such as programs and documents. Online presence or status indicators (visual tools to denote a person's availability) give clues as to if someone is currently available for real-time communication. Instant messaging clients have gown to allow complete collaboration by permitting the release of control of your computer to other users. [caption id="attachment_171662" align="aligncenter" width="640"]
IM makes it easier to communicate with co-workers[/caption] Microsoft Office Communicator is a great tool to bridge the connection between Outlook 2007 and IM clients. Not only can Office Communicator send alerts to your computer of incoming phone calls, but can also show the online presence status of people from the Reading Pane of Outlook. Microsoft Outlook 2007 has the capability to communicate with several of the popular IM clients including MSN and Windows Live Messenger. This means that you are able to have real-time conversations with your Outlook contacts and take advantage of the additional collaborative features that comes with IM clients. Editor's Note: Microsoft re-branded Office Communicator to Lync and then to Skype for Business - not to be confused with the consumer version of Skype. Microsoft will soon migrate all Skype for Business users to their new product Microsoft Teams. For more information on Skype for Business - take a look at these Brighthub articles:
View Online Presence of Contacts
To be able to view the online status of anyone, you must add them to your instant messaging contact list and they must have an instant messaging email address. The instant messaging address goes in the IM Address text box of the actual contact information. To turn on the online status in Outlook, click on Tools, then Options, and then the Other tab. Click the "Display online status next to a person name" checkbox under the "Person names" heading.
To Send an IM from Outlook
To send an instant message from Outlook, click on the online status indicator next to someone's name. Click on the Send Instant Message option. Write the message and click Send when the IM box appears. Another way you can send an IM is to open a message sent to you in your inbox. Reply with an IM by clicking the Message tab in the opened message, then click on the IM in the Respond group. Next, click on either Reply with an Instant Message or Reply All with an Instant Message.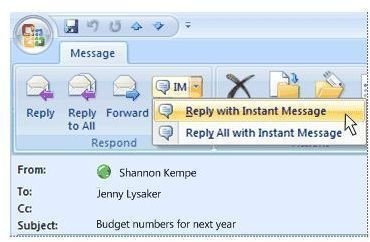 Outlook 2007 has incorporated many new tools to increase the functionality of messaging and collaboration. Check out all of the things it has to offer, including the other tips in this series. You may just be impressed.
This post is part of the series: Microsoft Office Outlook 2007 Tips
A series of Tips and Tricks for working with Microsoft Outlook 2007 both as a user and an administrator.