Microsoft Outlook 2007 Tip #7 - Keyboard Shortcuts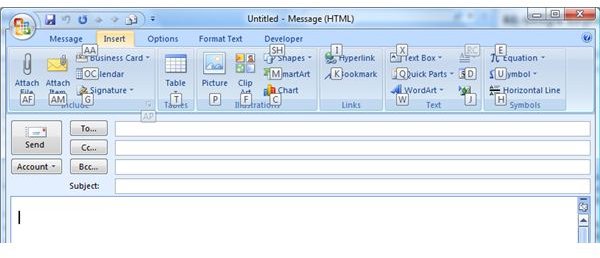 8 Popular Outlook Keyboard Shortcuts
Microsoft Office Outlook 2007, as in previous versions, comes with its own set of keyboard shortcuts in addition to the standard Windows shortcuts. Keyboard shortcuts are combinations of key strokes to use in place of menu navigation. With a little practice, user efficiency tends to increase with the mastery of keyboard shortcuts. Keyboard shortcuts may also be better for accessibility for some users.
Outlook 2007 is a full Personal Information Management (PIM) client including e-mail, contacts, calendar, tasks, journal, and RSS Feeds. The specific keyboard shortcuts that are available are somewhat unique to the interface the user is currently working in.
These are my top eight keyboard shortcuts I use in Outlook 2007:
F9 - Send / Receive. This initiates Outlook polling all accounts for new messages and sends any that waiting in the Outbox.
CTRL + 1 - Wherever you are in Outlook, this returns you to the Mail folder. Other numbers used with the CTRL key take you to different primary folders including 2 - Calendar, 3 - Contacts, 4 - Tasks, 5 - Notes, 6 - Folder List, and 7 - Shortcuts.
CTRL + SHIFT + M - Opens a New Message window no matter where you are in Outlook
CTRL + R - Reply to a message. Whether the message is opened in a separate window or just highlighted in the Mail view, this will create a reply to the message with the sender address now in the To: field. CTRL + Shift + R is for Reply All.
CTRL + F - Forward a message. Whether the item is opened in a separate window or highlighted in Outlook, this will create a message ready to be addressed to a recipient.
ALT + S - This sends a message that is properly addressed to a recipient and waiting to be sent.
F3 - Moves cursor to the Search Box ready to enter a search string to query the index. CTRL + E does the same thing.
ALT + 1 - In the Calendar, this changes the calendar view to show one day. ALT + Number up to 9 shows the number of days from 1 through 9.
In Outlook 2007 where the new Office 2007 ribbon is employed, you can hold the ALT key down to expose the ALT keyboard shortcuts available in the menu. Letters are displayed at the menu option executed when you hold the ALT key down while typing that letter. Figure 1 shows the available ALT key shortcuts present in the Insert menu of the new message form.
For the complete list of keyboard shortcuts available to Microsoft Office Outlook 2007, go to the Microsoft Outlook 2007 Help site.
Screenshots
This post is part of the series: Microsoft Office Outlook 2007 Tips
A series of Tips and Tricks for working with Microsoft Outlook 2007 both as a user and an administrator.