10 Places to Get a Free Christmas Flyer Template for Your Holiday Business Promotion Needs: Templates for Word, Publisher, PowerPoint, Corel, & QuarkXPress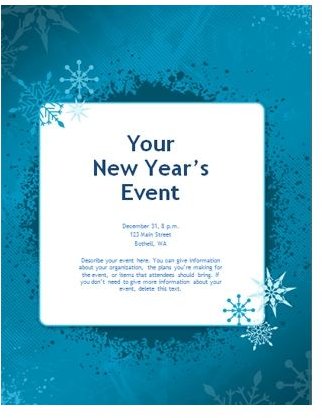 10 Free Christmas Flyer Templates
The holiday times, especially the Christmas season, is when many small business owners both online and offline make a good majority of their yearly earnings. That is why, in order to get a jump on things as a business owner, you need to start your promotions running and drive in those customers with credit card in hand. One of the best ways to highlight your seasonal promotions is with brightly colored and festive flyers and advertisements. You can either choose to send these to your email subscribers, your customer list, post it up on your website, or print it off and distribute it around town.
The following article will share with you 10 places where you can find a free Christmas flyer template that will be perfect for spreading the word about your discounts and deals this holiday.
FreeTemplatesDepot.com
They offer a very pretty blue template. Simple and elegant, it is perfectly designed with snowflakes. It is easy to customize by changing text, font colors, pictures, or font size to make it just the way you like. You can choose to use it as an advertisement, a flyer, an invitation or even a gift certificate. Can be used in Word.
Image provided by freetemplatesdepot.com
FaithClipart.com
This is a more colorful and active looking theme. The yellow and red work well to add a little life to your flyer whether you use it as an advertisement, to share a Christmas event, Christmas pageant or celebration information. You can add a subheading, information, time and any description as you need to. Can be used in Word or other word processing software.
PoweredTemplates.com
These free templates are used with MS Word and come in a variety of colorful themes with various pictures of Christmas ornaments, gifts, Santa, and more. Each template is designed with three pages, and all you have to do is add your own content and print it out.
SmileTemplates.com
This site provides both free and paid versions of Powerpoint templates, Word, Publisher, Corel and QuarkXpress. There is a really nice free template for those who are advertising to the Christian community. It comes with a picture of a Bible and you can just add your text and company information as you see fit.
TheOnlinePrinter.com
This site has a ton of different size templates that you can download to your computer to use with Adobe InDesign and Microsoft Word. While there is not an actual Christmas theme to them, you can simply add your own or ask the free online design team that they have available for any suggestions and help.
DownloadsCafe.com
This site offers free programs that you can download to make your own Christmas flyer template. In this way, you do not need to have any other program like the other ones listed above, you simply install, open and use. Then when done, print out as needed.
EducationWorld.com
This is a great site to use whether you are a teacher or not. You can print off a variety of sizes for flyers, signs and brochures as well as Christmas gift coupons. No special program needed, they all download as Word docs.
VectorJunky.com
There are a few different things you can download from this site. You can download Christmas card templates. Christmas icons, and more fun holiday ideas, all for free!
Free-Printable-Party-Invitations-Online.com
This site offers a free and easy Word doc download for Christmas initiation flyers. You can customize the font and color and print it off without having to worry about messing around with margins or anything else that often gets lost when editing.
Microsoft.com
We can't forget all about Microsoft now can we? In their office section, they have free downloads for clipart and templates for both business and home use. They are free to use and download as needed.
There are many places online today that like to get into the spirit of giving around the holidays and offer free templates for others to use. If you do not have the time to find, download and write up your own Christmas flyers, there are places such as Vistaprint.com who offer an online free Christimas flyer template that you can work with right on their site. You simply fill in your information with the design you want and then you can order it and just pay shipping costs. Once you have received it, you can print as many off as you need to give to your customers or clients.
Image provided by Microsoft.com