The Berkeley Typeface History: Where Did It All Begin?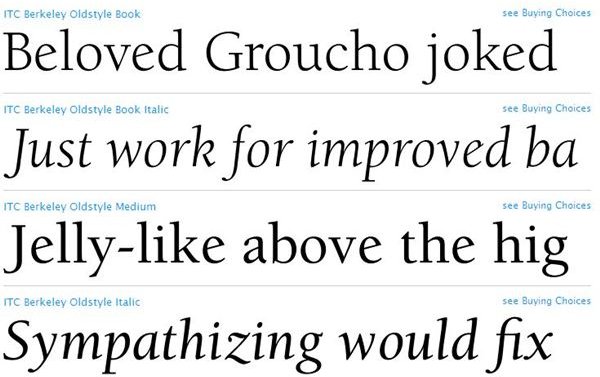 Berkeley Typeface – The Beginning
Some sources say it was either 1938 or 1940 that Frederic W. Goudy created the first Berkeley typeface that falls in the classification of the old style serif font category. Goudy was also famous for his Goudy old style and text fonts, and he was a student at the Chicago School of Lettering in Bloomington Illinois.
After a move to California, the University of Berkeley, which was seeking a new look for their University Press publication, asked Goudy to design a font, and with his design came the beginning of the Berkeley typeface history. When the font was first released, it was called the "Californian" font.
Although the typeface itself is still owned by the University, it also captured the rights to the redesigned International Typeface Corporation's (ITC) Oldstyle Berkeley typeface created by Tony Stan in the 1970s.
Berkeley Typeface Styles
The screenshot to the right (click to enlarge) shows various types of the Berkeley font including oldstyle types such as black, book, and bold. As you can see from the screenshot, the Berkeley typeface and its history and usage offered not just an easy to read font, but also an elegant font that, when in italic form, is often used for wedding and other types of invitations in the desktop publishing world.
Where to Find Berkeley Typefaces
If you don't have a desktop publishing program that already includes the font such as Adobe Photoshop, there are various places online where you can download all the different styles of the Berkeley typeface including the International Typeface Corporation. Other websites that offer this favorite typeface include My Fonts.com, and LinoType.
When looking at the Berkeley typeface history, along with its popularity among greeting card and invitation companies, it is also a favorite of graphic designers—most likely for its classic look.
Adobe Photoshop version 6.0 offers nineteen styles of the Berkeley typeface to use for all your desktop publishing needs including scrapbooking, photo album creations, brochures, and even greeting cards.
For those looking for a free download of the Berkeley font typeface, Free Fonts offers places you can buy the font, but we found no free downloads from the Internet.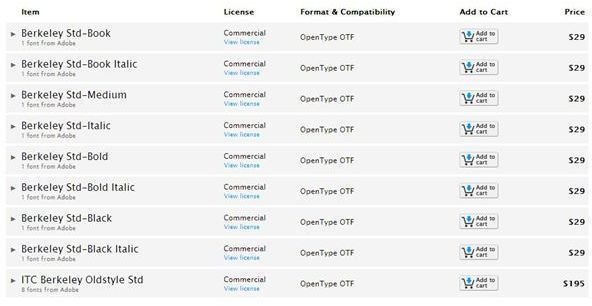 My Fonts, first offered the Berkeley typeface in 2007 and just one of the fronts will cost you $30; a package of all 8 styles will cost you approximately $130 (see screenshot to the left and click to enlarge).
If you don't own Adobe Photoshop but want to know more about free fonts, check out Thursday Bram's article, A Guide to the Best Free Fonts Online for Desktop Publishers.
If you're lucky enough to have already purchased the license to this typeface, you'll find many uses for it and now have a little background on the Berkeley typeface history, and who first designed it. It still remains in use today at the UC Berkeley Press.
References
International Typeface Corporation (ITC) (https://www.itcfonts.com/)
Image Credits: