The Professional's Guide to Business Card Templates, Design Tips and Resources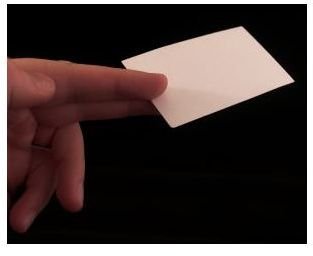 The world of business is continually evolving as technology evolves. However, while the Internet and other high-tech wonders have changed many of the ways that today's entrepreneurs do business, one thing has not changed. The humble little business card is still one of smartest tools to have in your marketing arsenal.
These tiny bits of cardboard yield one of the highest returns on investment of any other marketing or advertising campaign. Consider them a mini, mobile billboard that is always on duty and diligently working to introduce your goods or services or remind people about who you are and what you do. An individual may throw away a scrap of paper with your name and phone number scribbled on it, but the odds are good that he or she will hold onto a business card if you offer one.
Whether you print your own or purchase them, there are a few things to consider to make sure that you get the best results for your money. You'll want to think about the purpose of the card and the market segment to which you are targeting your efforts. Design is imperative because you need to convey a powerful message in a few concise words.
Will you add an additional message or perhaps a map on the back of the card? Does including an image increases your results or is it a waste of money? How many cards should you purchase at one time? These are just a few of the many decisions you'll be making as you plan your marketing.
To help you make the best buying or designing decisions, we've gathered together a collection of some of the best articles by our expert writers. If you need templates so you can design and print your own cards, we've got you covered. Need to know where to get the best deals on cards? No problem, just check out our reviews. No matter what you need to know about business cards, you'll find a wealth of information, tips and tricks in the following articles.
Resources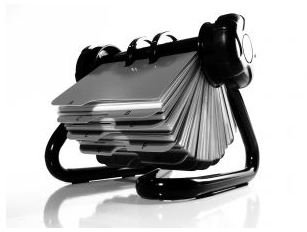 It's important to understand the benefits of your business card. You can take a business card with you anywhere you go whereas you can't always carry company catalogs, brochures or other marketing materials with you. Just slip a stack of cards into your wallet, purse or pocket and you are prepared for any opportunity that may present itself.
Your business card not only introduces you and your company; it serves as a visual reminder to the recipient of who you are and what your product or service is. Including a picture of yourself on your cards is an excellent idea because it helps the other person make a mental connection between your name and your face. Retention and recall are increased because you've engaged more of the prospect's five senses.
Business cards are inexpensive, easily stored and highly visual and make a great first impression. What's not to like about that? Here are some resources to get you started:
Templates and Software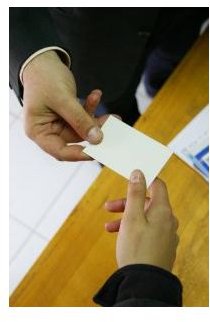 If you'd prefer to design and publish your own cards rather than buy them, you'll find a wealth of resources in the following articles. Regardless of your desktop publishing skill level, there is bound to be the perfect idea for you. The neat thing about designing your own cards is you have complete creative control over the process. You are not limited by someone's ideas or graphics: the sky's the limit:
Design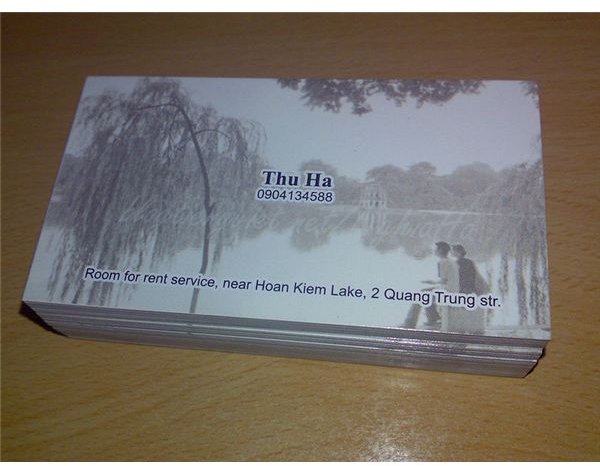 Design is king when it comes to business cards. The reason billboard advertising is so effective is because it conveys a major message with a minimum of verbiage. It has to because the average person is zipping by a billboard at a respectable rate of speed under normal conditions.
To get the best results from your card, you'll want to emulate the thinking of a billboard designer. Create a compelling tagline that reinforces your occupation or service and use it on your cards and other promotional materials to brand your image.
For instance, an image consultant could use: "If your clothes aren't becoming to you, you should be coming to me!" Or, how about "Pat the Pella Window Man"? We know of a real estate broker who has successfully used the short and simple "Check with Chuck" for over 20 years on his business cards, flyers and other marketing materials.
Now all you have to do is finish the design with your contact information, add an image if you'd like, and start handing them out to everyone you meet.
For more design tips and ideas, check out the resources below:
Tips and Tricks
Since you are working with a limited amount of space and want to communicate as much as possible to your prospective customers, we thought it would be helpful to have a few insider tips and techniques:
Take-away Tips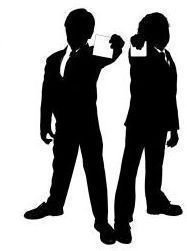 No matter how clever or unique your design, your business cards generate zero results if you leave them sitting in a drawer or on your desk. Follow these four tips faithfully and watch your results (and your business) increase exponentially.
Be prepared: Keep a supply of business cards in your portfolio, your laptop case, your car and your desk. Always have them on your person when you leave the house in the morning. Your next best client could be standing beside you while you wait in line to get your morning cup of coffee before you head to the office. Don't lose the sale because you weren't prepared.
2. Follow the 3 feet rule: Mary Kay Ash of Mary Kay Cosmetics fame always exhorted her consultants to use what she called the three feet rule: Whenever you are within three feet of someone, talk to them about your business. We think that's a terrific idea, but we'd like to suggest that you take it one step further and offer the other person your business card as well.
3. Hand them out lavishly: It's amazing how stingy some people are with their business cards, which is foolish. At the low cost of cards, your best investment is to get them into as many hands as possible and let them do their work. Leave one on the table with the tip for the wait person. Hand one to the attendant at the gas station or the person at the drive-through window. Put them on bulletin boards, hand them out at the soccer game…you get the picture.
4. Order more before you run out: If you aren't doing print on demand for your cards, order in advance to allow time for set-up and delivery. There are few things that are more embarrassing for a professional than having to admit "I'm sorry, I don't have a card. I just gave away my last one."
References