Free Christening Invitations: Five Recommended Websites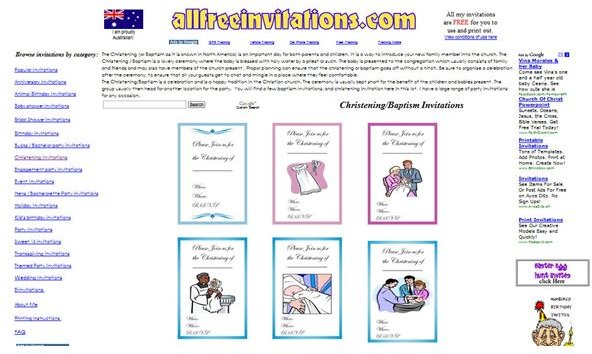 Christening invitations give you the chance to send out word about your baby's baptism without spending a lot. You just have to download and print designs and send them out. Here are a few resources were you can download what you need to send out those invitations.
Allfreeinvitations.com
This website is dedicated to free invitations for all kinds of occasions, including baby christenings. Some designs for christening feature only text with some graphic accents while others feature cartoon drawing that show different types of christening imagery. The invitations feature blue and pink colors to make them appropriate to the baby's gender, but they are all designed to be used for any gender regardless of color. Other invitations available on the site include bachelor party invitations, birthday party invitations, thanksgiving invitations and more.
4N-Invite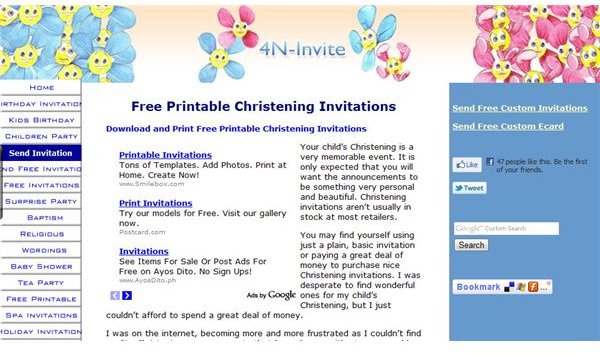 The printable christening invitations available in this website are made by the site owners themselves, which means they are truly unique works of art that are available for free download. They describe these invitations for christening but you can repurpose them for other occasion invitations. You just have to download the templates and modify them to your heart's desire. You can use them for baptisms, birthdays, Christmas parties and other types of family invitations.
Magical Kingdom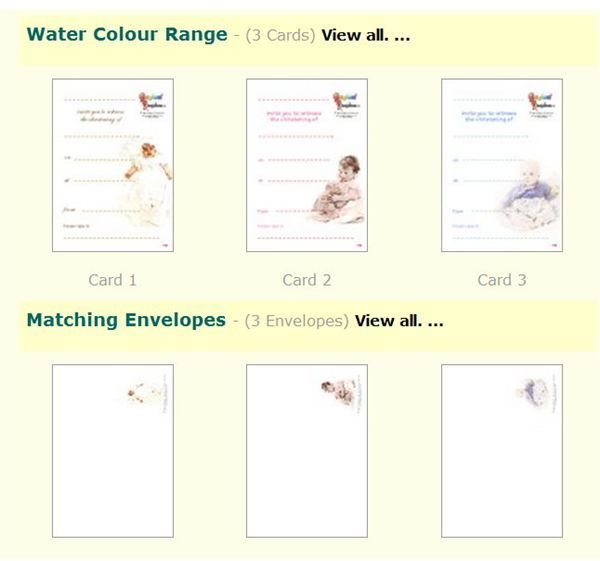 This website features greeting cards, certificates and invitations for all kinds of occasions. The free christening invitations feature similar layouts with different background images. The website also offers matching printable envelopes to go hand in hand with the invitations, so it is a complete solution if you want to send out christening invitations that are stylish and free. There are only 3 designs for the invitations and 3 designs for the envelopes for now. The designs also feature the Magical Kingdom logo, so you need to be aware of that before downloading the printables.
FreePrintables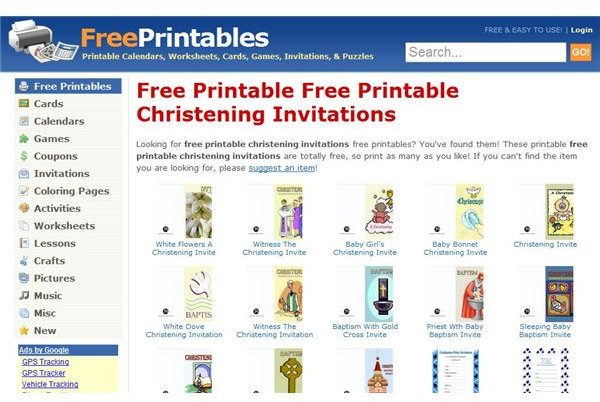 This website offers free printable documents that include calendars, coloring pages, cards, worksheets, lessons, pictures, invitations and more. They have several designs available in the christening category so you have a lot of designs to choose from for your invitations. They are constantly beefing up their selection of designs so if you can't find the right one that suits your needs, you can come back after sometime to check for new ones. They are totally free so you can download them as many times as you want.
8gr.org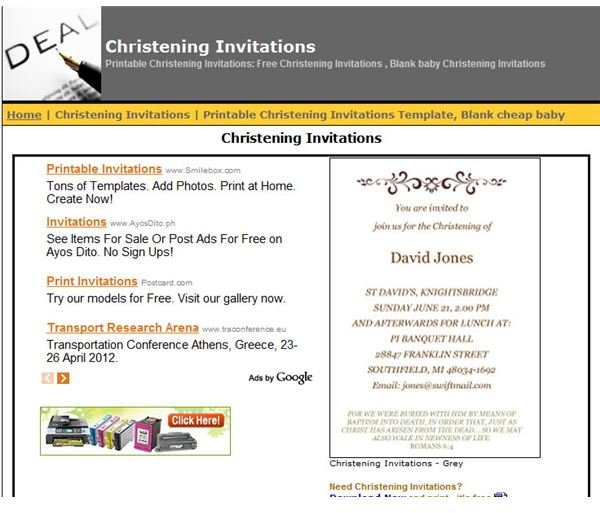 The website is dedicated to offer all kinds of printable documents like graph paper and invitations, but it also offers templates for letters like love letters, resignation letters, resume cover letters and other kinds of letters. It only offers one christening invitation and it is a very simple one that only features text for a more formal event. However, if being minimalistic is your style, this will work perfectly for your christening invitation project.
Creating Your Own Christening Invitations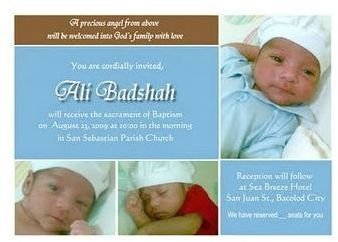 If you know how to use Photoshop or other desktop publishing programs, you can create a more attractive Christening invitation. Just choose one or more digital photos depending on your desired invitation template. You can match the color of your invitation to your theme or experiment on two colors to make it more stunning. There are tons of cute quotations about babies, baptism, scriptures and poems you can search online and pick the best you like, or you can make your own. Also, include all important and final information about the event such as the venue, time, date and RSVP with your contact details. Recheck all the spellings and grammar of your invitation especially the baby's name. Print your invitations using photo papers or special papers and you're ready to distribute them with envelope.
Conclusion
These resources for free christening invitations all offer different designs. Whether you like minimalistic designs or more visually interesting ones, you can find the right invitation resource for your needs but if you want a more personalized invitation, you are free to create your own design.
References and Image Credits
Free Printable Party Invitations, https://www.free-printable-party-invitations-online.com/christening-invitations.html
All Free Invitations, https://www.allfreeinvitations.com/free_christening_invitations.html
Magical Kingdom, https://www.magicalkingdom.co.uk/invitations/christening/index.htm
Free Printable, https://www.freeprintable.com/free-printables/free-printable-christening-invitations
8gr.org, https://www.8gr.org/christening-invitations.htm
Sample Christening Photo Invitation and Screenshots by Author