5 Tips for Making the Best Birth Announcements: Homemade and DIY Birth Announcements To Be Proud Of!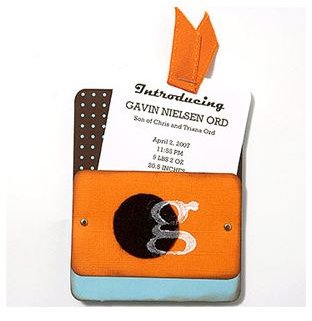 1. Get Prepared
Let's face it, once baby arrives your hands are going to be pretty full. You want to send out some homemade birth announcements that are unique and memorable, but there are so many time constraints. One way to send out top notch announcements from scratch is to get the majority of the work done before baby arrives. You'll obviously need to leave space for the name and relevant details, but there are still a lot of elements you can prepare beforehand.
For example you could make a card with a cute animal on the cover, with a message "Our baby has arrived" on the outside. You could then put a paper insert inside the card, with the birth details and a small picture once baby is here - this last part can all be done on the computer in large quantities if need be. Or make a pouch with some delicious free scrapbook papers with some embellishments, and then create a simple tag with ribbon pull when baby has arrived.
2. Choose Unusual Photos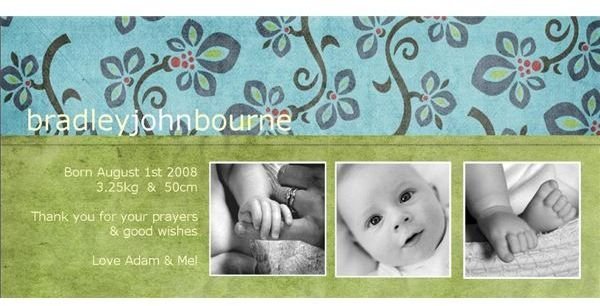 Make your DIY birth announcement stand out from the crowd by choosing some unusual photos. Taking close ups of little hands and feet, or a cute little baby bottom, especially when printed in black and white, means the majority of the work is already done as the photos are the stars. Arrange them in a line of three across the card, or four in a window arrangement.
Just add a name across the bottom of the card and include the usual birth date, time, and baby weight inside the card.
For an alternative idea you could try scanning baby's foot or hand print and make it the central focus of the front of the card, or alter the transparency in a DTP package and make it into a backing paper.
3. Get the Wording Right
There's nothing worse than making a great birth announcement in the homemade style, to get the wording wrong, or to forget any important information.
Make sure to include:
Parents' names
Baby name
Birth Date
Birth weight
Birth Time (optional)
Length of baby (optional)
Wording for birth announcements, usually included phrases such as "Michelle and Richard are proud to announce the safe arrival of….", followed by the relevant details. Or you can be a bit different and approach it from a humorous point of view, such as "There is a new monkey in town", "A little monster has joined our clan." Or make it specific to your interests, "We have a new caddy" for golf-lovers for example.
4. Add Embellishments
Adding embellishments to a homemade birth announcement adds texture, visual appeal, and is an easy undertaking for even a tired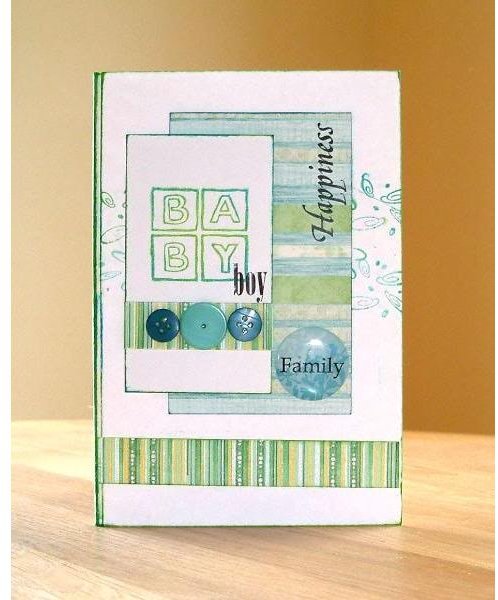 mom or dad. Buttons and ribbons are always good options, as well as being accessible items to all. Stickers of diaper pins, storks, baby bottles etc., are all easy to get your hands on from craft stores, or you can print out digital scrapbook elements to include too. You can even incorporate other printouts and stickers that say things like "special delivery" on them. Add them at jaunty angles, or line them up in odd numbers.
5. Be Unique
Make sure your do it yourself birth announcements are truly memorable and make them a bit different. Unique ideas may include:
Glassine birth announcements - Use glassine bags for printing the birth announcement onto, and place the photo inside so it peeps through from beneath the lettering, acting like a background paper. Simple, not-time consuming, and truly effective.
Newspaper style birth announcements - Homemade newspapers can easily be made even on something like Word, by splitting the page into columns. Type up most of it beforehand as a "fake story" and then fill in the details when baby arrives.
Photo collage - Why use one photo when you've taken so many? Use a package like Photoshop to combine many photos of baby into one collage to make the front of the card.
Shaped card - A DIY birth announcement in the shape of the initial letter of baby's name is easy with die cutting machines or by using a template.
Being prepared is definitely the key to producing top-notch birth announcements, along with using a few different ideas, and your own twist of creativity.
References
Tag card - Triana Ord
Unusual Photo Card - BrookeOsborne-Cards/Photobucket
Embellished Card - Breedeen/Photobucket
Newspaper birth announcement - roger4336/Flickr