Looking for the Best Free Beach Dingbat Fonts? - Top 5 Dingbats with a Beach Theme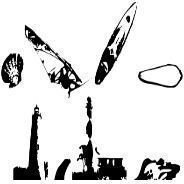 How to Use Dingbats
Dingbats are just images that are created with a strike of a single key—they are called dingbat fonts as they work in the same way as any other font, only instead of being faced with letters, numbers and characters, you are presented with an image instead. The all important links you will need to download these dingbats with a beach theme, are provided at the end of the article.
Surf Bat - Windsurfing Dingbats
Though this collection of free beach dingbats is called "Surf Bat", there are plenty of beach-side images to keep you happy. Of course there are plenty of windsurfing, and surfing images, but there are also a good number of other beachside must-haves such as shells and lighthouses too.
Although the dingbats are quite detailed, they don't cope well with being enlarged too much, so are best used in a smaller font size—unless you convert them to vector images first. Would make a great addition to any surf school poster, or letterhead design, or indeed when creating any letterhead for a beach-side business such as a Bed & Breakfast, or beach-side cafe.
KR Down By The Sea
While it's shell images that make up the majority of this wonderful and extensive collection of beach font images, there is something for
everyone. You will also find seahorses, seagulls, the sun, fishes blowing bubbles, star fish and anchors. This dingbat font of beach images is of very high quality, and could easily stand to be made into a larger size—making some wonderful shell embellishments for a vacation scrapbook page. Why not incorporate this summery dingbat collection, with some free summertime typefaces?
Tropicana BV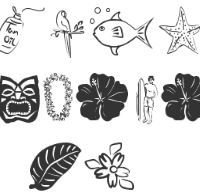 "Club Tropicana fonts are free…." Well, that wasn't exactly how the song went, but the sentiment just so happens to be true. This free beach dingbat is very much along the tropical lines of a beach theme—Hawaii and tropical islands all the way.
You'll find beach images such as fish, star fish, a surf dude, and some tanning lotion, as well as more tropical images such as Hawaiian leis, exotic flowers, and even a parrot or two. If you were lucky enough to enjoy a beach-side wedding somewhere tropical, then this is the dingbat for you to create a memorable wedding scrapbook layout.
R and R by Gem Fonts
If it's a humorous collection of dingbats with a beach theme you are after, then allow me to introduce you to R and R. This dingbat font is superbly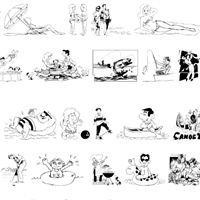 designed and detailed, and definitely offers that little something extra. As the theme is rest and relaxation, there are a few fishermen and golfers, but for the most part, this dingbat will satisfy your craving for some beachside action.
There's the hunky, muscle-bound surfer, or the large man with drink in hand, floating around in a rubber ring, for starters. There are too many to name, as this is such a thorough collection, but you may also like the sunbathing beauties, and the man relaxing in a hammock. With this beach font you could create your own scrapbook background paper, or use to make your very own postcard.
At The Beach Dingbats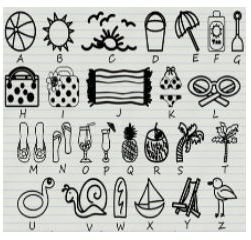 This free beach dingbat is a really creative one, designed by a scrapbooker with digital scrapbookers in mind. The doodle-type design definitely offers something that little bit different and more personal than some of our other dingbats with a beach theme. The image here shows each letter, with the designated image above it, so you can refer to it once you've downloaded the dingbat beach font for free.
There are images to suit any project, from beach balls and buckets, to cocktails and palm trees - this collection has it all. Use in conjunction with one of Bright Hub's very own free digital scrapbook papers, and you'll have a scrapbook page to be proud of.
References
Surf Bat - F Fonts
KR Down By the Sea - Ace Free Fonts
Tropicana BV - Ace Free Fonts
R and R by Gem Fonts - Fontspace
At the Beach Dingbats - Digital Scrapbook Faves
All dingbat images used remain the copyright of the individual creator.