Find 5 Free Envelope Printing Software Programs - Create Professional Envelopes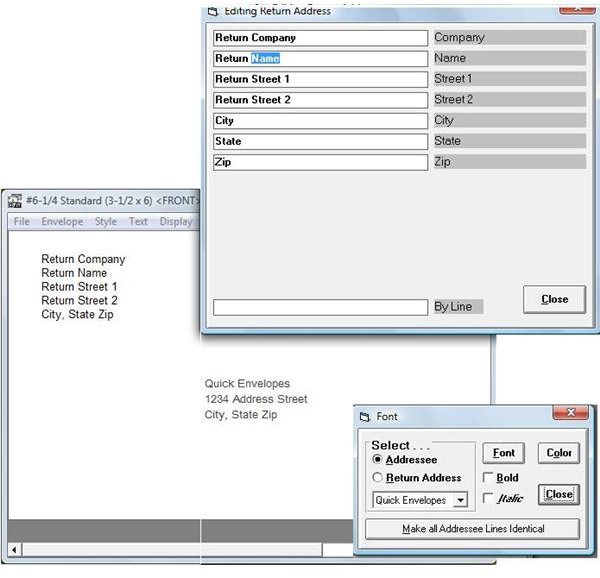 When You Need Free Envelope Printing Software, What Should You Look For?
If you've been wanting to create and address your own envelopes using your computer, chances are that you're wanting to find some free envelope printing software. While you can create and print your envelopes using OpenOffice or Microsoft Word, by using free software dedicated to envelope printing, you can simplify your life by not having to set the borders up or even download templates for the envelopes. Free envelope printing software can even help you design envelopes for holidays and personal correspondence. Find great software for printing envelopes below.
1. Quick Envelopes
Quick Envelopes by ED/iT was created to help you to design a variety of envelopes in commonly used sizes and to address those envelopes professionally. The program also interfaces with QuickBooks so that you can import addresses from business contacts in a streamlined manner. The great thing about Quick Envelopes is the program is easy to use, so within a few minutes you will be able to simply create your envelopes.
Pros:
Really simple software to use and learn to use
Many different envelope sizes so that you can create just the envelope you need
Cons:
If you were hoping for software to help you design your envelope with graphics, this is not it; you cannot add images unless you purchase the proprietary version of the software
If you use Windows Vista or higher, instead of running the program straight, you'll need to right-click on the program and choose "run as administrator."
2. Envelope Printer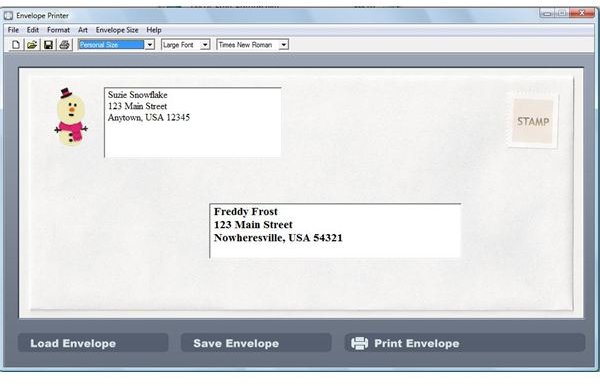 Envelope Printer is so easy to use that it makes Quick Envelopes look like rocket science. In this program, not only can you address your envelopes, but you can also add a logo next to your return address. There are already some art designs included in the program, or you can use your own logo if you have it saved to your computer. The program is, however, quite limited as you only have two choices for fonts and two choices for the size of the font.
Pros:
Super-easy to use
Include your logo on your envelopes
Print an unlimited number of envelopes
Cons:
The program is limited to four sizes of envelopes, two sizes of fonts, and two font types
The program will not allow you to save unless you purchase the full version
3. Easy Envelopes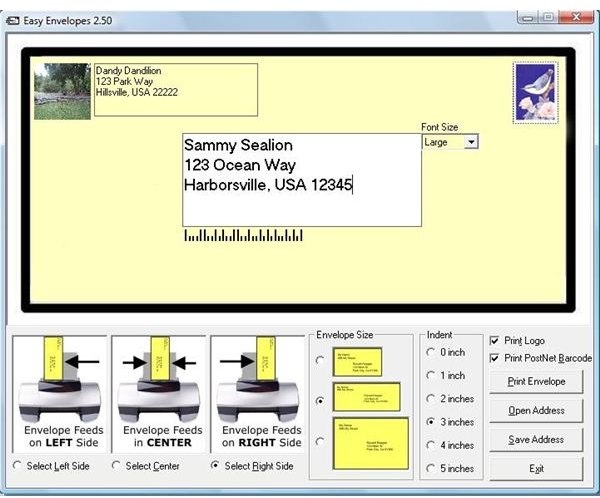 If you need to use a program to address envelopes for a single mailing, you may wish to consider using Easy Envelopes. This program is easy to use (as its name suggests), and you can use logos in the program. You only have a few choices so far as font and envelope sizes go. You do get the opportunity to import your addresses from a mailing list and print the USPS bar code for your envelope.
Pros:
The program is easy to use and you can import your address list into it
Use logos for your return address
Add a bar code for the recipient address
Cons:
Only free for 15 days, after the trial period you will need to purchase the program for $14.95
Limited envelope size and font options available
4. Envelope Printer Manager Pro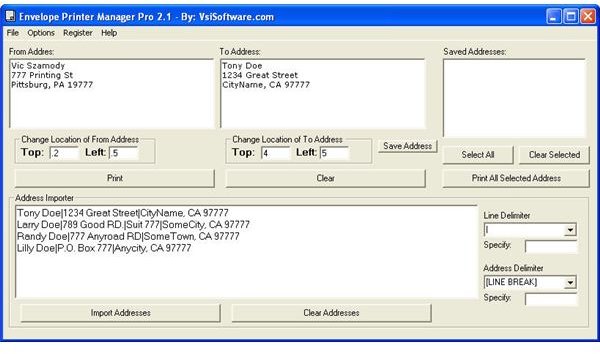 Envelope Printer Manager Pro is another program that is free and easy to use. This program specializes in importing large numbers of addresses from your CSV files. By importing your addresses into the software, you can greatly reduce the amount of time you would otherwise spend on inputting the addresses individually. If you need to print a massive mailing list of envelopes - today - this is software you will want to look into.
Pros:
It is easy to import CSV files into the program and the process goes fast
Cons:
You can only use the program free for four days
There is no logo input for this program
I was unable to install this program on the test machine
5. An EZ Envelope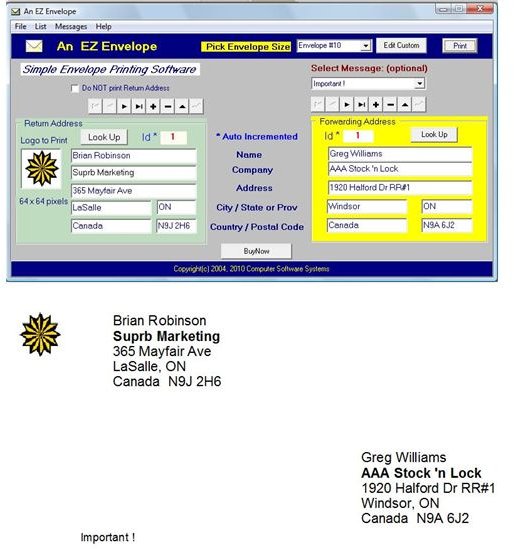 Finally, if you're working on a mailing project that will last for about a month, An EZ Envelope is a great option for you. Not only can you utilize a logo and import addresses, but you can also create envelopes and addresses for foreign countries as well as for the United States. This program also allows you to use logos and add a message to your envelope–"important" for example.
Pros:
The program is easy to use, there aren't many screens for you to go to
You can preview the envelope as it will appear before you print it
Choose to include a return address or leave the return address out
Cons:
The program is only free for thirty days, after that, you will need to register the software
Resources and Screenshot Credits
Quick Envelopes - https://www.ed-it.com/p_qenv.htm
Envelope Printer - https://www.datawaregames.com/html/env.htm
Easy Envelopes - https://www.directlogic.com/ezenv.php
Envelope Printer Manager Pro - https://www.vsisystems.com/envelopeprinter.htm (screenshot courtesy of website)
An EZ Envelope - https://anezenvelope.com/