Best Free Tulip Dingbats: Top 5 List of Dingbat Tulip Images & Fonts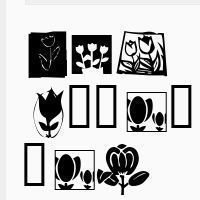 What Are Dingbats?
Dingbats are fonts that display images instead of displaying text. All of the dingbat tulip fonts in this article are free dingbats, and all you need to do is download them with the click of a button. Once downloaded, you then use them in the same way you would any regular font, only instead of a letter appearing you get a wonderful tulip image.
KR Tulips
The tulip dingbats in this font selection are very modern and abstract, and unlike many other dingbat font collections, there is a superb image for each letter of the alphabet, so you are sure to find one that will suit your needs. There are some great images that would work on their own as a feature of a Mother's Day card, or made into a tulip border for a scrapbook page. Due to their abstract nature, you might find an appropriate tulip dingbat image here to use when making a sympathy card too
Source: https://www.fontoteka.com/download-font-kr-tulips.htm
Tungfont Nature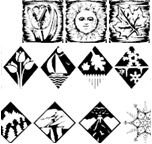 This font has a seasonal theme, so not all of the dingbats are of tulips, but with the four seasons covered, tulip seems to be the representative of spring, and the images are well worth a look. If you also need snowflake dingbats for a winter project, or cloud dingbats, or leaf dingbats then this is the font to use. The more detailed tulip you can see in the first image to the left would be superb just as an isolated image on a sympathy card, whereas the more stylized tulip image you can see would be easily transferred into an embellishment for scrapbook pages. Try using it with one of Bright Hub's own free digital scrapbook papers.
Source: https://www.fontspace.com/tungfont/tungfont-nature-001
Discover Dingbats Tulip Dingbat Font

While this is not a conventional tulip dingbat, it certainly has its uses. It is a cross between a conventional font and a dingbat font, in that the text will appear as you type it, only in the tulip will make the letter shape. The site allows you to preview whichever text you wish so you can see what the finished article looks like - the example pictured says "tulips" and can be seen in more detail by clicking on the image. This dingbat font has a multitude of uses, but would look especially stunning used on a Mother's Day card as you could keep the traditional "floral" approach, but personalize the text.
Source: https://www.discoverdingbats.com/font/tulips/
LP Flowers 2 by Shadowy Mist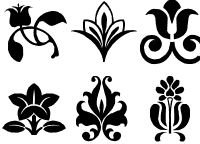 The majority of the flowers in this dingbat collection are tulips, and are either very abstract, or with added swirls etc, rather than a true representation of a tulip image. They are very attractive, and would be superb incorporated into a spring theme scrapbook page, as well as Mother's Day cards. Due to the design of many of the images, you could also adapt them to make your own tulip wall stencils, or to use as design inspiration for a 1930s home decor look. As well as tulips there are also some roses, abstract flowers and poinsettias (great dingbats for Christmas).
Source: https://www.dafont.com/lp-flowers-2.font
Art Nouveau Flowers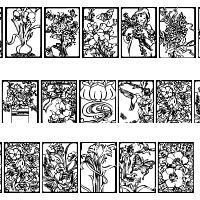 As tulips are very much a feature of 1930s and the Art Nouveau style, this highly detailed collection of art nouveau floral images contains some superb free tulip dingbats. Due to their detailed nature, you would do well to use them at a large size and even increase this size with a photo editing package, or on a copier machine. Choose just one to make a beautiful image all on its own, for a springtime wedding invitation, or when making a female birthday or Mother's Day card. There are other floral images too, and even some flower fairy images.
Source: https://www.dingbatdepot.com/details/ArtNouveauFlowers
References
https://www.discoverdingbats.com
This post is part of the series: Free Dingbat Fonts & Tips on How to Use Them
Dingbats are extremely versatile fonts that let you take the scalable properties of traditional typefaces and apply them to great images and clip art. This series describes, in more detail, how to use these tools and helps you find your own free dingbats to download.