Print Tickets Easily with Free Ticket Printing Software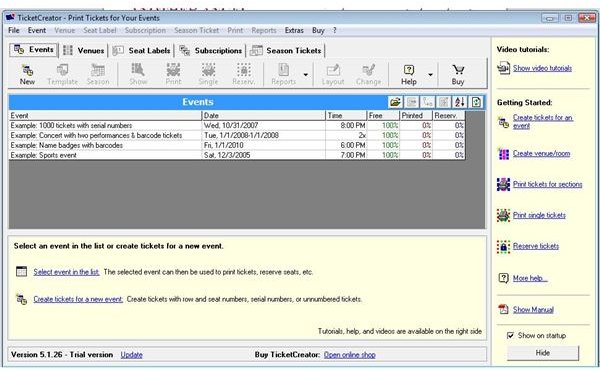 Looking for Free Ticket Printing Software?
Whether you're running a church event, creating a fundraiser for students at your school, or putting together an event with raffle tickets, free ticket printing software can greatly benefit you in creating and printing custom tickets. In looking for free ticket printing software, there's a few things you're going to want to keep in mind. If you have ticket tracking in the software, in addition to the ability to create and print tickets, it will greatly improve the functionality of the software and will add ease to your interactions. You will be able to track when your tickets are sold out, how much you have made from the tickets, and what seats are still available. You should look for software that allows you to take full advantage of these benefits when trying to find software to help you create tickets. Below are the five best free ticket creation software programs.
TicketCreator
TicketCreator is an outstanding option for individuals looking for free ticket printing programs. This program allows users not only to create and print tickets for events, but the program also allows users to track venues, create databases for tickets and determine when an event has been sold out. You can set different prices for your tickets based upon what section the ticket is for. Also, if you need bar codes on your tickets, this program can also do that for you.
Pros:
TicketCreator is an all-in-one free ticket printing program
You can keep track of the tickets sold as well as create tickets in this program
If you need to print a large amount of tickets, this program is quite capable of handling large volumes with assigned seating
Cons:
While the program has many great features, it is difficult to use
The full version of the software costs $149
LottoAlly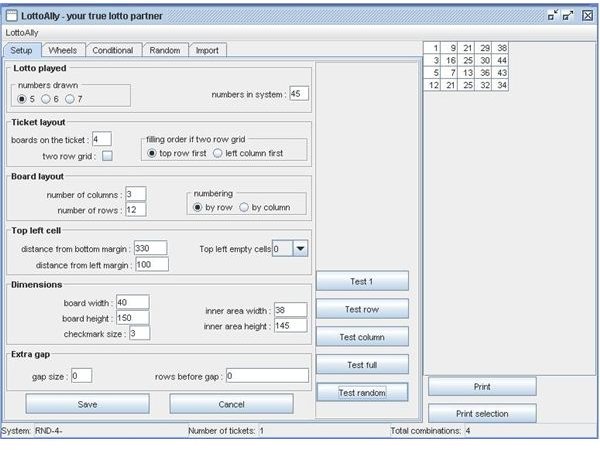 If you're hosting a fundraiser, perhaps you require raffle tickets or a lottery to help make the fundraiser a success. LottoAlly helps you to create your lottery and raffle tickets. The program not only prints off tickets (though you have limited design options) but it also randomly selects the numbers at a push of the button. The program can be a great resource for those who need it.
Pros:
The lottery or raffle will be genuinely randomized
Each person will have a specific ticket to play along with
Cons:
Like TicketCreator, LottoAlly can be a little complicated to use. Be sure you read the ReadMe file
Event Ticket Printer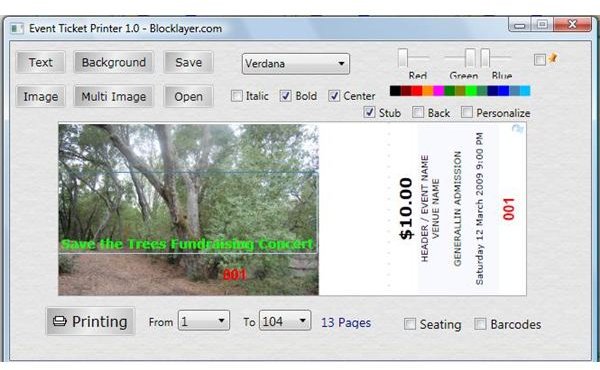 Event Ticket Printer is an in-browser software program that allows users to create and print tickets for raffles and events for free. The program is quite a bit more user-friendly than the other two and you can still add bar codes and seating to your tickets. You can also design fronts and backs for the ticket. This can be the perfect option for a school or church putting on a play or other event.
Pros:
Easier to use and the actual design software is quite intuitive
Allows you to create bar codes without additional software
Allows you to completely customize your ticket
Cons:
The program is still somewhat clunky and slow as far as design software goes
You can only track seating for up to 200 people, so if your event will be larger than that, you may wish to find different software.
Raffle Ticket 3.0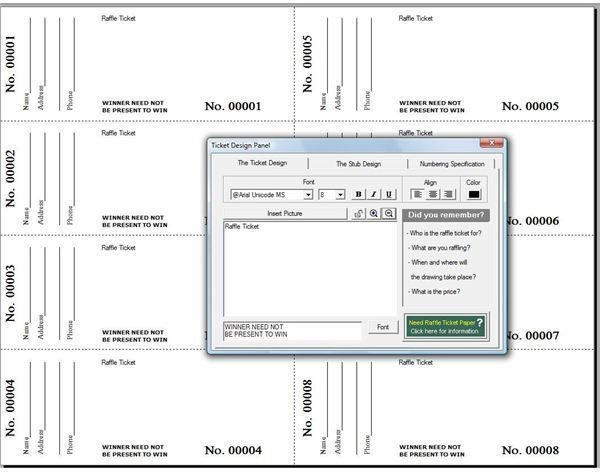 Raffle Ticket 3.0 is a neat little free ticket printing software that allows its users to create raffle tickets. In the program, there is also a link to where you can purchase the tickets which may be printed on. Create your tickets with color, text, and images. Be aware that to print without a watermark, you will have to purchase the program for $29.95. If you only need the program for one set of raffle tickets, I'm not sure you should worry about the watermark. If you regularly do events with raffle tickets, then of course you should register the program!
Pros:
Raffle Ticket 3.0 is an easy program to use and learn
The program automaticaly lays out your raffle ticket depending upon what you put in the creation box
Cons:
The watermark can be annoying, so the program isn't completely free
When using images, you'll need to pre-size the images so they don't pixilate
PrintBox TM14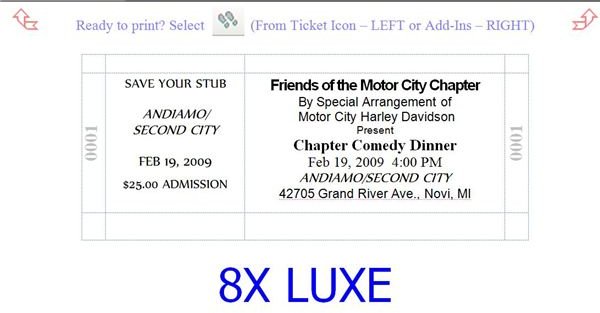 Finally, PrintBox TM14 is free ticketing software created for use by nonprofits. The program allows you to create your tickets in a familiar Microsoft product - Word - using pre-designed templates. The license allows nonprofits to print up to 500 tickets for free. This is perfect if you're running a smaller event or your first event. The program operates as an add-in with its own toolbars.
Pros:
This program is very easy to use for designing your tickets
The program allows you to use a product you are already most likely familiar with
Cons:
If you need to create more than 500 tickets, you'll need different software (or to upgrade their software)
The software can be a little slow
References & Screenshots
TicketCreator - www.ticketcreator.com
Lotto Ally - www.logotet.com
Event Ticket Printer - FreeTicketPrinting.com
Raffle Ticket 3.0 - https://download.cnet.com/Raffle-Ticket/3000-6675_4-10494098.html
PrintBox TM14 - https://www.printbox.com/Ticket_Software_PrintBox.htm