Next Generation Noise Removal Plugin for Paint Shop Pro and Photoshop – Review of Topaz DeNoise
Topaz DeNoise v2.2
Three of the most common technical problems you'll see in digital photographs are exposure errors where the image appears too dark or too bright, excessive amounts of noise, and unplanned blurred objects in the image. These last two issues are usually the worst since most major photo editing applications can easily correct brightness issues, but it's at the expense of introducing more noise and blurriness to the image.
Topaz DeNoise is a noise reduction plugin developed by Topaz Labs that works with several major photo editing applications, including Adobe Photoshop and Corel Paint Shop Pro Photo X2 Ultimate. To start out with a rough test of the plugin, I looked for one of the noisiest photos I had. I found this one shown below which has a great deal of visible noise in addition to a lot of other problems. (Click any image for a larger view.)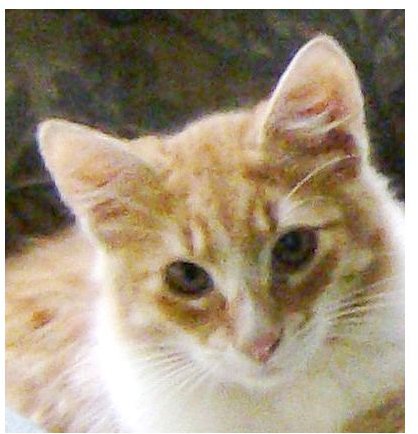 Now, I knew that Topaz DeNoise wouldn't be able to fix all the issues with this photo, but I did want to see how it would handle the noise. Just applying the basic filter (one click), gave me this modified image.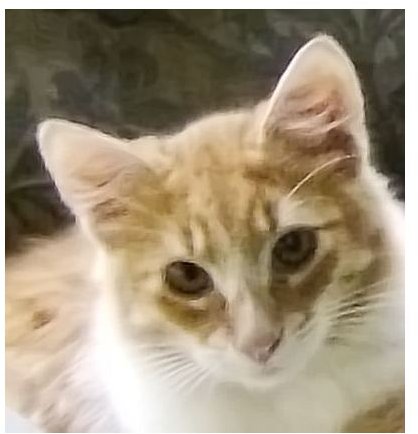 Again, there's still a lot of work to be done on this photo, but I was pretty impressed with the initial results of the plugin. Now, let's take a look at the product's other features.
Setup and Installation (5 out of 5)
The download file for Topaz DeNoise includes an installation wizard so the application is easy to setup and install. Depending on which photo editing program you're using, you may have to perform an additional step or two in order for the software to recognize the plugin. For instance, if you're using Paint Shop Pro, you'll need to make sure the Topaz DeNoise directory has been added to the list of plugin locations.
No reboot of the computer is required, but you may need to shut down and restart the software application before you're able to access the plugin, depending on which program you have.
User Interface (5 out of 5)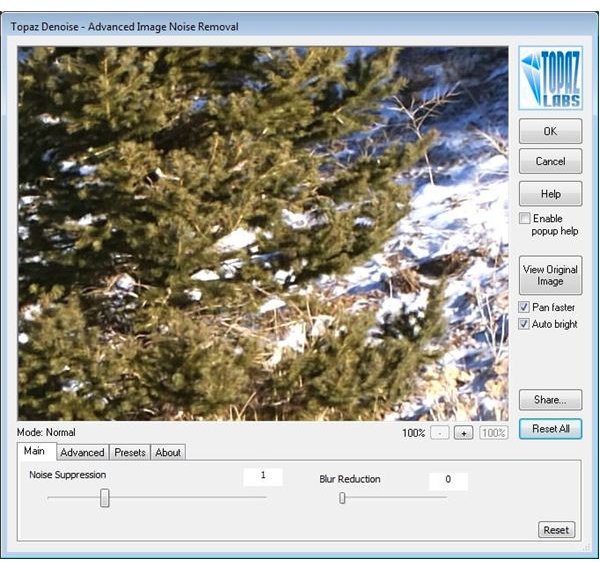 Just as with Topaz Adjust and other plugins from Topaz Labs, the interface of Topaz DeNoise is very simple and incredibly easy to use and understand. When you first open the plugin, you'll be met with the software's initial recommendations for noise reduction settings and be able to see a preview of how those results would change the image. Many times, you'll be able to stop right here without making any further adjustments.
If you do need to make some additional changes, all you have to do is navigate through each tab and adjust the slider for any attribute you want to modify. If you're new to the plugin, and want a bit more information about what each slider does, you can put a check in the box next to Enable popup help. With this option chosen, a small popup balloon will appear each time you mouse over a slider, giving you more information about that setting's function.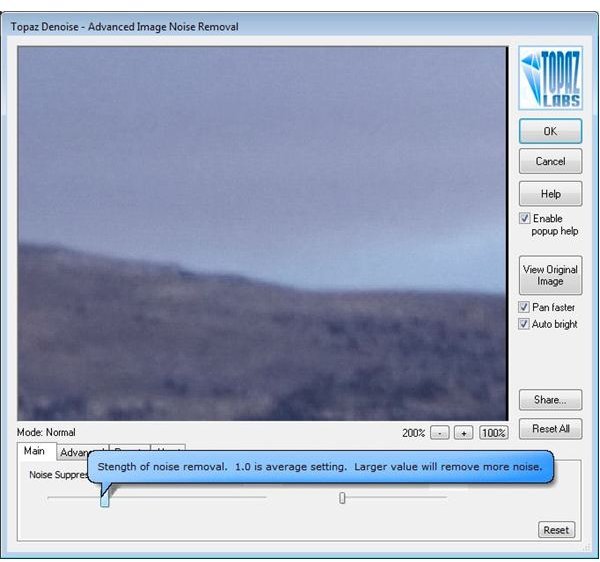 Next: Continue on to the next page of this review to find out more about the features, user support, and price to value of Topaz DeNoise.
Features (5 out of 5)
Most of the standard noise reduction tools on the market today employ wavelet-based algorithms that often introduce other problems into the image, such as detail blurriness, when reducing noise levels. Contrary to this, the advanced methodology used by Topaz DeNoise actually has the ability to improve image quality as it reduces noise.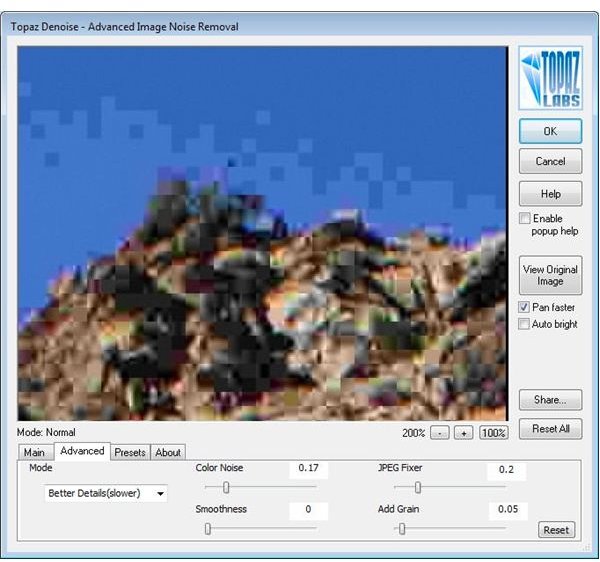 When making adjustments to your digital photos with this plugin, you can actually focus in on the precise type of noise that you want to correct. For example, if the problem with the image you are trying to correct is really due to JPEG artifact noise resulting from high levels of compression, you can navigate directly to the Advanced tab of the plugin and adjust the JPEG Fixer slider.
One thing to note is that when working with RAW images, you'll want to make sure that any noise reduction and sharpening tools used by your RAW converter are turned off so that you're editing the original true image. This way you won't be trying to apply one noise reduction algorithm on top of another, which could result in much poorer results.
Another great feature of Topaz DeNoise is that if you find a certain set of parameters that achieves the results you want, you can name and save the settings so that future modifications using these parameters can be performed simply by selecting the option on the Presets tab. To get you started here, a small collection of presets is included with the plugin.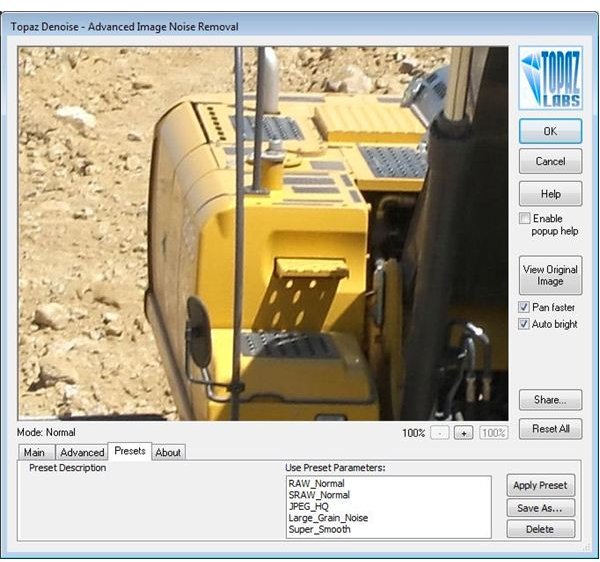 Not only can you save preconfigured settings for your own future photo editing projects, but the Share button located on the right-hand side of the application makes it easy to distribute newly created styles with other users of the plugin. Clicking on this button will bring up a new window listing the current parameters being used in the noise removal tool. One more click copies the settings to your clipboard, allowing for easy pasting into email or other documents.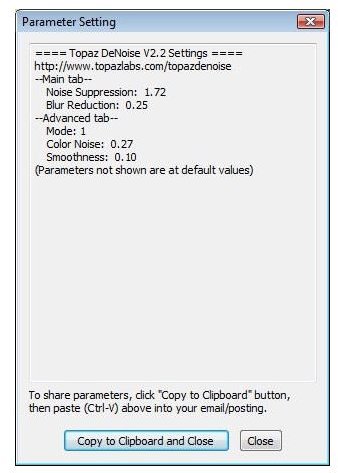 User Support and Documentation (5 out of 5)
The user support and documentation for Topaz DeNoise is phenomenal. In addition to the detailed, yet easy to read, manual that accompanies the plugin, there is an excellent video tutorial on the Topaz Labs web site that gives a very nice overview of the product.
The developers and staff at Topaz Labs also do a wonderful job with addressing customer comments and troubles. If your problem can't be solved by reading through the FAQs at the web site, you can contact the support team directly and expect a personalized response to your issue.
Price and Overall Rating (5 out of 5)
While the $79 price tag may cause those on a budget to wince a little, the old adage "you get what you pay for" certainly applies here. Topaz DeNoise is one of the best noise removal tools on the market, and it is certainly at the very top of that list for other products in the same price range. Add in the facts that the software is extremely easy to use and obtains amazing results, and the package is truly hard to beat.
Another advantage is that, at the time of this review, Topaz Labs is offering a free copy of Topaz Adjust with the purchase of Topaz DeNoise. When combining these two plugins, you can really obtain some amazing effects, especially if you're a fan of turning digital photos into more artistic creations.
The best way to see if the plugin is worth the money to you is to test it out yourself, though. You can download a fully functional version of Topaz DeNoise for a free 30-day trial. Topaz Labs also offers free trials of its other products so you can download them as well and see how nicely they work together.
Also, be sure to check out Bright Hub's expanding collection of Paint Shop Pro tutorials and plugin reviews for more photo editing tips and tricks.