Adobe Lightroom and the Digital Photography Workflow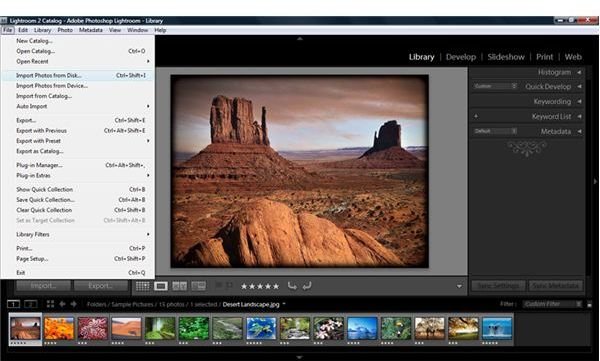 Understanding of a Digital Photography Workflow
In order to master the digital photography workflow, one first needs to understand what a workflow is in general, and then what a workflow is in the context of digital photography.
Workflow can be defined as "A series of logical steps, actions or procedures which need to be performed in sequence in order to achieve a desired result or outcome."
In the context of digital photography, the digital photography workflow is the sequence of actions which need to be performed in order to:
Download images from the camera.
Backup images for storage and safekeeping.
Sorting images - picking good images for post-processing and eliminating bad images.
Post-processing images.
Posting them online / printing them for offline use.
Format memory card and charge camera batteries for future use.
Note: Step 5 is optional and may vary from shoot to shoot. I have included it in the workflow for completeness.
Digital Photography Workflow using Adobe Lightroom
The sequence of operations described above are, in my opinion, the essential requirements of a digital photography wor
kflow. The reasoning behind this is explained below.
Download images from camera - This is the first step in the digital photography workflow and involves copying images from your camera or memory card to the laptop. Adobe Lightroom will automatically detect when a memory card is plugged into the computer. Alternatively, images can be imported using either the file menu or by clicking on the Import Button in the bottom left.

Backup images for storage and safekeeping - Computers are fickle when it comes to storage of digital data, and hence it becomes important to backup your images regularly. Using a software program like Adobe Lightroom which automates this can help reduce time spent on mundane activities and free-it up for more photography.

Picking & Sorting Images - The best photographers always sort their

images after a shoot, so as to pick good images for post-processing and eliminate bad images or keep them aside for later usage. Deleting images is not recommended unless they are completely unusable. Use the flagging options within Adobe Lightroom to pick images. The flag options are indicated below in the toolbar screenshot. The keyboard shortcuts are Pick – P, Unpick – U and Reject – X.

Post-processing Selected Photos - Adobe Lightroom (or any other digital asset management program) has various options for post-processing such as red-eye removal, straightening of images, cropping photos, correcting tones, hues, saturation, brightness and contrast, etc. In addition to these, Lightroom also has a variety of presets which can be used to give images a certain look such as more vivid colours, greater contrast, a black and white or a sepia effect, etc. All these and much more editing can be performed using the Develop Module within Lightroom.

Publish to Web / Print Photos - Once the images have been

post-processed, you may want to publish them online to a blog or a website, or you want to print them for offline use in an album or a portfolio. Lightroom has facilities to do both of these with ease via the Print and Web Modules. Professional looking slideshows can also be created by using the Slideshow Module along with templates as required.

Format memory card and charge camera batteries for future use - This step is usually forgotten and may lead to irritation in the future if you want to shoot photos and the memory card is full or the batteries are discharged. Hence at the end of your workflow, its prudent to always keep the camera ready for the next shoot.