How to Create Photo Slideshows Using Adobe Lightroom
Introduction
The Slideshow Module within Adobe Lightroom is specially designed to help create stunning slideshows. It has a variety of options which are very simple to use and can help create slideshows using Adobe Lightroom within minutes.
The left panel contains the following
Preview option which shows a preview of the selected image,
Templates section which contains Lightroom templates and user-defined templates for creating slideshows
Collections section which shows the various collections present in the catalog.
Tools available in the Right Panel
The following are the various sections present in the Right Panel
Options Section
This can be used to zoom the image to fill the frame, add a stroke border to the image, and cast shadow to the image**.**
Layout Section
The Layout section can be used to select the Left, Right, Top and Bottom margins and also show guides to indicate the area within which the image will be displayed.
Overlays Section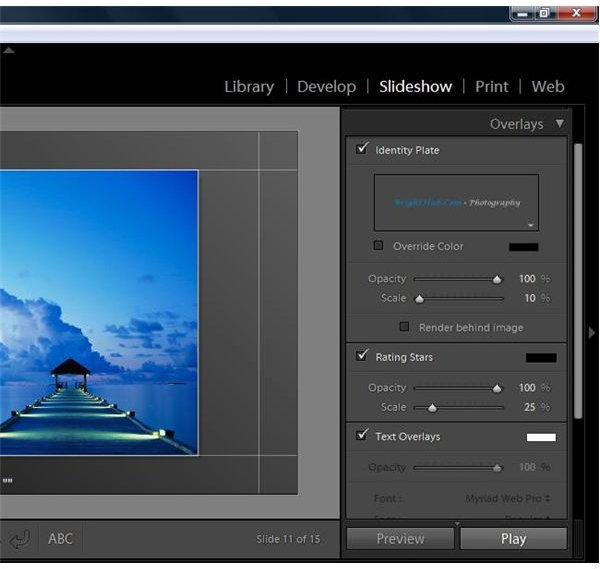 The Overlays section can be used for the following
Add the Identity Plate as an overlay - Can be used to add creator information to the image
Add Rating Stars as an overlay - To display the image's star rating during slideshow
Add Text Overlays - Used to add captions to the image
Backdrop Section
Obtaining the right combination of light, perspective and background is crucial for most photos. Hence choosing a suitable backdrop for a slideshow becomes important.
The Backdrop section can be used for the following
Add a Colour Wash to the background - Adding a background gradient in a particular colour
Add a Background Image - Using another image as background
Add a Background Colour - This is used in conjunction with the colour wash
Titles Section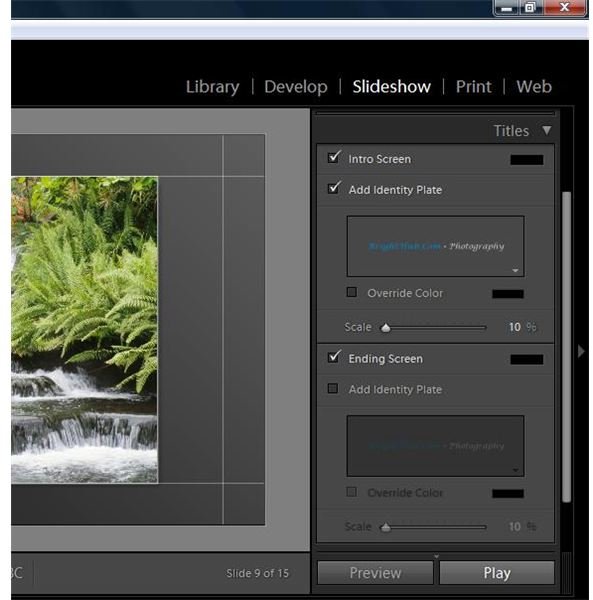 The Titles section can be used for the following
Add an Intro Screen to the slideshow
Add an Ending Screen to the slideshow
In both cases, a suitable colour can be chosen, the Identity Plate option can be selected, and either the existing Identity Plate can be used, or can be edited as required and scaled for display.
Playback Section
The Playback section can be used for the following
Add a Soundtrack to the slideshow
Choose a Slide Duration for the images
Randomize the order of display
Choose a loop option to repeat the slideshow
The Preview and Playback options can be used to view the slideshow. The slideshow can be exported as JPEG files or as a PDF. By using the above options, one can create stunning slideshows which can be posted online and shared with everyone.
This post is part of the series: Beginner's Guide to Adobe Lightroom
This article series is a beginner's guide to Adobe Lightroom and the various modules within Adobe Lightroom. It discusses the Lightroom interface, the five modules and the various tools available within Adobe Lightroom and is a must-read for all photographers interested in using Adobe Lightroom