Learn How to Make a Photo Frame from Cork with this Fun Photo Craft Project!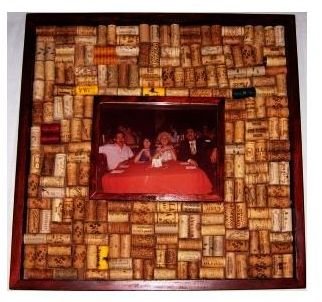 What You'll Need
Cork Board Tiles (these are available from Amazon here, widely available in office supply stores, or alternatively you could use roll out cork board and cut tiles out of it)
Hot glue or Crazy Glue
Fun Tacks
A favorite photo
X-Acto Knife
How to Make a Corkboard Photo Frame!
On one cork board tile, place your photo over the center (or however you would like the picture to be framed).
Lightly draw a pencil line around the picture and remove the picture.
Place the cork on a hard surface (like marble or a cutting board, something that it will be all right if the knife scores it unintentionally). Using the X-acto knife, cut out the marked area. Make the cut as clean and even as possible.
Using the glue, adhere the photo to the cork board piece you just cut out.
Place the cut-out window over the photo, aligning the two boards evenly so the picture comes through the top board.
Glue the upper board (with the cut in it) in place over the picture.
Push the tacks into the cork board.
A lot of cork board tiles will come with foam tape squares or magnets, so attach whichever you prefer and enjoy your picture frame cork board!
Example
Photo Credit
https://www.winevine-imports.com/images/thumbs/t_976.jpg
The Picture
As you can see from the picture above, this can be a very versatile and beautiful craft. The way I've explained is probably the cheapest and easiest, but this is a really stunning variation. The person who made this actually amassed their own collection of wine corks to comprise the cork board. By gluing them around the picture, they've created a cork photo frame with originality and flair - not only would you be exceptionally hard pressed to find a replica of this, but undoubtedly the corks and the bottles of wine themselves hold many lovely memories without anything being tacked on. Always look for ways to experiment with photos!
This post is part of the series: 10 Fun Photo Craft Projects!
This article series will provide you with 10 fun and inexpensive photo craft projects. With easy-to-follow instructions and helpful tips, your digital photographs will finally get the attention they deserve. These photo craft projects are great for the whole family…even teenagers!