Learn How to Make a Personalized Photo Tote Bag - Save Money with This Easy Photo Craft Project!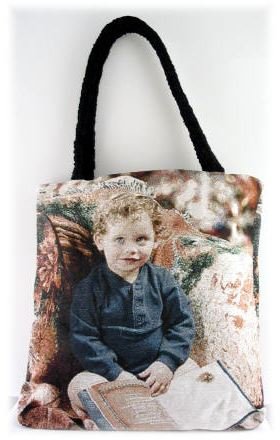 What You'll Need
Tote Bag (any variety, as long as it has space for a 4x6 on the front
Photo Sleeve (or more than one, if you'd like multiple pictures)
Favorite Photos!
Crazy Glue
Ribbon (optional) in a coordinating color with the bag.
How to Make a Photo Tote Bag
First, make sure your tote bag is clean and dry. If it's dirty, spot clean with a damp cloth and allow to dry completely.
Lay the tote bag out flat, and if needed, mark where you would like to put the photo. Make a note of whether you would prefer it to be horizontal or vertical.
Slide the photo into the photo sleeve for a little extra support and substance while gluing.
Put a thin layer of newspaper inside the tote bag in case the glue comes through the canvas (unlikely, but possible depending on the thickness of the bag, and it's better to be prepared when it comes to Crazy Glue!).
Put Crazy Glue on the outer borders of the photo sleeve, and press it firmly to the tote bag. At this stage, I recommend placing a book on it for a minute or two just to ensure the best adhesion.
If you would like to have a changeable photo, you're all done! Enjoy your beautiful bag. If you would like a slightly more polished product (that you cannot change the photo), take the ribbon and slowly glue it around the edge of the photo, sealing the entry point and creating a beautiful border.
This is a great gift for moms; it's a wonderful, easy to make and cheap option for Mother's Day or her birthday. For the rest of the women in your life, this makes a wonderful and personal gift. These "photo totes" retail for upwards of eighty dollars on the photo printing sites; this is a great alternative!
Examples (Click on Images to Enlarge)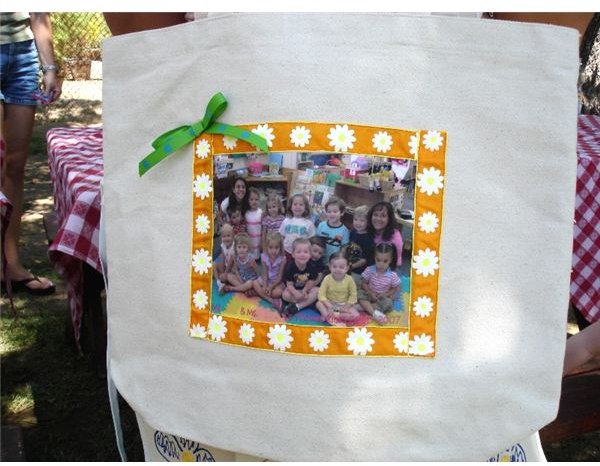 Photo Credits
https://www.aspecialgift.com/img2/MWpicture_tote_bag.jpg
https://littleeverydaythings.files.wordpress.com/2008/04/orange-ribbon-tote-bag.jpg
This post is part of the series: 10 Fun Photo Craft Projects!
This article series will provide you with 10 fun and inexpensive photo craft projects. With easy-to-follow instructions and helpful tips, your digital photographs will finally get the attention they deserve. These photo craft projects are great for the whole family…even teenagers!