Wall of Photos - A Photo Craft Project & Teen Room Decorating Idea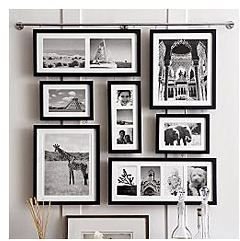 What You'll Need
Photo Sleeves (you can get ones with adhesive strips here, which will eliminate your need for hot glue)
Wide Ribbon, two spools
Hot Glue or Crazy Glue
A nail or a hook
Wall of Photos
How to Make a Wall of Photos!
Choose a space. Find a place on your wall that is long and narrow and is a visible space for display.
Mark out your photos. Factoring in space between them, decide how many you would like to go on the wall, keeping in mind that if they're too high or too low, you won't look at them as often.
Measure a length of ribbon to correspond with the length of your photo wall.
Cut a second piece of ribbon to the same length.
Lay out newspaper over a clean and clutter-free table.
Lay the two pieces of ribbon down on a table, leaving two-three inches between them on top of the newspaper. It's not a bad idea to lay them evenly and put a book on either end so they stay flat and evenly spaced.
Glue the photo sleeves at even intervals (or space them however you like–get creative! You can make some vertical, some horizontal, some on only one ribbon and some on the other).
Let the photo sleeves dry completely before moving the ribbon or inserting photos.
Tie the two ribbons at the top so you can put the whole thing on a hook or a nail.
When dry, insert photos and hang on the wall. Feel free to change the photos whenever you (or your teenager) likes!
This is a great project to do, especially in multiples. The more strings you have the more photo configurations you can come up with, and you can always change it or take it down. It's a great way for a teen to feel like they've really personalized their room without disrupting furniture or paint! For bigger projects, switch up the ribbon or decorate the spare gaps of ribbon with stick on rhinestones, stickers, or whatever you want!
Photo Credits
https://www.outblush.com/women/images/2007/08/wall-gallery-frame-set.jpg
This post is part of the series: 10 Fun Photo Craft Projects!
This article series will provide you with 10 fun and inexpensive photo craft projects. With easy-to-follow instructions and helpful tips, your digital photographs will finally get the attention they deserve. These photo craft projects are great for the whole family…even teenagers!