How to Create a Photo Family Tree - A Cheap & Cheerful Photo Craft Project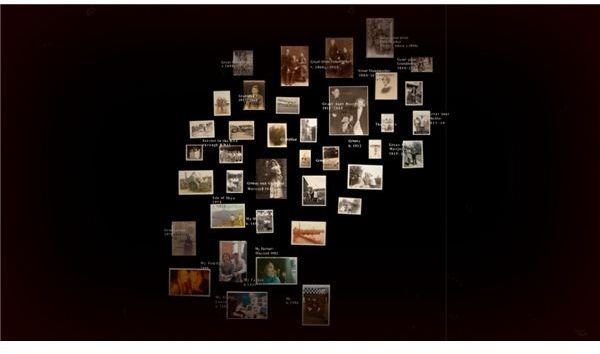 What You'll Need
Printed snapshots of all the family members you want to include

Family group photo (if you have one)

Markers

Decoration material

Glue Stick

Poster Board

Poster Frame
Family Tree (Click to Enlarge)
How to Make a Family Tree!
Lay the poster board flat on a clean table with lots of access to the poster board so you can move around it.
Place your family group photo in the center. It looks very nice if this photo is larger than the rest, a 5x7 or even an 8x10. Don't glue anything yet!
Lay out the other snapshots around your family. One easy way to organize it is to have the paternal relatives on the left and the maternal relatives on the right, starting with a generation above. This will depend on family size, which is why you shouldn't start gluing until you have it organized the way you like.
Once you have it organized, glue the snapshots down.
Start drawing lines from snapshot to snapshot. You can make it a thick black line and write the connection along the line, or a thin line and leave the explanation blank.
Because this is something for posterity, around each photo you should write who is in it, and if possible, when the picture was taken. More information is better than less!
Decorate the blank space with the decoration materials as you see fit. This is your opportunity to really personalize your family!
Once the poster looks the way you want, let it dry completely overnight. If anything is rippling or warping, place a heavy book over the spot.
Frame the family tree in the poster frame, and proudly display it somewhere in your home!
Tip: When choosing your poster board and decoration supplies, consider the colors you are going to use. White frames around your photos will look great on a black background, and contrasting colors can help draw the eye to specific photos.
This is a beautiful, inexpensive craft and can be a great way to keep family close by (especially in a child's room!) if your family doesn't live close by. Also makes a wonderful holiday craft to get excited for the holidays! This makes a very nice gift, but I think it's best when you personalize it with your own family touch!
Photo Credit:
https://www.castalle.com/files/family.jpg
This post is part of the series: 10 Fun Photo Craft Projects!
This article series will provide you with 10 fun and inexpensive photo craft projects. With easy-to-follow instructions and helpful tips, your digital photographs will finally get the attention they deserve. These photo craft projects are great for the whole family…even teenagers!