How To: Get Noticed in Digital Photography Via Networking
If you want to learn how to get noticed in digital photography, you might be surprised to learn that it isn't as hard as you think. While getting yourself out there does take quite a bit of leg work and persistence, you can learn how to make your name known in the digital photography world by following the simple tips and tricks listed within this article!
Image Credit: Tattooed JJ
Create and Maintain an Active Website
While you may have thought about creating a website only to write the idea off, it's one worth revisiting. Digital photography lends itself to easily being shared across the internet, and placing it on a well-designed website can get you noticed! Not to mention, a website is a great place to list your contact information, any degrees, awards, or recognition you may have received, and if you are available for hire or shows! Think of your website as an active online photography portfolio and only host your best images there. After all, you want people to notice you, right?
Be Active in Your Social Networking
It might sound strange to think that social networking is something that could help you get noticed in the world of digital photography, but stop to think about it for a moment. The internet is a vast place where millions of people meet every day to view and share links with each other, so creating a strong web presence for yourself is crucial if you're going to get yourself noticed! What are some of the places you should check out?
Flickr: If you've shared your photography at all on the internet, I'm sure you've already heard about Flickr. In September of 2010, Flickr boasted that it was hosting over five billion images and has an extremely active community looking to share their images, as well as those who are always looking for great photographers to follow! Flickr allows you to tag your images by keyword, offer your images to be used as stock via a Creative Commons license, and even offers the ability to disable users from right-click saving your images.
Facebook: It might be hard to imagine that Facebook could have anything to offer a budding photographer, but when you realize that they have an active community of over 500 million people, it might not seem so farfetched. One of the easiest ways to do this is to simply create a fan page and upload your images there. Ask friends and family to follow your page and share with friends, and if you've got the cash to spare, you could always purchase Facebook ads. However, word of mouth generally is a fantastic way to get noticed through Facebook!
Twitter: In the age of smartphones, Twitter is rapidly becoming increasingly popular. For those who are willing to work at building a strong online presence, Twitter could easily become the tool that sets you apart. With several photo-sharing services available specifically for Twitter (such as TwitPic or yFrog), you can upload images simply by dragging and dropping, allowing instant gratification for your followers!
Please note: If you're out to get noticed, be aware that art theft is extremely common, and many people may not even realize that taking your photographs is wrong. If you're going to share your work with the world via social networking, it's a wise idea to begin watermarking your images, or uploading lower-resolutions to your social networking galleries and albums. After all, it's better to be safe than sorry!
Be Active in the Art Community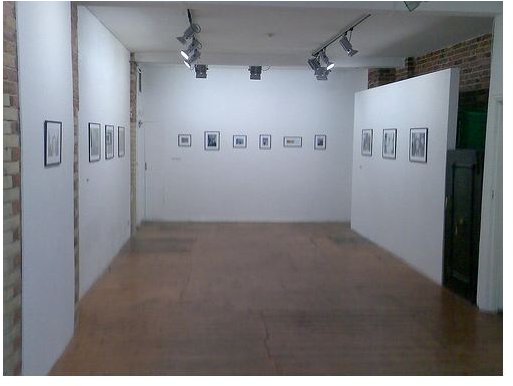 While you might not be getting phone calls from famous art galleries offering you private shows just yet, don't make a big mistake and skip over local public shows! See if your city, as well as local cities around you have an active artist community. Take advantage of public art shows when they come up and present some of your best works for show. After all, you never know who might be strolling by!
Image Credit: ollybenson
Network, Network, Network!
Do yourself a favor and get some business cards printed up with your name, website, and basic contact information on them. When you're out and about, if people take interest in what you do, hand them a card. This is an easy way to network with people that doesn't cost an arm and a leg, and is effective if you stick with it! And don't be afraid to ask for help, either! If you think you know someone who could help you out, see if you can do a favor exchange. Remember that hard work pays off in the end, after all!