Buyer's Guide to Audio Editing Software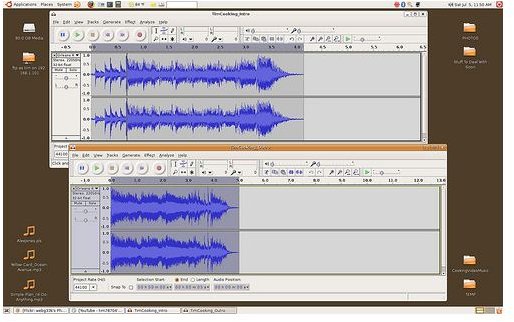 There are plenty of things to look at in audio editing software — starting with what its main features are. Some programs are great for handling mixes, others for working with vocal tracks. Some programs cost thousands of dollars and some are totally free. As you check out the reviews collected below start making a list of the features that mean the most to you. If you're an amateur, ease of use should be right up near the top (and we have seen plenty of options that are right up your alley), and if you're a professional there are a few high end programs that we checked out as well.
Microsoft Songsmith - Better Than You Think?
Even if you've never tried your hand at digital music or editing there are some pieces of software that make the process child's play. This is one of those. What can Songsmith do? It can take any sound that you record and create a musical accompaniment for that recording. Pretty amazing, huh? That's only the beginning with Songsmith, some of the advanced features can have you composing your own pieces within hours.
Do you want to work with professional quality sound? Music Maker 16 is loaded with over 1500 professional recordings that can be looped, mixed, tweaked, shredded and otherwise manipulated with a wide array of editing tools. The interface is ultra easy so you'll be creating tracks before your seat is even warm.
Cool Record Edit Deluxe Review
Looking for a budget friendly editor that still has features that are worth paying for? Cool Record Edit Deluxe may be the editing software you need. It offers the standard trimming and recording options as well as import and export features that allow you to send files to other programs to finish them off. Not shabby for a piece of software under $50.
Another budget friendly editing choice is the Expstudio. It has several of the same features as Cool Record but it also has an almost fully functional trial version (the only thing missing is the export feature). It also can handle Apple audio files for those of you who like to do your composing on a Mac.
Music Production Software Review: FL Studio Version 10
If you're ready to move up from the basic editor FL Studio 10 might be the best place to start. It is a full production digital audio workstation that records, edits and mixes multiple tracks. There are several plug-ins that can be used with this software and the user interface couldn't be easier. It even has a try it before you buy it demo that shows off the full features (minus the ability to play saved files).
WavePad: An Optimal Choice between High End & Low End Audio Editing Software
This is the everyman's audio editor. A professional musician could use it but it is aimed at the guy who needs to reduce the pops and hissing from a recording made out on the street. The clean up features in WavePad are really the star attraction, sure it has the standard trimming and recording options, but the ability to remove all of the distracting elements from a recording, that's the sell.
Dexster Audio Editor Review: Audio Editing Made Easy
Are you in need of a way to pull the audio off from a video? Are you stumped at how to do it? Dexster's got you covered. It can slice and dice audio using one of the preset filters. It's simple to use and allow you to create professional quality sounds without needing professional knowhow. Did I mention it costs less than $50 and comes with a 30 day money back guarantee?
Sony Sound Forge Pro 10 Review
Professional quality often comes with a professional price tag. The Sound Forge Pro 10 is that quality. It can take an existing composition and break it down into its individual pieces and remaster it. This program is geared toward the professional musician although it is easy enough for an experienced amateur to use. The only question is, does it have enough bang for the buck?
If you are a Linux or Apple user you'll have to take a pass on this one. The Quartz AudioMaster only works with Windows-based computers. It is a powerful program when it works but there have been some issues with its reliability. That said, it's free so it might just be worth taking a chance on.
Linux users have been waiting a long time to find a program that is geared specifically toward them. Well, here it is, LMMS (Linux MultiMedia Studio). The program that will let you explore with a nice interface but falls short in a few vital areas. Find out what it can and can't do and if it's really the right thing for you.
Pro Tools is what the professionals use. Yes, the big recording studios and Hollywood blockbusters. Do you have what it takes to handle this beast of a digital audio editor and suite? Is your home recording studio properly equipped? Do you have enough cash on hand to upgrade your computer system to the required specs? If so, check this bad boy out. You'll never find anything better.
Avid Pro Tools Must-have Plug-ins
Do you already have Pro Tools? Are you thinking about picking it up? Check out these must have Plug-ins that take the awesome raw power of Pro Tools and harness it so that you can make recordings that would make Rick Rubin jealous.
Anvil Studio: A Brilliant Freeware MIDI Composer and Audio Editor
Ok, enough with the over the top, ultra expensive editing suites. How about something for free. Yep, Anvil Studio is a free version editor that allow you to record as many one minute long tracks as you want (as long as you use windows). It is a fully capable editor and for a cheap license fee can give you the ability to make longer recordings as well.
Audio Editor Software Review: Free Audio Editor 2010 for Windows
More freebies? Yep. Another Windows-based editor is completely free. The editor is actually very good and has a boatload of features that you wouldn't expect on a piece of free software but there are limitations. This editor can only save files in WAV format. This could be a real deal breaker even for free software. But this is just a hook; there is a deluxe version that can be scooped up that allows a user to save in MP3/WMA/OGG formats, rip and burn CD's, run batch conversions on groups of audio files, and even use a text to speech converter.
Free Digital Audio Recording Editing Software: Best Five Recommendations
As if two free programs weren't enough, here are five more. Well, four more because WavePad was already mentioned earlier. These selections are some of the most popular editors out there and include Audacity and Wavosaur. If you can't find a free editor you like here, you're just not going to find one.
References