Nokia 2630 Review - Part One
Nokia 2630 Review - Introduction
The Nokia 2630 is a candybar style budget phone from Nokia and is the successor of the Nokia 2610. The cell phone is known for its slim form and it was the slimmest cell phone in its range when it was released back in 2007.
The Nokia 2630 is available in black only.

Image Credits : Nokia
Nokia 2630 Review - Design (3 out of 5)
Slim and simple is what describes the Nokia 2630. At just 66 grams, the Nokia 2630 packs in almost all the features required for a basic cell phone. It is 9.9 mm thick and that is really slim for a cell phone. With a length and breadth of 105 x 45 mm the cell phone is really small and compact. What the Nokia 2630 is missing is dedicated keys, instead of which, the navigation keys have to be used for controls like volume control. The 128 x 160 pixel screen supports 65k colors. The feel and texture is not really appreciable as with many other Nokia cell phones.
The keys on the keypad are well spaced. This makes texting very easy and comfortable. The design is simple and the feel of the cell phone in the hand is really good for a phone in its price range.
Nokia 2630 Review - Features (3 out of 5)
The VGA camera present on the Nokia 2630 is decent and you will be able to capture nice memories in good sunlight. Don't expect it to capture nice images in dull light or darkness. Bluetooth is present so file sharing is easy, however, the absence of a memory card slot is a major drawback of the Nokia 2630 and you will have to make a choice about which files stay on your cell phone. MP3 files are supported in this cell phone and you can choose between having MP3 ringtones or polyphonic ringtones. If you have some really good FM stations in your area, you don't have to worry about which songs to store on your phone.
Connecting to the Internet using GPRS is a really great feature available on this cell phone and connectivity is pretty good for a cell phone in this price range. This lets you browse on WAP (XHTML) sites and check your e-mails and supports POP3, IMP4 and SMTP protocols.
Synchronisation is also available for calendar events, contacts and images which can be done via Bluetooth or USB. Thus you don't have to worry about missing those important notes or those contacts in case you lose your cell phone or if it is damaged beyond repair.
Nokia 2630 Review - User Interface (3 out of 5)
The Nokia 2630 has the same old S40 user interface that you should be familiar with by now if you have been using Nokia phones for a while. The big fonts make it easy to read text in the given screen space. The user interface is very simple. Even if you are not familiar with the menu navigation, you will be surprised at how user friendly the interface is and it has a very easy learning curve.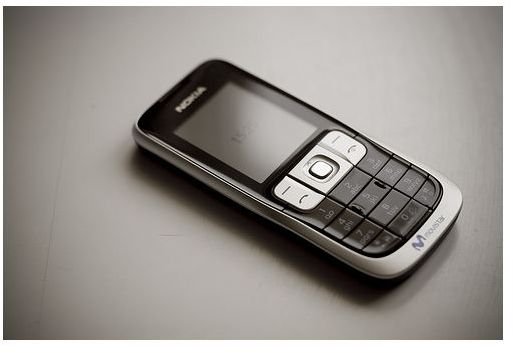 Image Credit - Polvorilla - Flickr
Nokia 2630 Review - Performance (3 out of 5)
With an internal 11 MB dynamic memory, the Nokia 2630 runs all the applications smoothly. The WAP browsing works well and the e-mail support is really good. The call quality during a one to one call or a conference call is very good and signal picking is very stable in places where the service tends to go on and off at times.
The battery during talk time lasts for nearly six hours on a single charge. Playing games for a longer time drains the battery quicker and the Nokia 2630 doesn't offer long hours of battery power if there is continuous heavy usage of the cell phone. The sound quality over the integrated handsfree loudspeaker is good but if the environment that you are in is a little noisy, it will be hard to hear. Same goes for the speakers too, when you get a call and you are in a noisy environment., making it difficult to listen what the person on the other end is saying.
Overall, the features are decent enough for an entry level cell phone.
Nokia 2630 - Final Verdict (3 out of 5)
At the rate at which technology is progressing, this cell phone is really outdated. The Nokia 2630 is basically an entry level cell phone. The Nokia 2630 is suitable for people who need a cell phone to last for a long time on a single recharge or for elderly people who do nothing but make calls. Given the slim size and the really light weight, it can fit easily into narrow spaces and will be very easy to carry around.
If you are interested in more cell phones from Nokia, check out the Nokia 2730 review, budget phones from Nokia and the top phones Nokia has to offer.
Reference: