What to Do When Your iPhone Won't Send Email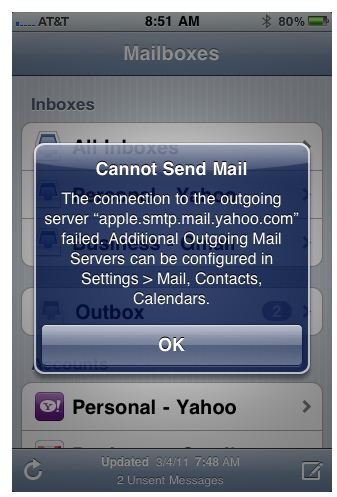 Help! My iPhone Won't Send Email
[caption id="" align="aligncenter" width="600"]
With the evolving world of technology, email has become a primary source of communication for some people. Some predict that email will eventually completely replace "snail mail". iPhone makes it easier than ever to streamline and manage your email accounts from your phone. In a busy world where time can be limited, most of us rely on communicating while we're on the go. Nothing is more frustrating than when you run into an issues where your iPhone won't send email. If you are having difficulty with this, or are receiving the "Cannot Send Mail" error message on your iPhone, we are going to run through a few common causes and solutions.
1. Low Signal Causing Failed Email
If the instances where your iPhone won't send email are sporadic, it may be as simple as having no signal. Are some of your emails going through, but others failing to send? If so, it could be a network connectivity issue. The next time an email fails to send, check your signal status immediately. If you have no signal, or sometimes even a very low signal, your emails will not send. Try sending the message again when your signal strength is stronger.
2. Network Settings Disabled Email
Changed any of your settings lately? There are a few things that will disable your email functionality, so you'll want to make sure that you didn't accidentally change any of those settings. Cellular Data If cellular data is turned off, Internet and email will not work on iPhone. To verify that cellular data is on, go to: Settings > General > Network. Cellular Data is the second option listed; it has a push button with On or Off as the only options. If it was off, turn it on and try sending your email again.
[caption id="" align="aligncenter" width="600"]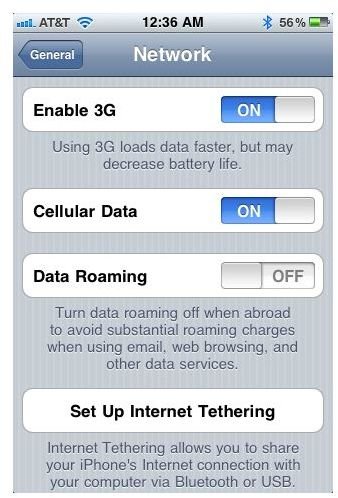 Cellular Data option - iPhone[/caption]
Wi-Fi Signal Turn off your Wi-Fi signal to force the phone to use cellular data to send your email. If a faulty Wi-Fi signal is being used, it can prevent your phone from sending messages. Sometimes the iPhone Wi-Fi signal shows as strong, but connectivity with the ISP is compromised for unknown reasons. Your phone will always use Wi-Fi when available if Wi-Fi is turned on, so disabling it will fix the problem if the Wi-Fi connection is the culprit.
[caption id="" align="aligncenter" width="600"]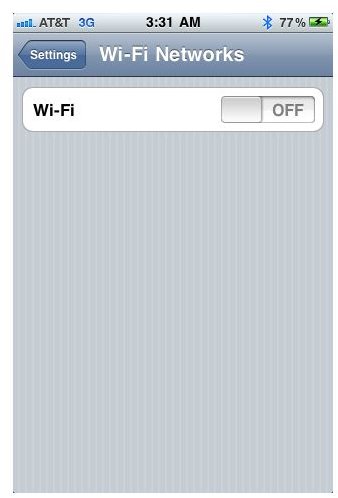 Wi-Fi off - iPhone[/caption]
Airplane Mode When Airplane Mode is enacted on iPhone, all network connections are disconnected. No phone calls can be made and Internet and email are disabled. The option is a push button located at the top of the settings menu, so it is easy to turn on accidentally. If you see a small airplane symbol where your signal strength usually is, you've found the reason for your problems. Go to Settings and turn Airplane Mode to off.
[caption id="" align="aligncenter" width="600"]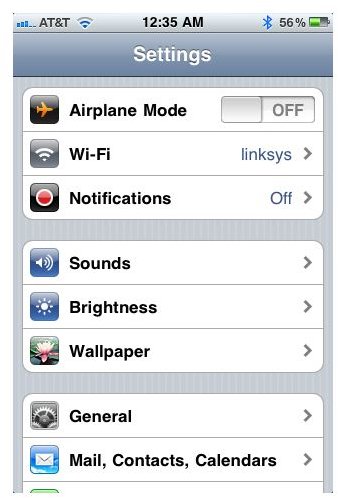 Airplane Mode - iPhone[/caption]
3. iPhone Needs to Be Restarted
Every once in awhile, iPhone may give strange errors, or become unresponsive for unknown reasons. It is basically a handheld computer, and even the best of computers will freeze up from time to time. Strange hiccups in functionality (for example - your iPhone won't send email), may indicate that your phone needs to be rebooted. Restarting an iPhone may help clear up the error that is affecting your email. To restart, power your phone down completely before turning it back on. Not sure how to do that? Check out this guide to rebooting iPhone for an easy to follow walkthrough.
4. iPhone Needs to Be Updated to Latest Software
Is your iPhone using the most current version of operating system? If not, you may need to update your iPhone software, to prevent mail errors from occurring. To update software you'll want to: sync iPhone to your computer, open iTunes, select your device along the left side of the screen, and select "Update" from the summary tab. If you need more detailed directions, use the 'update your iPhone software' link above for a guided walkthrough to updating your operating system.
5. Add Other SMTP Servers
If none of the other simple fixes worked, it's time to get down to more technical troubleshooting. The error could be the result of issues with the SMTP server for your email account. This is the outgoing mail server that is used to send messages from your iPhone. You can add additional SMTP servers to try to alleviate the problem. If you turn on other SMTP servers, when one fails, your phone will try the message again using another server. Go to Settings > Mail, Contacts, Calendars > Select the account that won't send email > Account > SMTP > Turn on other SMTP servers that are available, make sure to turn on the SMTP server for your wireless carrier.
[caption id="" align="aligncenter" width="600"]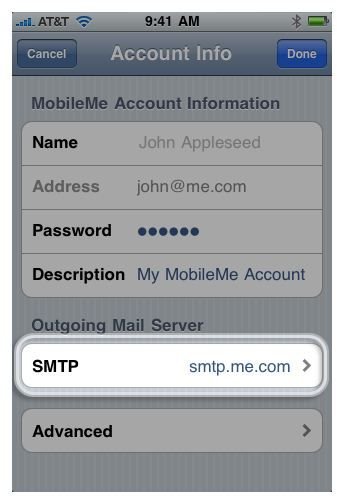 SMTP Outgoing Mail Server[/caption]
6. Email Set Up
If you've checked on the common causes of issues and are still having problems with an iPhone that won't send email, it may be a good idea to delete the account from your phone and set it up as new. Sometimes a weird, unexplained glitch may be the cause of your headaches. For those times, deleting the account and setting it up again, directly from your device, might help. Delete the Email Account: Go to Settings > Mail, Contacts, Calendars > Select Email Account from list > Delete Account > Confirm by pressing "Delete Account" again. Set Up New Email Account: After deleting, simply set up the account as new from your iPhone. If you don't know how (or can't remember), read Setting Up Email on iPhone, for a step-by-step walkthrough of how to set up a new email account.
References
Image Credits:
SMTP Screenshots courtesy of Apple.
All other screenshots provided by author.