iPhone Voicemail Not Working: Troubleshooting Tips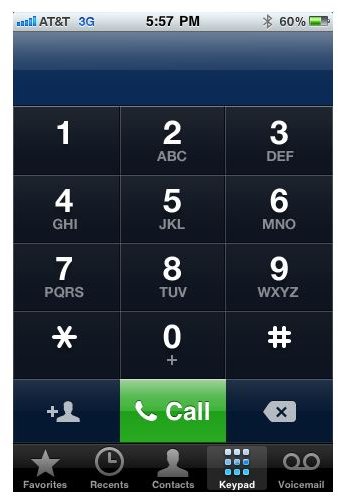 What to Do When iPhone Voicemail is Not Working
Not having access to your voicemail can be a huge inconvenience. Especially when you are expecting important phone calls. If you find that your voicemail isn't working properly there are a few troubleshooting tips that might easily fix your problem. Try out the iPhone voicemail troubleshooting ideas below. If none of the simple fixes work for you, you may have to try resetting your iPhone or updating your iPhone software to the latest version.
Troubleshooting Tips for iPhone Voicemail
Check Your Signal Strength
If your iPhone voicemail is not working, the first thing you'll want to check is your signal strength. A cellular data network connection is needed to access your voicemail. If your signal strength is low or not connected, it may be why your voicemail isn't working. To check your signal strength, look to see how many signal bars are displayed at the top left corner of the screen. If the signal is low, try checking your voicemail again when you have stronger signal. If you have no signal, you'll want to make sure airplane mode is turned off.
Verify iPhone Voicemail Setup
Make sure that iPhone's Visual Voicemail has been set up. You can find it in the "Phone" application. The last icon to the right across the bottom of the screen is the visual voicemail feature.
The first time the visual voicemail feature is accessed, you will be prompted to create a password and record a greeting. If you are unable to setup iPhone voicemail, contact your carrier to make sure that they offer the feature. They will also be able to help you determine if the voicemail has been configured properly.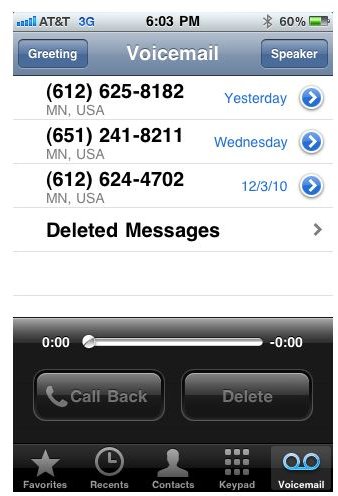 Dealing with Voicemail Password Issues
Forgot your voicemail password? Or are you receiving a "Password Incorrect" notification? Password incorrect for iPhone voicemail can be addressed by contacting your wireless carrier for assistance.
Reset iPhone Network Settings
If you've tried all the options above and iPhone voicemail isn't working, try resetting the network settings. This will clear your current cellular and Wi-Fi network settings. To reset network settings, go to "Settings", then "General". Once inside the General settings menu, scroll all the way to the bottom and select "Reset". Then select "Reset Network Settings."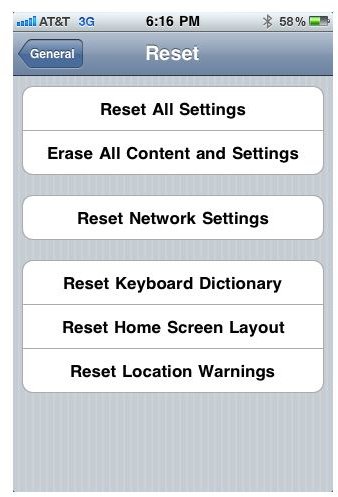 Resetting iPhone When Voicemail Won't Work
If you've tried all you can to troubleshoot iPhone voicemail problems and nothing has worked, it's time to try rebooting, restoring and/or updating iPhone software.
Rebooting iPhone
Resetting iPhone may help if your signal strength or network connections are interfering with the functionality of iPhone voicemail.
Update iPhone Software
If a hard system reset didn't help, you'll want to make sure that your iPhone software is updated to the latest version. If it's not, try updating your iPhone software. Once updated, try the troubleshooting tips again.
Restore to Factory Settings
If rebooting and/or updating iPhone don't help, try restoring iPhone to factory settings. This will return the phone back to how you bought it.