Top 20 iPhone Applications Round Up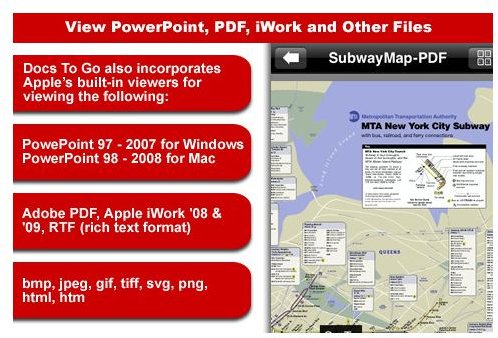 Documents to Go
This app lets you edit, create and view Word files and Excel spreadsheets, view PDF, Powerpoint, iWork and other files as well as send and receive files as attachments to Gmail messages. If your business life depends on your Office files and documents, this is one of the most essential iPhone applications for you. (Price: $9.99) (Download link)
Read our full review of Documents to Go as compared to Quick Office.
iXpenseIt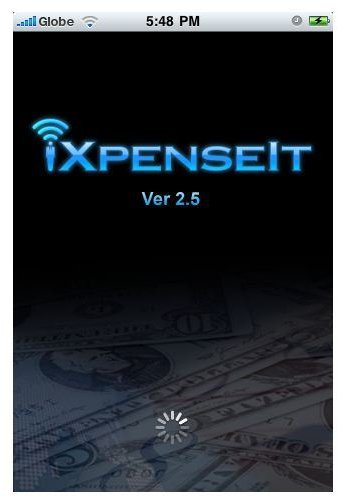 If you need an expense tracker iPhone app, you'll never go wrong with the full-featured app - iXpenseIt. It's a powerful app that will let you do many things related to your personal finance. It helps you keep track of your daily expenses for - food, transportation, and other categories. What you'll appreciate about this, compared with other iPhone applications, is that its interface is simple and yet fully functional. (Price: $4.99) (Download link)
Read our full review of iXpenseIt iPhone application.
iFitness
The iFitness iPhone application is a must-have. It not only describes various exercises but lets you easily create your own workouts as well. Of course if you're just beginning to get physically fit and you don't know which workout to do, this app suggests a variety of workout programs. (Price: $1.99) (Download link)
Read our review of iFitness iPhone application.
Shazam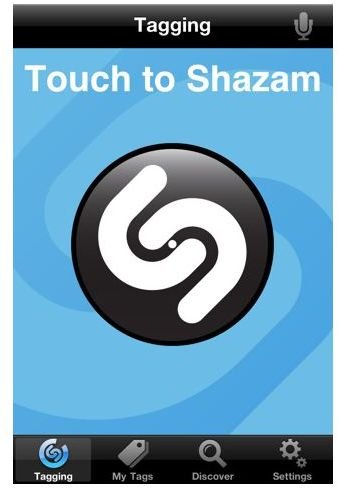 If you're a music fan, you'll certainly love the Shazam iPhone music application. The app recognizes music that plays on the radio. Simply hold your iPhone up to the radio and you can immediately find out what song is playing. The app also gives you the title of the song, name of artist and album, link to YouTube video of a particular song, as well as a preview of the song on iTunes. It is one of the best iPhone applications ever created. (Price: Free) (Download link)
MotionX GPS Drive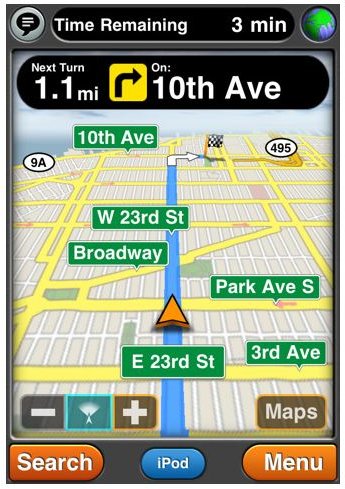 This iPhone navigation application features user-friendly menus and integrated connections. It will help you get to where you want go via the easiest route possible. It feature Live Voice Guidance that gives you live routing, simulated routes and fully integrated voice guidance. This is one of the best iPhone navigation applications. (Price: $0.99) (Download link)
Reeder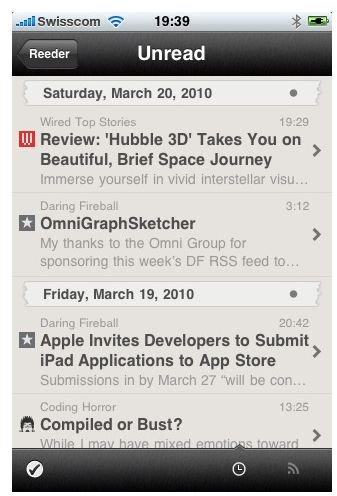 If your daily life depends on consuming the latest news, you'll be in better hands if you have Reeder on your iPhone. What you'll appreciate about this iPhone application is the fact that it is very clean and loads fast. Definitely very important if you have tons of subscriptions to news feeds. (Price: $2.99) (Download link)
iMovie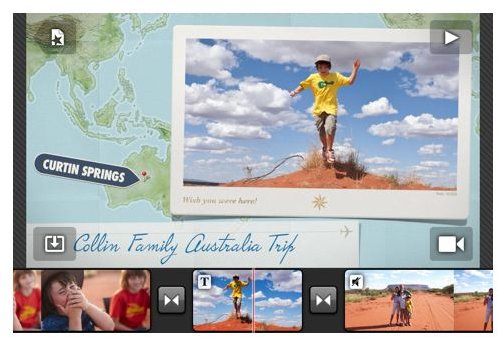 If you use your iPhone for taking videos of spontaneous moments in your life you'll definitely need this iPhone application. It lets you create video presentations on-the-fly using the mobile version of Apple's video editing software for Mac. iMovie for iPhone gives you a couple of templates to use which is enough to enhance your videos before uploading them to your blog or websites or share them with your friends on Facebook. (Price: $4.99) (Download link)
GoodReader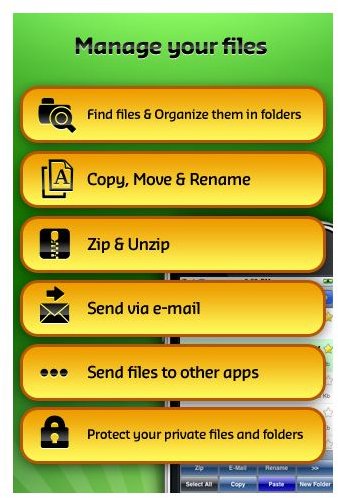 This essential iPhone application can be simply described as a super-robust PDF reader featuring advanced reading, annotating, markup and highlighting features. It's also a very good file management app, a TXT file reader and editor, as well as audio/video player. If you're in need of the best PDF reader, this iPhone app is what you need. (Price: $2.99) (Download link)
Twitter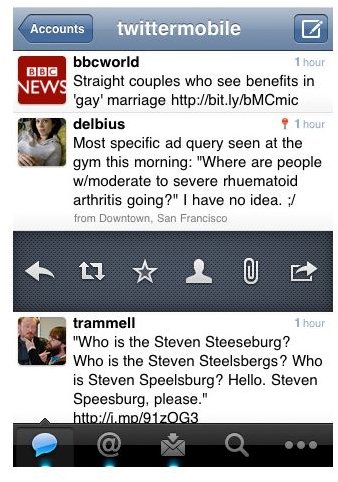 This app lets you check your Twitter timeline, reply to tweets, follow Twitter members, and practically anything that we can possibly do on Twitter.com which is now an essential part of our Internet life. If you need a mobile Twitter app, you don't need anything but the official Twitter iPhone app. (Price: Free) (Download link)
Twitter was one of the 10 iPhone apps that we can't live without and one of the top ten free social networking apps for iPhone.
Foursquare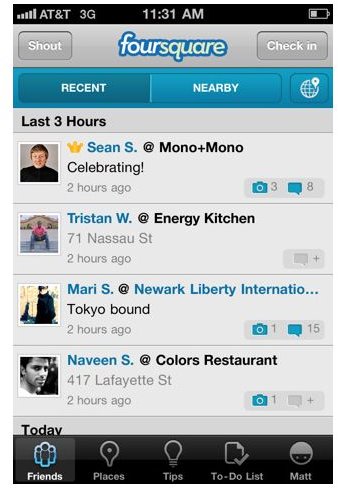 At some point in time, if it's not happening right now, you'll discover that most of your friends are checking-in to Foursquare every time they've gone to specific business establishments. Soon enough, if you're not yet doing it - you'll also do the same - that is, check-in to Foursquare every time you eat or drink out in new restaurants, cafes, and other places. (Price: Free) (Download link)
Read our full review of Foursquare iPhone app.
Dictionary.com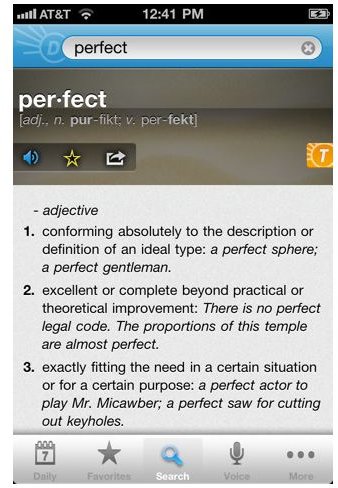 If you find yourself in need of definitions for more than 1 million words and 90,000 synonyms and acronyms, this app has you covered. What's good about this app is that it doesn't need an Internet connection for you to look-up word definitions. It also features audio pronounciation, voice-to-text search and Dictionary.com's Word of the Day and Hot Word blog. The Dictionary.com iPhone app turns your iPhone into a pocket dictionary. (Price: $2.99) (Download link)
What's Up Messenger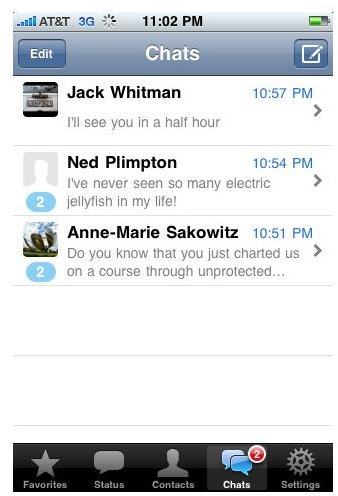 The What's Up Messenger app for iPhone can be simply described as a smartphone to smartphone messenger that lets you communicate with your friends who are also using another smartphone including the iPhone, BlackBerry and Nokia smartphones.What's good about this app is that it allows you to switch from SMS to the app's main function letting you send and receive MMS messages without incurring extra cost. (Price: $0.99) (Download link)
Kayak PRO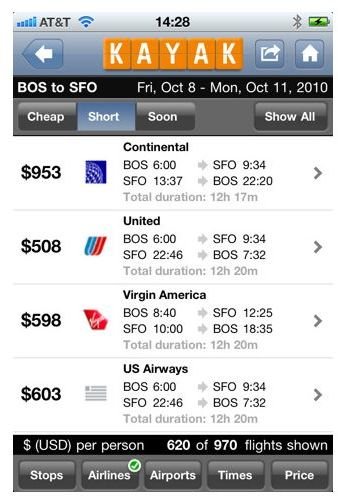 If you travel a lot there are plenty of iPhone applications that can help and you definitely need this travel iPhone app. It's possibly one of the best, if not the best, travel search site for your iPhone. The app lets you conduct airfare, hotel and rental car search, tracks flight status, manage travel itinerary, and search for business and first class airfare availability. (Price: $0.99) (Download link)
Facebook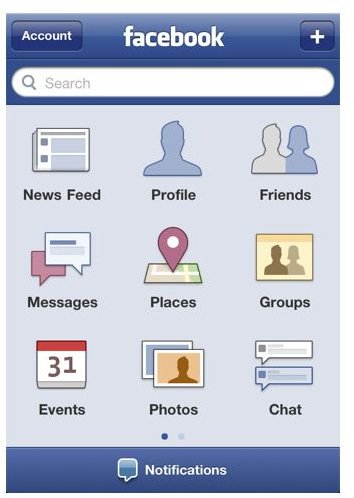 Who doesn't have a Facebook account among you our dear readers? I'm pretty sure all of us maintain a Facebook account with most actively participating in Facebook activities. This iPhone app will help you access and manage your Facebook while on the move. (Price: Free) (Download link)
Read our full review of Facebook iPhone app.
Bing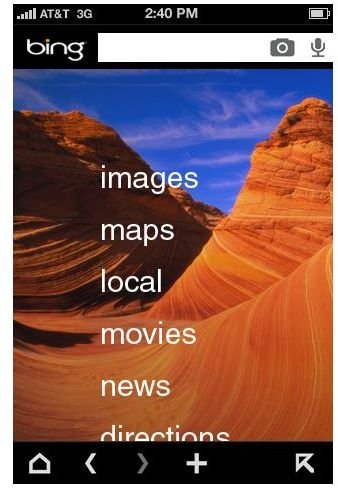 Surprised? Well, believe it or not Microsoft can come up with a very good iPhone app. That app happens to be Bing for iPhone. It's way better than the Google Mobile app for iPhone. The Bing iPhone app is primarily a decision engine. It lets you discover what's relevant near you and helps you easily find the best restaurants - giving you information on cuisine, athmosphere and location of those restaurants. It even has social integration with Facebook and Twitter. (Price: Free) (Download link)
Amazon Kindle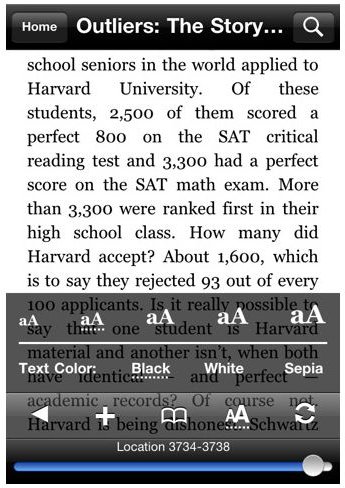 For those who are into ebook reading, the best iPhone app out there is of course - Amazon Kindle app for iPhone. While I may love iBooks as well, I still prefer the Kindle app because of its solid features. Of course the best feature of this app is the facility for accessing your Kindle books across multiple platforms. (Price: Free) (Download link)
Epocrates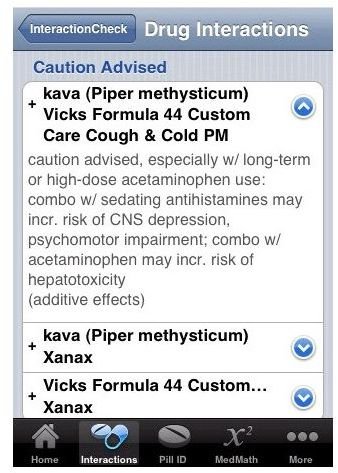 At some point in our lives we'll experience a day when we are in dire need of medical information. If you get the right iPhone applications, you'll be sorted. This app gives you the most reliable information about drugs and medical news. It also allows you to calculate BMI or GFR as well as check drug interactions and access information on prescription drugs. Parents with little kids will certainly benefit from this iPhone application. (Price: Free) (Download link)
Epocrates is one of our top medical iPhone apps.
Pandora Radio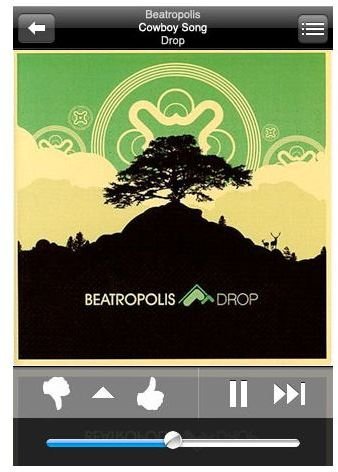 This iPhone radio app lets you create a "station" that plays the music of artists, songs or classical composers and streams that music to your iPhone. The app works seamlessly with the Pandora website so you might want to create a Pandora account. (Price: Free) (Download link)
Pandora Radio is among our top 10 iPhone music apps.
Google Mobile App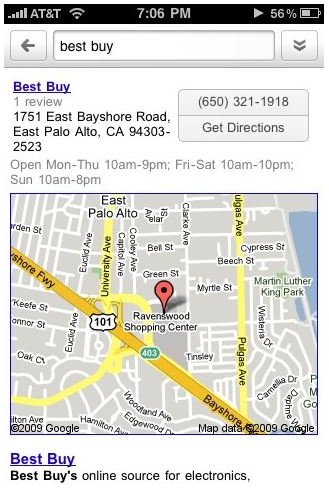 What can I say, this app pretty much has everything you need when it comes to partaking of Google's mobile services. Google Goggles, voice-enabled search, Google Suggest, search history, contact search, vertical search on Google Maps, Images, News and Shopping, If your business life is centered on Google products and services, this is an essential option among iPhone applications. (Price: Free) (Download link)
DataVault Password Manager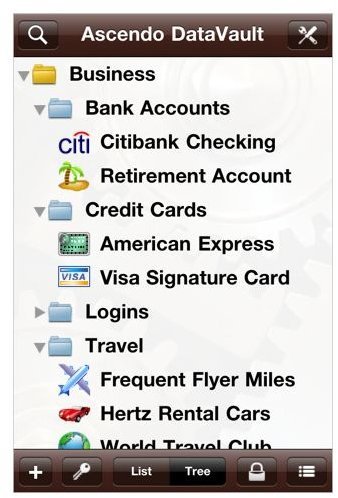 Here's another essential iPhone application. DataVault Password Manager is possibly your best option when it comes to password management using your iPhone. This app stores your confidential information related to credit cards, bank accounts and logins. Using Advanced Encryption Standard, this app provides you with unmatched features including synchronization via mobile we, WebDav or Wi-Fi. (Price: $9.99) (Download link)
DataVault is one of our top password managers for iPhone.