Top 10 HTC Thunderbolt Apps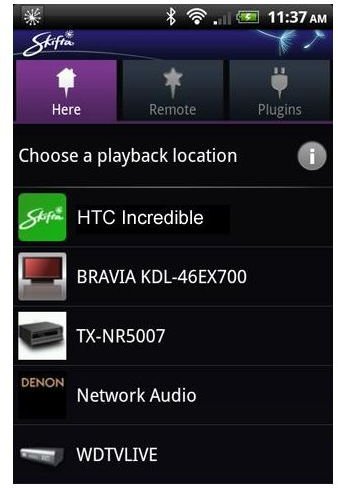 The HTC Thunderbolt comes with some pretty standout specs, including a 4.3" WVGA TFT capacitive touch screen; two cameras (the main one being a 8MP with auto-focus). Anyone who wants to make full use of this phone should be looking for apps that can make full use of this mobile multimedia powerhouse. This article is our take on what are the top 10 HTC Thunderbolt applications.
Skifta

There is no doubt that the HTC Thunderbolt is a multi-media powerhouse, but while its 4.3" display is generous, it is certainly not large enough for a group of people to watch content on together. Enter Skifta. This app is a global remote control that enables users to access their media remotely, whether it is stored half way around the world or from a laptop that's in the next room.
Skifta makes it possible to stream a movie to a large screen TV from your Android without the wires. The technology works whether or not the media is on your phone, the Internet, or other remote media. All you need is Wi-Fi. The media can then be played or streamed onto a DLNA compatible device (TV, audio system) that is within range of the smartphone, provided that the Skifta app is running of course.
Calorie Counter - MyFitnessPal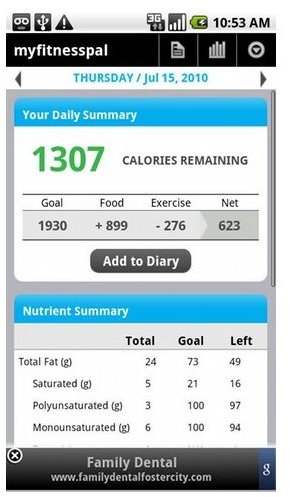 With more than 250k downloads, and nearly 10k reviews (averaging over 4.5/5), there is no doubt that MyFitnessPal is a popular and highly rated weight management app. MyFitnessPal helps its user to know for sure how many calories they are taking in as well as the nutritional value of foods they are eating, or are considering purchasing. MyFitnessPal has a database of over 600,000 foods that can be used to track nutritional intake, and on the other side of the equation, the calories burned. The app can be an indispensable resource for tracking your nutrition and exercise program, but with its charts and reporting features it is also a great weight management tool as well. This app is free.
CamScanner - Phone to Scanner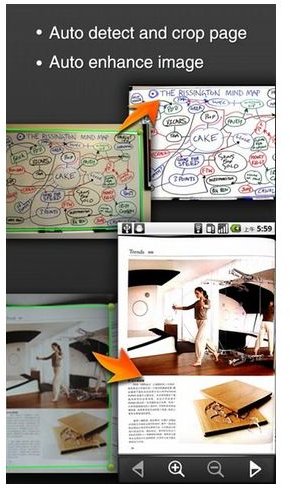 More effectively manage the hardcopies of documents you already have by using CamScanner to scan, store and file those documents. Whether the app is used to scan and file letters, or record receipts for accounting purposes, this app is more than useful for those who have an aversion to paper clutter. How it works? Simply use the app to take a picture of a document or business card, after which the auto crop algorithm will process the image by removing excessive borders, identify the text regions and properly orient the image. CamScanner can be used to create PDFs, and a backup on Dropbox as well. This paid Android app costs $4.99.
Wifi Analyzer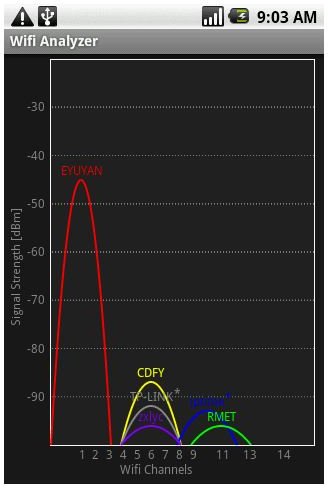 If you are going to use your Thunderbolt to its fullest capability you may very well need to transfer lots of video, pictures and programs to the phone. Therefore, having a good Wi-Fi signal is essential for quickly transmitting a large amount of media. Use Wifi Analyzer to show the Wi-Fi channels that are around you and find the ones that are less crowded on a given router to get the best performance. If you are concerned that the Wi-Fi feature will drain the phone's battery, turn it off automatically when you are not within range of a good Wi-Fi access point by using the "Auto Wifi Enabler app."
Daily Bible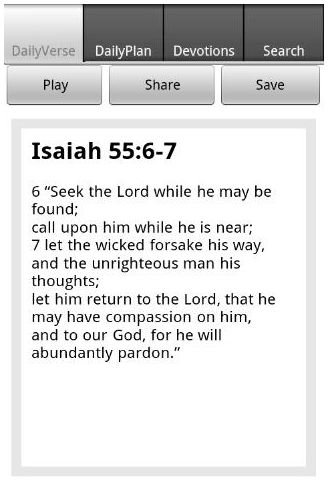 There is no doubt that this is one of the most popular and highly rated Bible software options for Android devices on the Market. The app can be set to guide you through a daily reading plan by prompting you when it is time to read a verse, or taking you to where you stopped reading the last time. For times when you don't want to do the reading yourself, the app can actually speak the verses to you. Daily Bible has all the features you would expect a good Android Bible app to have, including support for popular versions (NIV, KJV, ESV, ASV, etc), access to devotional podcasts, and a powerful search feature. Just like salvation, this app is also free to download and use.
Our roundup of the best HTC Thunderbolt apps continues on the next page.
AdFree Android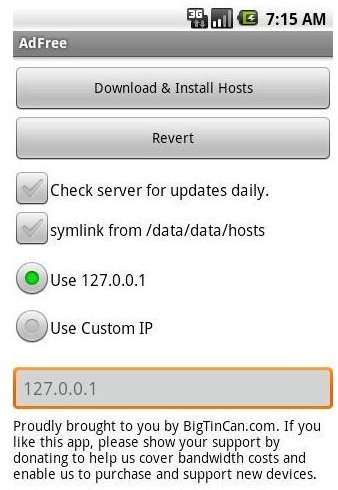 In some cases free is good, but often free apps are bundled with ads to help developer(s) cover the cost of bringing the application to market and providing support to users. Unfortunately, ads can be annoying, especially because developers can be overly aggressive in trying to generate ad revenue. AdFree is designed to block those ads, but the phone needs to be rooted for the app to work. It won't cost you a thing to include this as one of your HTC Thunderbolt apps.
ASTRO File Manager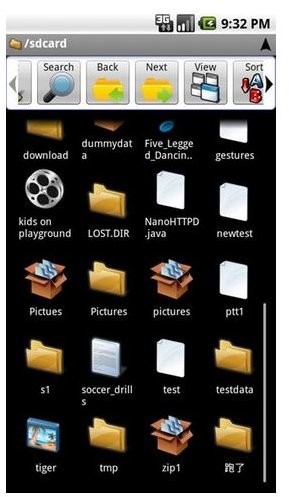 After using this app you may very well be left wondering why its features weren't integrated into the Android OS. ASTRO has its own task killer, file backup and the ability to send files by attachment right from the app. The strongest selling point of this app is its ability to navigate the entire Android file system including, the SD card, and even access the internal memory. There is a large percentage of users who don't care about the files that are stored on their Android, but ASTRO File Manager is a must have app for those who want to better manage the files that are on their Android devices. This Android file manager is free to download and use.
QuickPic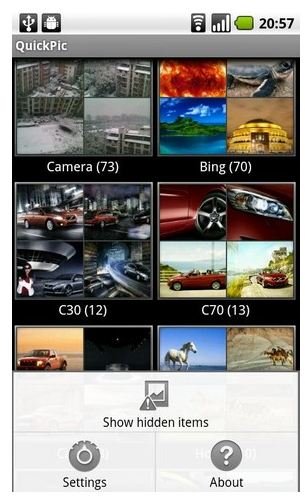 This app does a pretty good job of viewing and browsing the thumbnails and previews of high-resolution pictures. QuickPic offers a smooth and intuitive way of interacting with photo galleries, in a similar way to how it is done on the iPhone. Use the app to navigate by double-tapping, pinching, zooming or swiping. You can also manage photos with the app's sort, copy, move, crop, hide/unhide features. QuickPic can also be used to set the wallpaper from the photo gallery, as well as share choice pictures with friends. This is a free app.
Seesmic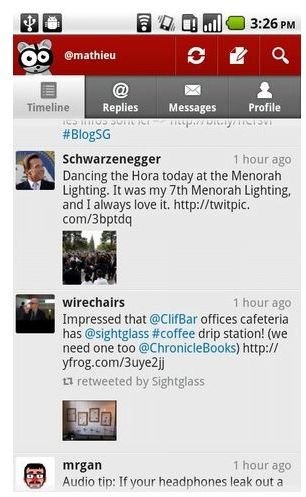 Seesmic is one of the most heavily downloaded and rated Twitter clients and for good reason. Here is a powerful app that enables you to manage all your micro blogging in one place. Seesmic can also manage some of your social network accounts, but it really shines as a Buzz, Salesforce Chatter, and Twitter client. The widget could use some work, but it is one of the best Twitter apps out there. One of Seesmic's strongest selling points is its support of multiple accounts with the option to simultaneously post to those accounts. Seesmic wont earn much praise for its looks, but it earns makeup points for its near extensive list of customization options, including how URL shortening, fonts, update intervals and message notifications are handled. Seesmic is a free app.
Movies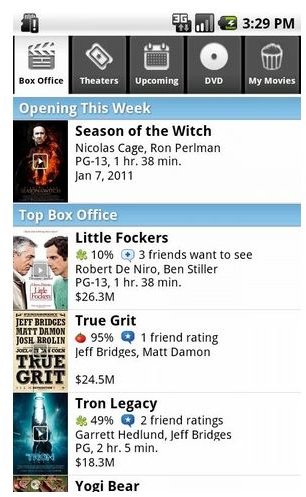 Going to the movies is a part of the American lifestyle, which makes this app a must have resource for many. Movies gives access to thousands of reviews (via Rotten Tomatoes) on popular box office listings and DVDs. You can use the app to lookup reviews, and watch movie trailers of interest to you. If you are in the mood to go to a theater, the mapping feature will show those that are the closest and give a list of what is being shown there as well. If you are more interested in watching your movies at home you can create and manage a Netflix queue and pull movies from that list at your convenience or pleasure. This app is also free to download and use.
References
Engadget - https://www.engadget.com/2011/02/03/skifta-android-app-nabs-dlna-certification-tablets-and-smartpho/
Best Android Apps For - https://bestandroidappsfor.com/others/awesome-and-amazing-google-android-apps
Skifta.com