The Best Android Banking Apps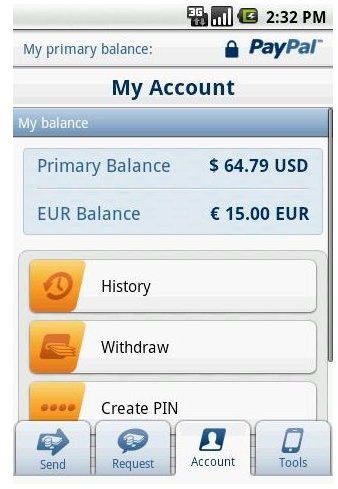 PayPal
Access your PayPal account from your Android powered phone with the PayPal app. This Android banking app provides a quick and convenient way to view balance information, transaction history, and other details of your PayPal account. Through the app, you can transfer funds from a PayPal account to a bank account and send funds to friends. On the downside, some users have complained of time outs and the need for the app to be moved to the SD card. PayPal is a free app available on the Android Market.
Chase Mobile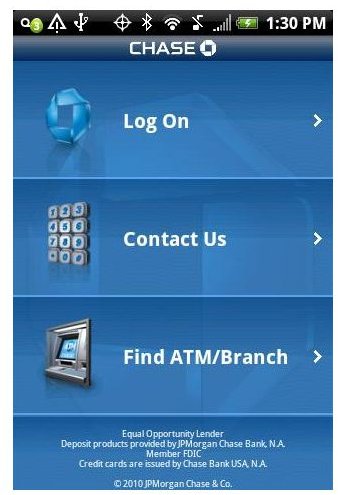 For those that have an account with Chase bank, consider installing the Chase Mobile app on your Android phone. This app has a lot of features that make banking on the go efficient and easy. Most of the features require account holders to be enrolled in online banking. With this app, you can deposit a check into an account by taking a picture of it. Pay credit card bills, view account balances, and find the nearest Chase branch with Chase Mobile. The free Chase Mobile app is available at the Android Market.
TD Bank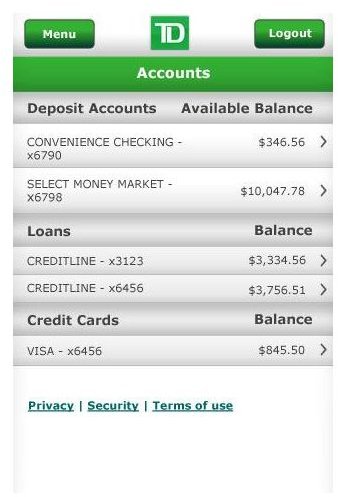 An app designed for TD Bank account holders is the TD Bank app. From your Android phone, you can check the status of accounts, transfer funds between accounts, and pay bills. You can also browse through recent transactions with the TD Bank app. The app also has a branch and ATM locator which displays the nearest TD Bank on a map. If you have questions, you can speak to a customer service rep any time with the convenient one-touch calling feature. Download the free TD Bank app from the Android Market.
Wells Fargo Mobile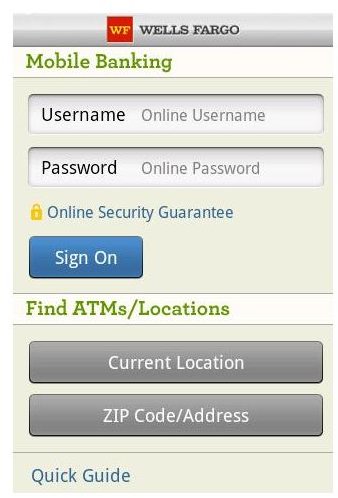 For Wells Fargo account holders, there is the Wells Fargo Mobile app. Log in securely to your bank account from an Android phone with this app. Check account balances and pay bills on the go. The app displays recent account activity so you can keep track of any changes immediately. You can transfer funds between multiple accounts or send funds to other Wells Fargo account holders. The app has a branch locator which displays the closest ATM or bank branch on a map. Wells Fargo Mobile is a free app available in the Android Market.
Android Banking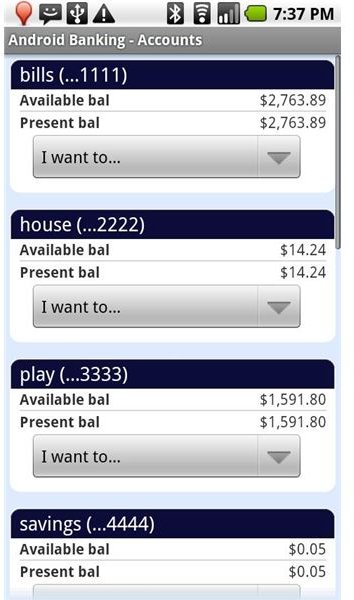 Android Banking is an app that manages several accounts. You can view your American Express and Capital One credit card accounts with this app. Pay bills, view transactions, and transfer money for Wachovia, PNC, JP Morgan Chase, and Huntington bank accounts. The app also supports BB&T bank, but users must enroll in mobile banking before accessing their account with this app. The Android Banking app is available on the Android Market for $5.00.
For more banking related apps, read this review of the Bank Of America app and this article featuring the best ATM locator apps for Android phones.
Reference
Android Market - https://market.android.com/
Image Credit - Each image is the property of the respective app developer.