Handylogs Blackberry Apps for Data Organizing
Introduction to the World of Handylogs
The Handylogs BlackBerry apps afford users an easy and stress free way of keeping data organized for quick viewing, reviewing and speedy export.
Handylogs also develops software for multiple hardware devices although the popular BlackBerry app is the most commonly used. It hosts a simple user interface, perfect for smaller screens and can also be used via a PC as well. The Handylogs Blackberry app comes in many different types: Fitness, Heart, Sugar and Money, two of which will be outlined in this review.
Handylogs Fitness

Handylogs' fitness for the BlackBerry, monitors your workout regime. It is separated into four main areas: Body Weight, Cardio, Gym Workout and Measurements. These programs work well during and after fitness training.
Features (5 out of 5)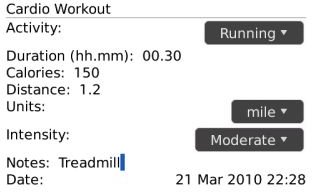 Body Weight tracks the body's change in weight over a period of time. This can be uploaded to a PC and noted in a report for easy reviewing. Cardio records the amount of calories burned while doing various exercises or daily activities like jogging or walking. While using the Gym Workout option you are able to manage and monitor your training schedule, both past and present, as well as track your progress. Lastly, the Measurement option can be adjusted to record your changing size and tracks all of the following areas of the body: bust or chest, waist, hips, thighs, calves, biceps, forearm and overall body fat. Body builders have even expressed how useful the Handylogs fitness app is for them.
Positives and Negatives

Positives:
The app is completely free and available for download at the BlackBerry app world or directly from the Hanylogs website. It installs directly to the phone and works even when a signal is lacking. It can be integrated into the lifestyles of home users, fitness buffs, trainers and professional athletes. Additionally, it can be synchronized with handylogs.com in order to review, organize and even print your statistics. It also supports both the U.S and metric units of measurement.
Negatives:
Within the Body Weight option users are not able to add more exercises. This may be problematic as many people's exercise regime varies. On the other hand, the Cardio option allows for additions. Uploading information to the Handylogs website is very useful, but although the application is free and storage on the website is free, it is only that way for only one year from sign-up.
Handylogs Money

Handylogs Money app enables its users to manage and track expenses effectively. It can also manage both time and mileage reimbursements. This app is especially useful for business executives, business owners and even for personal use. It has three main areas: Expense, Timesheet and Odometer. All three work both individually and in conjunction with each other. Because of this free app it is now easier to keep note of transactions and payments.
Features (5 out of 5)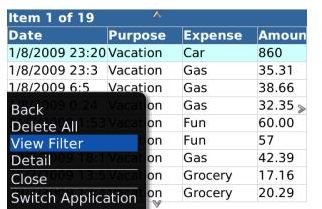 The Expense option allows for all expenses to be categorized and stored. More categories can be added to its customizable list. For easy and quick payment, Expense has payment method options which further help it to record when to make payments on receipts or credit card bills. It also supports all foreign and local currencies. If you need to keep track of clients and accounts payable then Timesheet creates a list and keeps you up to date. All lists within this option are customizable and it tracks the amounts of hours each project is assigned and records its cost. Additionally, Odometer assigns categories to your mileage whether it be for business or personal use. This is also customizable.
Positives and Negatives
Positives:
This Handylogs BlackBerry app installs easily and works without an internet connection. It is especially useful while travelling and where an internet connection may be inoperable. It also syncs with its home site where it can be organized and printed, or downloaded to your PC for easy viewing. It is free.
Negatives:
As of recently, many users are expressing their anger over error messages while trying to sync with their BlackBerry devices and a lag in customer support response.
Bottom Line (5 out of 5)


If you are looking for a great app that helps to track, manage and record daily activities, such as your workouts or your spending then Handylogs makes it possible. Their heart and sugar apps are also very widely used to track medical conditions and the intake of certain foods, making food choices healthier and safer. The application is easy to use, boasts a very user friendly interface and easy upload to the website. For more information visit Handylogs site at: https://www.handylogs.com/home/index.php
While each app may have its little limitations, there are constant upgrades and the apps as they are now are well worth the download. They are available in the BlackBerry app world and downloading and installing them will only take you a few minutes. The apps are easy to use and understand and in no time, you will be wondering how you got along without them from the begining.