Our Favorite Free Online Security Tools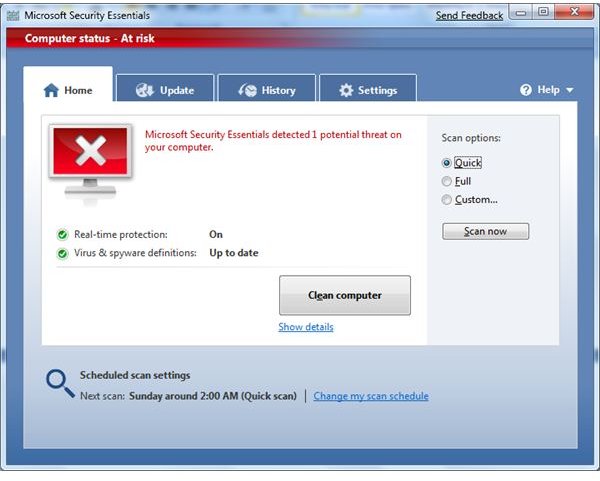 Online Tools for Scanning Your Computer
If you're looking for tools that you can use on your computer without installing them (or at least without downloading and running a large installation file) there are several browser-based solutions that can be used to scan for threats and infections.
These are ideal for anyone who uses a netbook where processor, memory or storage resources might be limited. Browser based tools often use Microsoft's ActiveX code, although there are exceptions; F-Secure doesn't use ActiveX, and therefore can be run from most browser windows.
You might use any of these tools to save time. While some of them don't remove viruses they can detect them, so if you have omitted to install anti-virus protection on your computer, you can use these tools to identify any threats and take action based on the results.
Looking for Free Security Software? Try the Big Names First!
Free security software is always preferable to paying for it – after all, why feel as though you're being held to ransom by the malware that can infect your PC without installing and configuring a firewall before connecting to the web?
You might think that large companies have no interest in protecting your computer unless you're willing to pay a premium, but this isn't the case. Microsoft offers Internet security software free to Windows 7 users, while even Norton offers an online security scan.
Better still, if you're a Department of Defense employee or work for the US military, McAfee Antivirus is free!
Great Free General Security Applications
Not all of us work for the government or the military, of course, which is why the news that applications such as AVG are free is so good to hear. Offering a firewall and anti-virus tools, this software can be easily configured to protect your system in minutes.
Similar security suites come in the shape of Comodo Internet Security, Outpost Security Suite and A-Squared. Note that all of these applications offer free services but also have alternative paid options that offer a wider selection of security tools, so when you sign up make sure you choose the right option!
Malware, Spyware and Adware Solutions
There is a frightening variety of malware, worms and viruses sitting on servers and gateways all around the Internet, just waiting to access your computer via browser vulnerabilities and other operating system weaknesses, which is why anti-malware solutions are so important.
Malwarebytes' Anti-Malware is a particularly popular choice for many users, although Spybot – Search & Destroy is also high on the list of go-to tools when malware is suspected. Meanwhile CCleaner offers secure deletion and performance optimizing tools.
All of these security utilities are designed to help you to keep your computer secure from threats without having to part with a single dime.
Avoiding Viruses with Updates and Awareness
You should also be aware of just how viruses can be picked up as well as how to avoid them. This means understanding things such as email viruses, threats and scams on Facebook and on any active content on web pages that you might visit. PDFs opened from an email or in your web browser can also hide threats to your computer and data.
[How to Avoid Email Viruses – Complete Virus Protection](/tools/How to Avoid Email Viruses – Complete Virus Protection)
Additional Security Tools
Several more unusual security tools are also available, niche products that satisfy specific needs. For instance, secure browsing can be achieved via a web browser add-on for Firefox or Internet Explorer. This is made possible thanks to Finjan SecureBrowsing, a tool that makes it possible for you judge whether a website is safe to visit. The software scans the website you're heading to for malicious codes and exploits, and if safe you can visit the page.
If you're concerned about installing new software on your PC, new software can be tested in a secure environment with Sandboxie. If you suspect that some malicious software has found its way onto your system you can do a quick audit with Belarc Advisor Review and use a malware scan to remove it. Meanwhile don't overlook the importance of backup software. This needn't be expensive – Comodo Backup can be configured to take regular backups of your most important data.
Don't Miss These Excellent Free Security Utilities!
Anyone interested in computer security should have a collection of utilities that they can fall back on, a toolbox of solutions to almost any problem. For instance, Recuva is great for finding and restoring lost data, whether intentionally deleted or lost during a partition process. This might be photos, movies, music, documents, even save game files.
Meanwhile software like PSExec will make it easy to test your system's security. In fact, there are more and more ways to manage system security for free, as long as you know where to look!
Keep an Eye Out for Scareware!
While our selection of top tools for dealing with online threats and viruses is pretty wide, there is an ever-increasing number of tools that you should steer clear of. Such utilities claim to be anti-virus and anti-malware solutions, but in fact are themselves viruses that work by fooling you into installing them onto your system. Often they will then demand money to download "updates" that will "repair" your computer, miraculously resolving the problem until the time comes for the developers of this scamware or scareware to line their pockets again.
As a rule of thumb, websites should never tell you that your system has a virus (unless you have used something such as McAfee's online scanning tool), so if you ever see a pop-up advising your that your computer may be (or is) infected, close the browser window or tab, and avoid at all costs!
References