Learn More About Your Visitors with Google Analytics Language Report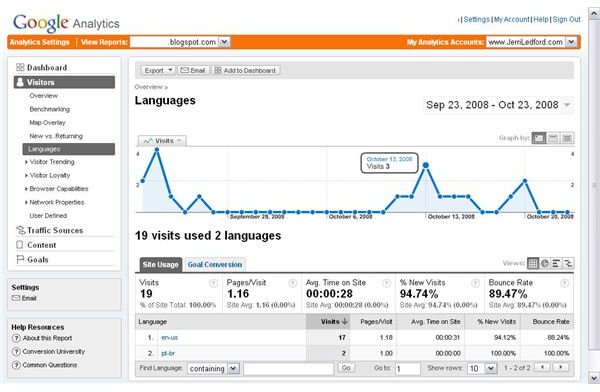 The Google Analytics Languages Report is not very useful to webmasters and internet marketers who are only using one language on their site. This report is meant more for the people who are either running more than one language or trying to decide if they should. This is because the report offers the same data as the other visitor reports, with the added benefit of seeing the language the site was viewed in. For more information on the other visitor reports and the information they have to offer, check out Learn More About Your Visitors at the beginning of this series.
The Languages Report shows you the languages the user has installed on their computer system, so that you can determine how well you're meeting the needs of your users. To get to this report click Visitors - > Languages.
The language report looks something like the one you see on the right. T
his site had 19 visits using 2 langauges, and though only 2 visits were using something other than English, it's still a good thing to know.
There are a couple of things you need to remember when looking at this report and analyzing the data. First, American English is the default language installed on many machines, and because of this, you may see that people are viewing your site in English, when it would be more useful to them in their native language. Secondly, you should consider the geographical location of the user is not linked to the language on their system and therefore, the language uses you see will likely not coincide with what you see on the Map Overlay Report.
What it comes down to is that if you are only running the site in one language, you shouldn't need this report. If you are running more than one, it is helpful to see which is used more often. The Language Report will also help you determine the value of either adding another language or deleting a language option. If you are not trying to reach an international audience of non-English speakers, this has little value to you.
This post is part of the series: Learn More about your Visitors with Google Analytics
This series takes a detailed look at the reports offered in the Visitors tab in Google Analytics. Learn about all the reports, what they track, and how you can use them to improve your site.