Find out whether or not your visitors are loyal with Google Analytics Visitor Loyalty Reports.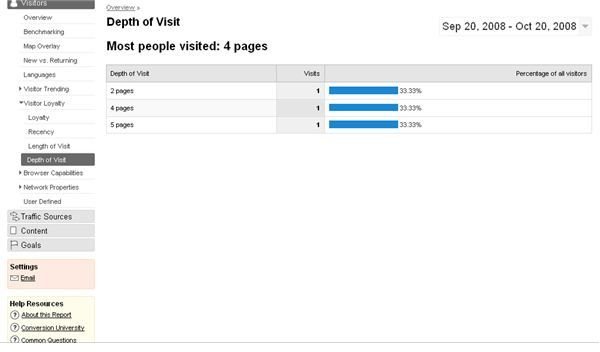 The Visitor Loyalty Report provides you with detailed information about the visitors who come back your site over and over again. This report can be found from inside the Analytics Dashboard by clicking Visitors and then clicking Visitor Loyalty. There are a total of
four sub-reports accessible from this menu to help you learn more about the trends of your returning visitors. When you have reached the Visitor Loyalty screen, you will choose a report by clicking on one of the links, and it should look something like this:
The four different reports that you will find here are:
Loyalty: This will show you how many visitors come back to your site on a regular basis. This is similar to return visitors though it tracks the returning visitors over time to see just how loyal they are to your site.
Recency: This will show you how recently these visitors have come to your site. You will see a bar with thenumber of visitors and a percentage for each time interval. 0 days ago is the most recent.
Length: This will break down the length of the visits into groups of time by seconds, usually from 0 to 60 seconds, and then from 61 seconds to 180 seconds and so forth. This shows you the number of visitors in bar graph form with the corresponding percentage of the whole.
Depth: This will show you how many pages your loyal visitors viewed during their visits. You will also see this as a bar graph with a number and a percentage of the whole.
Combined with other reports about your visitors, you will be able to take a small glimpse into the mind of the users that come back to your site for more. This will help you see what, if any, changes need to be made to the content, design or advertising in your site to help you better reach any conversion goals that you may have set.
Be sure to check out the other articles in this series to learn more about your visitors and how using Google Analytics will help you better serve them while in turn creating more profit for you.
This post is part of the series: Learn More about your Visitors with Google Analytics
This series takes a detailed look at the reports offered in the Visitors tab in Google Analytics. Learn about all the reports, what they track, and how you can use them to improve your site.