A Guide to Green Up Your Grooming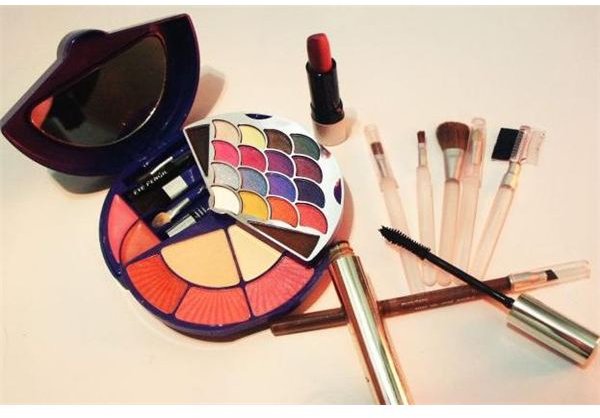 Whether it is facial creams, body washes, scrubs, shampoos, lip balms, or even mascara going green is truly the best alternative for our health and the environment. Many of us have no clue what's lurking in the cosmetics we often use daily, but there are excessive amounts of heavy metals, toxic chemicals, and ingredients that can cause allergies. The manufacturing process of these items also makes a dramatic impact on the planet's air quality. Selecting products made with recycled packaging will help stop landfills from overflowing.
In this in-depth guide you'll find a number of reviews of organic skin care and makeup products and information on how to save plenty of bucks by making your own homemade beauty products. Follow step-by-step instructions on how to mix different natural ingredients to form incredible skin boosting and enhancing salves.
Defining Organic Beauty Products
What exactly is an organic beauty product and why should we consider using them? Learn how to tell the difference between quality and fraudulent claims when reading labels. Discover what to look for when searching for greener cosmetic options.
Eco-Conscious Companies for Green Body Care
Find out which companies are making the biggest efforts toward becoming eco-conscious in the production of their natural skin care lines. Become an aware consumer before taking your first shopping trip.
Top 5 Eco-Friendly Skin Care Products to Buy
Some of the best skin care items on the market range from Thayers Toner to Marshmallow Suds Cleanser. What you put on your skin is as important as what you eat. Determine which of these products is essential for adding to your daily cleansing routine.
The Wonderbar is a detoxifying soap with extremely high PH levels. It's been quickly growing in popularity with thousands endorsing its purifying benefits. In this detailed review you'll discover if this little soap is worth all of its hype.
Aveda's Green Science Line of Skin Care Products
Can Aveda's Green Science minimize lines and reduce pore size? For many eco-conscious women their environmentally friendly products are top of the line. Aveda has become a trusted brand in organic skin care. Unlock the secret ingredient that has the ability to rejuvenate aging skin.
Eco Soaps: Burt's Bees Facial Cleansers
In this round-up of the best facial cleansers from Burt's Bees all natural beauty products find out which soaps reign supreme. Whether you wish to moisturize or simply clear acne there is an eco cleanser for you. Discover which extracts and oils solve common skin issues.
Best Organic Anti-Aging Creams
Stop wasting money on expensive creams loaded with harsh chemicals claiming to turn back the hands of time. There are plenty of all-natural products that are twice as effective available from organic retailers. Learn how to prevent the signs of aging the eco-friendly way with this list of the top green brands.
Created by a professional shiatsu practitioner Amy Galper, the Buddha Nose line is all about living a greener lifestyle. Her line features twelve distinct products containing a unique blend of USDA certified organic ingredients and herbs. Find out which items are fan favorites and why these cosmetics are worth a try.
Saffron Rouge Certified Organic
This online sensation is part of a family owned green business that offers a variety of natural skin care, and aromatherapy items. Discover what this growing mom and pop shop has to offer green customers seeking alternatives for their current cosmetics. All of their products are petroleum-free and come in eco-packaging.
Spa Inspired Products for Natural Skin Care
Pampering is better when it's green. Learn the importance of developing a natural skin care routine at any age using various spa yet eco-friendly related products. Select the best types of organic face cloths and rich lotions for relaxing the day away. Get results without the harsh abrasives.
Louise Galvin Sacred Locks Review
A carbon neutral hair care line for green shoppers looking for a quality shampoo and conditioner. Made with an assortment of essential oils and organic botanicals this product has earned a reputation as one of the best all natural lines around. Learn how it compares to its competitors in this thorough review.
Saving cash doesn't mean you have to cut corners. Here are three cost-effective ways to green your personal care routine. You can reduce your costs while still maintaining quality.
Review of Physicians Formula Organic Wear Makeup
Designed specifically to address women with sensitive skin this popular cosmetics line has created a 100% organic form of makeup. It's completely free of toxic chemicals and comes in a lovely eco-packaging instead of hazardous plastic containers. Find out why this revised formula is worth trying.
Top Non-Toxic Nail Polishes and Removers to Use
Many popular nail polishes are made of highly dangerous chemicals ranging from toluene to formaldehyde. Choose beauty over poison and go green with safe non-toxic alternatives. There are several eco-conscious companies that offer a variety of striking colors with less abrasive ingredients.
Best Eco-Friendly Mascara Brands
Although makeup is rarely seen as green there are a few great cosmetic companies that produce high quality mascara using natural ingredients. Discover how topline brands square up in the sustainability stakes.
Tips for Removing Makeup Naturally
Pick up time-tested beauty secrets that utilize wholesome organic ingredients to remove makeup residue. Here's a rundown of the top 10 natural removers that Mother Nature herself created as well as tips on mixing banana, soy milk, or aloe vera to create healthy smooth skin.
Lip balm adds an extra sheen to our pout. Why spend unnecessary dollars for petroleum dense balms when you can make your own balms using organic ingredients?
Avoid toxic bath bombs when soaking in the tub by self-pampering the green way. Synthetic products can lead to dry skin so try raw essential oils to not only smooth the skin but calm the soul. Using relaxing oils like ginger or peppermint can make any bath experience heavenly.
The ABCs of Essential Oils for Beautiful Skin
Protect your skin using key essential oils. Homemade skin care products are the best at ensuring only the best natural substances come in contact with your body.
Discover the amazing benefits of olive oil and how to boost any moisturizer with it as well as other tricks of the trade.
Simple Face Mask Recipes for Your Skin
Anyone can use common items located in their kitchen to create effective green beauty products of their own. These simple to make face mask recipes are superb treatments for dry patches, wrinkles, and acne. Why bother going to the department store when everything you need is right in your kitchen?
Using Baking Soda as Facial Cleanser
Baking soda's powerful cleaning abilities have always been known but few are aware that it is also a green beauty alternative for many of the harsh cleansers on the market today. It may look too rough to be used on delicate skin, but with the right organic mixture it can be transformed into the ultimate facial cleanser. Get tips on how to add this inexpensive product to your daily routine.
Make Your Own Homemade Body Scrub
Body scrubs are one of the easiest homemade beauty products to make. They usually only consist of one or two ingredients that can often be found within your kitchen cupboards. Learn how to concoct virtually any skin exfoliating scrub in seconds. Save loads of money and time with this natural recipe.
How to Exfoliate Your Skin Naturally
A great method to restore the skin's natural healthy glow is through exfoliation. There's no need to buy scrubs and masks containing toxic ingredients when they can be made at home using common foods that we eat every day. Oatmeal, different kinds of fruits, or coffee grounds have the ability to exfoliate the skin while nourishing it with alpha hydroxyl acids and vitamins.
Homemade Shaving Cream for a Cleaner Earth and Better Skin
Skip the heavily chemically based products for a greener shaving alternative. Learn how to make homemade shaving cream that will not only soften skin but protect the environment as well. It's easier than you may think.
Greening up your grooming can make a dramatic difference in your health and the state of the planet. Reducing your carbon footprint by endorsing organic products prompts change. The more consumers that buy green the less hazardous by-products are dumped and released into the air. Keep plastics from piling up in landfills and your body as pure as possible with these organic cosmetics and homemade beauty recipes. Become a natural beauty inside and out.
Bookmark this guide as I will be updating it as new reviews and organic beauty recipes become available to assist you in your green living journey.
References
Source: Author's own experience.

Image Credit: WikiCommons/KaurJmeb