Review of the Creative Zen Stone (Pink, 1GB)
Creative Zen Stone (Pink, 1 GB) Review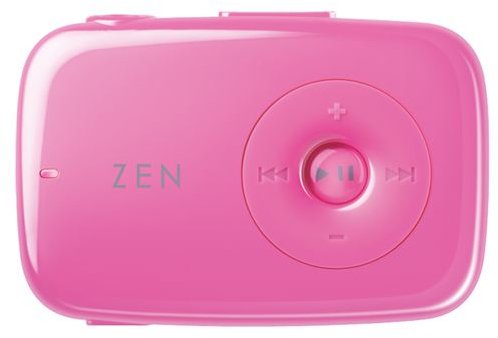 The Creative Zen Stone is a cheap MP3 player which is aimed at budget shoppers who are interested in music. There are two main variants of the Zen Stone. There's the Zen Stone with no display and a Zen Stone Plus with an OLED display. Both are good deals and are priced quite low.
In this review, I will cover the Creative Zen Stone and list its specifications, features and the performance it offers.
The Creative Zen Stone also has another version Creative Zen Stone with Built in Speakers. It is priced slightly more than the Zen Stone and comes in a 2 GB version. The Creative Zen Stone comes only in a 1 GB version.
Creative Zen Stone Specifications
Dimensions: 53.67 x 35.34 x 12.82 mm
Weight: 18.5 gms
Storage Capacity: 1GB
Battery Life: 10 hours continuous audio playback
Battery Type: Rechargeable Li-Po battery
Audio Formats: MP3, WMA, Audible
Transfer Protocol: MSC
Connectivity: USB 1.1/ 2.0
Price: $39.99
Design (3 out of 5)
The Creative Zen Stone has a nice cute design. It is quite compact with dimensions of 53.67 x 35.34 x 12.82 mm and weighs only 18.5 gms. It was launched about 2 years back and was one of the best budget offerings at that time. Now things have changed a bit and there are other options like the Philips GoGear Vibe and the Philips GoGear Spark which offer better features at nearly the same price.
The Zen Stone's body is composed of plastic but the build quality is really good. It is available in multiple colors: Zen Stone Pink, Black, White, Green, Red and Blue. The Zen Stone Pink 1 GB version is very popular among teenage girls.
There is a headphone jack on the top and a mini USB port on the bottom. On the left, there is a battery indicator. The player controls are on the front face. The button in the center acts as the power button as well as the play/pause button and the +/- can be used to adjust volume. The left and right buttons can be used to change tracks. There is also a playback switch at the top which lets you switch between different modes.
Features (2 out of 5)
The Creative Zen Stone is light on features. It supports the MSC transfer protocol using which you can transfer music to the Zen Stone through the mini USB cable. It supports the MP3 and WMA music formats and works on the Windows, Mac OS X and the Linux platforms. You can either play tracks in the Repeat or Shuffle modes. It also has a Folder Skip button which lets you switch between folders fast.
Performance (4 out of 5)
The sound quality of the Creative Zen Stone is in line with other Creative players. It is really good and can easily satisfy your aural urges. Creative promises just one thing with the Zen Stone: excellent audio quality and delivers on that. It comes with a set of earbuds which are really nice. You can also use your own earbuds using the audio jack. It has a rather short battery life of about 10 hours audio playback.
The Verdict (3 out of 5)
The Creative Zen Stone is a nice budget MP3 player which offers no frills but delivers completely on audio quality. It is available in a 1 GB version in the pink, black, white, blue and green models. The Creative Zen Stone Pink 1 GB is the most popular version. There is also another version with a built in speaker for a slightly higher price.