Archos 1 Vision Review: Is This MP3 Player a Good Buy?
Archos 1 Vision Review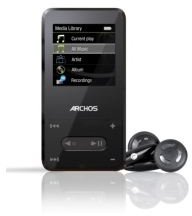 Archos is one of the most successful manufacturers of dedicated MP3 players and portable multimedia devices. It is one of the leaders in the high-end PMPs but is also venturing into the low budget segment. The new Archos 1 Vision is an inexpensive MP3 player with good audio quality and can also manage video playback, though not well. It has a lot of other features which I will mention in this review.
Archos 1 Vision Specifications
Dimensions: 76 x 39 x 9 mm
Weight: 28 gms
Display: 1.5 inch LCD display, 128 x 128 pixels
Audio Formats: MP3, WMA, WAV, FLAC
Disk Capacity: 4 GB
Features: Photo viewer, Video playback, Voice recorder
Color: Black
Battery Life: 21 hours music playback
Protocol: MSC
Design (3 out of 5)
The Archos 1 Vision isn't much of a looker; it has a boxy design which is unremarkable. It is a bit outdated in terms of its looks. It is quite compact and very light with dimensions of 76 x 39 x 9 mm and a weight of 28 gms. The body is composed mostly of plastic and the build quality is quite good. It can easily handle bumps and falls and should last for a long time.
It has a small 1.5 inch LCD display which has a resolution of 128 x 128 pixels. The display is useful for changing tracks, browsing through your music, etc. but isn't really suited for viewing images or video files. Below the display are 6 control buttons. The button placing is a bit awkward but you will get used to it once you use it. It also has a 3.5 mm audio jack, a mini USB connector and a power switch on the bottom.
Features (3 out of 5)
The Archos 1 Vision has a simple user interface. The main menu has icons for Music, Video, Photos, Record, Files, and Settings. The Music section can be used for music playback and to browse through your music files. You can view songs by title, artist, or album. It has a feature called Favorites but doesn't support playlists. The interface is quite responsive but the display takes some time to refresh. The user interface isn't exactly top notch and definitely doesn't have the best graphics and icons, but gets the job done. It also has an equalizer and a sleep timer.
You can also view images and videos stored on the player but they look really bad on the 1.5 inch display. It also comes with a voice recorder feature.
Performance (3 out of 5)
The sound quality of the Archos 1 Vision is really good. This is the one place where it is expected to perform well and it doesn't disappoint at all. The audio playback quality is just as good as any other budget player out there if not better. You can also use it with a high-end headset through the 3.5 mm audio jack for improved sound quality. It supports the MP3, WMA, WAV and FLAC file formats.
It can also be used as a storage device with decent file transfer speeds. It has a rated battery life of about 21 hours which is quite good.
The Verdict (3 out of 5)
The Archos 1 Vision is a very nice option for those who want a cheap music player with good sound quality. It is priced very low at around $30 for the 4 GB version. You could also get a Philips GoGear Spark with a better display and FM radio for slightly more.