Reviewing the Belkin Folio Kickstand Case for Microsoft Zune
Case and Kickstand in One
Belkin offers the Folio kickstand case for the Microsoft Zune. These cases perform double duty. They protect your Zune from scratches and scuff marks. But, you can also use it as a way to stand up your Microsoft Zune.
This is especially useful if you want to be able to watch movies or videos hands-free. The Belkin Folio kickstand case for Microsoft Zune costs nearly $40, making it a bit more expensive than other types of cases. So, is it worth the money?
Body (4 out of 5)
The case looks almost like a wallet or even an extremely small book cover. It's made of leather, and it has black stitching around the edges, giving it quite a stylish look. It comes with a wrist strap that connects to a small metal grommet located on the side of the case.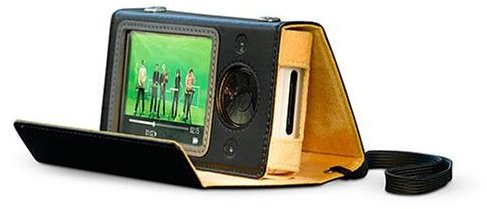 The Folio kickstand case doesn't have any marking on it. The inside of the device is made of tan microfiber. The Zune slips inside an area with a plastic screen (holster). A gray leather border surrounds the plastic screen. This screen allows you to view your Zune, without having to worry about anything scratching the screen. This section also has an opening for directional pad.
The buttons of the Zune, however, are covered by material. Generally, this material is pretty thin so you still can push the buttons. But, you may see a lag in response. While slightly annoying, it's not really a deal breaker. The headphone jack, hold switch and cable insert are exposed. So, you don't have to remove your device to access these sections. All of these sections snap together, ensuring that your Zune won't fall out.
Usefulness (4 out of 5)
The dimensions of the case are 3 inches wide by 4.6 inches high by 1 inch thick. This is pretty hefty for a protective case, and it does add a bit extra weight to your Zune. The case completely covers the entire length of the Zune, and it is actually slightly larger the Zune.
The extra leather on the case serves two purposes. It provides cushioning if you drop your Microsoft Zune. But, you can unsnap the two inside sections of the case. These sections fold up and act as the kickstand, keeping your device upright. While the case is made of leather, it keeps your Zune steady as you watch the screen. You can then watch your videos for as long as you want to, freeing up your hands for other tasks.
Overall Value (4 out of 5)
Overall, the Belkin Folio kickstand case for Microsoft Zune is extremely stylish. The leather and stitching makes it look like a high-end wallet. The extra leather makes the case very bulky so you won't be able to fit it into a small jeans pocket.But, this shouldn't be a deal breaker, especially since you can use this extra leather as a kickstand. Plus, your Microsoft Zune will have all that extra protection. This is great for anyone that is clumsy or is just rough on their electronics.
Despite the case's price tag, it's well worth the money. And, you'll enjoy the extra protection and convertibility of the case. If you want the luxury of not having to constantly hold your Zune, you should invest in this product.
References
Stanford, Judie. "The Belkin Folio Kickstand Case for Zune Review."