10 Cheap Sansa MP3 Players: The Best Budget Buys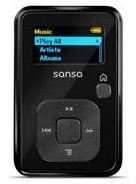 SanDisk Sansa Clip+ 2 GB MP3 Player
Featuring a 2GB storage for your MP3 files, this Sansa MP3 player also features an FM radio, long battery life and voice recorder. You can extend its features further by adding preloaded content cards into its memory card slot, such as slotRadio and slotMusic cards. It also allows you to load podcasts and audio books onto its memory card. Other features of this MP3 player include an easy-to-read screen, intuitive, searchable menus, and high-quality audio. The MP3 player comes in red, blue or sleek black undertones. It supports MP3, WMA, secure WMA, Audible, Ogg Vorbis and FLAC sound files. (Price: $32.99)
SanDisk Sansa Clip+ 4 GB MP3 Player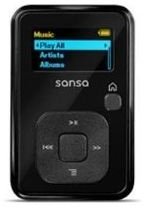 If the Sandisk Sansa Clip+ 2GB MP3 Player is not enough for you, how about adding 2GB more of storage? The SanDisk Sansa Clip+ 4GB MP3 player adds 2GB of extra storage to the player's onboard memory storage. It also has the usual features of other Sansa Clip MP3 players - slotRadio and slotMusic cards support, among other features. (Price: $41.99)
SanDisk Sansa e250 2 GB MP3 Player with microSD Expansion Slot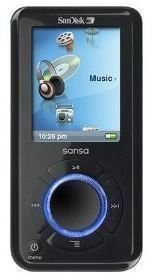 Unlike the previous Sansa MP3 players, the Sansa e200 features a 1.8-inch TFT color screen which has more advanced navigational features as well as easy-to-use interface. It also has durable Liquidmetal backing and produces superior sound quality. It also supports Microsoft PlaysForSure subscription music. Another nice feature of this MP3 player is that it supports photo and short video playback. It also has a microSD card slot and lets you listen to music for up to 20 hours. Other features of this MP3 player include - digital FM Tuner, FM recording, and voice recording. It supports most digital music formats as well as MPEG-4 and WMV video files. Priced at $[38.00](/tools/SanDisk Sansa e250 2 GB MP3 Player with microSD Expansion Slot), this is definitely one of the best cheap Sansa MP3 players.
SanDisk Sansa e270 6 GB MP3 Player with SD Expansion Slot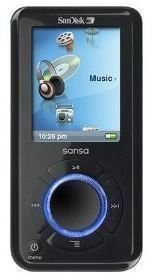 The Sansa e200 Series MP3 players are the flagship products of SanDisks audio lineup. Created by the leaders in flash memory, this flash-based player provides everything you need for music, photo, and video clip playback.The very attractive, sleek design includes a 1.8 TFT color screen with advanced navigational features and an easy to use interface. You can also avoid scratches and cracks with the durable metal backing. The Sansa e270 provides superior sound playback and supports Microsoft PlaysForSure subscription music. The SanDisk Media Converter supports most image formats to enjoy photos and small personal videos.(Price: $49.99)
SanDisk Sansa c240 1 GB MP3 Player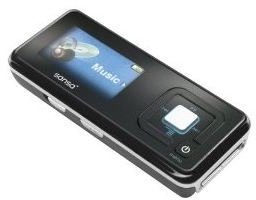 If the price of the Sansa e270 MP3 player is not within your budget, you might want to score the Sansa c240 1GB MP3 Player instead. It's definitely cheaper but only gives you 1GB on-board storage memory. Feature-wise, you practically gets the same functionality including - support for various music formats (MP3, WMA, WAV, DRM WMA, and image files such as JPEG, TIFF, PNG, BMP. The MP3 player also has a digital display with up to 64,000 colors. It allows you to display album covert art for the song that you are currently listening to. The MP3 Player is available in black and comes with earphones, USB cable and of course a rechargeable lithum-ion battery. (Price: $19.99)
SanDisk Sansa m230 512 MB MP3 Player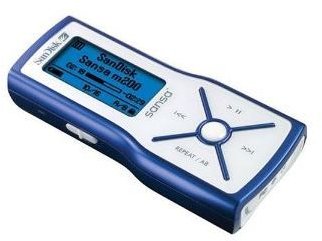 If you don't require too much storage for your MP3 Player, you might want to consider the Sansa m230 MP3 player. It only comes with 512MB on-board memory which is good for 8 hours of MP3 and 16 hours of WMA audio files. It supports Microsoft PlaysForSure and comes with integrated FM radio with 20 presets. Other features of this MP3 player include - built-in microphone, voice recorder, and 19 hours of battery life. (Price: $25.00)
SanDisk Sansa Express 1 GB MP3 Player

This cable-less, Flash-based MP3 player combines a digital music player, FM radio and microphone in one tiny device. It provides you with 1GB of flash storage. Other features of this MP3 player include - a microSD expansion slot, recording functions, USB cable support and FM tuner. (Price: $21.99)
SanDisk Sansa Clip 2 GB MP3 Player

Aside from the lack of support for slotRadio and slotMusic, the Sansa Clip 2GB MP3 Player is practically the Clip+ 2GB model. Both MP3 players offer an FM radio, recording functionality, support for MP3, WMA and secure WMA and audible file formats. This MP3 player is available in five colors. (Price: $33.95)
SanDisk Sansa c250 - Digital player / radio - flash 2 GB - WMA, MP3 - pink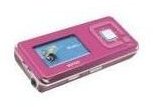 One major reason why you will purchase the Sansa c250 is that it comes in pink, so you must love the color to appreciate this MP3 player. But of course, it comes with nice features despite its relatively cheap price. These include - up to 2GB storage, color screen display for covert art and photo thumbnails, easy-to-use interface for sorting and playing music, a digital FM tuner with 20 preset stations, FM recording and voice recording. (Price: $25.00)
SanDisk Sansa Clip+ 2GB MP3 Player

Featuring a sleek, ultra-thin digital form factor, this MP3 player provides you with 2GB flash memory which can store up to 500 MP3 files. It also features an FM Tuner with recording capabilities, a built-in mic for voice recording and it supports MP3, WMA, WAV, Audible and protected WMA as well. The MP3 player also has a 4 line OLED display. (Price: $37.00)
This post is part of the series: Sansa Fuze and Fuze+ MP3 Media Players
Enjoying and using the Sansa Fuze and Fuze+ MP3 compact media players.