iPod Shuffle vs. Sansa Clip: Which is The Best MP3 Player?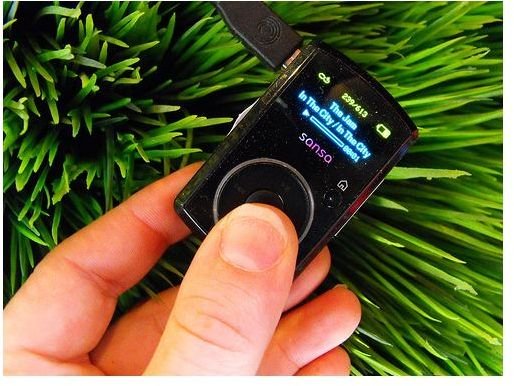 The iPod Shuffle and the Sansa Clip inhabit the same small niche. Both players make use of solid-state flash memory. This eliminates the need for a hard drive, meaning the players can be smaller and are better suited for use during exercise. The lack of a hard drive does limit player capacity somewhat, though flash memory is constantly improving. Both devices are designed with exercise in mind: both the Shuffle and the Clip have built in clips, so users can attach the devices to their clothing while exercising. This, plus the small size and weight, make both mp3 players excellent choices for runners or other exercisers.
Though the iPod Shuffle enjoys great popularity due to its association with other iPods, the Sansa Clip is actually very comparable and in some ways better. Read on below to see some of the pros and cons of each player.
iPod Shuffle vs. Sansa Clip
Sansa Clip
The Sansa Clip, manufactured by SanDisk, comes in four capacities: 1, 2, 4, and 8 gigabytes. With that much storage space, the player can hold about 250 to 2000 songs.
Features
Can play MP3, WMA, Secure WMA, and Audible formats.
Built-in radio tuner allows users to listen to FM radio.
15 hour battery life.
Built-in microphone.
Sturdy, built-in clip on the back for easy attachment.
Negatives
Radio reception is generally poor due to the lack of an antenna.
Image: Flickr - Rutlo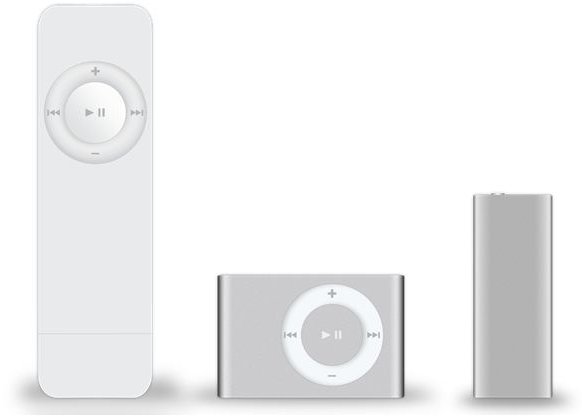 iPod Shuffle
The iPod Shuffle is, of course, manufactured by Apple. This player has been around for years, so there have now been several generations. This overview is specifically about the latest generation. The players use flash memory, and come with 2 or 4 gigabytes of memory. They are also available in one of five colors: black, silver, green, pink, and blue.
Features
Tiny size (just 1.8 inches long, .7 inches wide, and .3 inches thick) - just larger than a paper clip.
Supports MP3, AAC, Audible, WAV, AIF, and Apple Lossless audio formats.
Computerized voice reads the song title when a headphone button is pressed.
iPod Shuffle headphones have a built-in remote
Negatives
The player has no video screen, making it difficult to navigate.
Only 10 hours of battery life.
No FM tuner or microphone.
Image: Wikimedia Commons - iPod Shuffle Family
Conclusion
The Sansa Clip's largest capacity is twice that of the Shuffle. However, the Sansa Clip is also larger than the iPod; its dimensions are 2.2 inches long, 1.4 inches wide, and 0.5 inches thick. It is still more than small enough to tag along on a run virtually unnoticed, though. The Sansa Clip is also cheaper than the Shuffle. The price of a Sansa Clip ranges from about $30-$55, depending on the capacity and the store. The iPod Shuffle costs between $55-$65, for the 2 GB and 4 GB models, respectively. Another major sticking point is the iPod Shuffle's lack of a screen. This cuts down on size, but makes it difficult to listen to your favorite songs without a lot of effort.
To sum up the iPod Shuffle vs. Sansa Clip debate, the Sansa Clip is in many ways a better MP3 player than the iPod Shuffle, though both are good options. Users who value size above all else may prefer the Shuffle, but for most other users the Sansa Clip is the better option.