Top Five - What is the Best Portable MP3 Player for Runners?
MP3 Players for Working Out
It always helps to have music playing while you are exercising, especially when out jogging or running. People used to carry bulky tape and CD players with them, or some just used small radios. Now you can carry an MP3 player full of music or audiobooks to accompany your workout routine. So, what is the best portable MP3 player for runners? Here's a look at 5.
There are some things to consider in deciding what is the best portable MP3 player for runners or joggers. First off, size is a big deal. You want something small and easy to use. Large buttons are helpful, too. You also need to be able to put the thing somewhere. This means clipping it onto your clothing or strapping it onto your wrist so you don't have to carry it everywhere you go. Being able to handle the outdoors is another thing, since you never know when it might start raining while you are out. A good case might help in that regard.
1. Apple iPod Shuffle
I think the best MP3 player for working out is the iPod Shuffle because it is so small and easy to use. It's so incredibly small that it will fit anywhere, plus it includes a clip to attach to your shorts, shirt, or anything else you have on. Because it weighs next to nothing, you won't even notice it being there, and this is the idea. Apple even makes a polished stainless steel version for those of you who are rough on equipment. The main downside to the Shuffle is that there is no screen on it, but do you really need to look at a screen while working out? The 2 GB models start at just $59, which is a steal.
2. Apple iPod Nano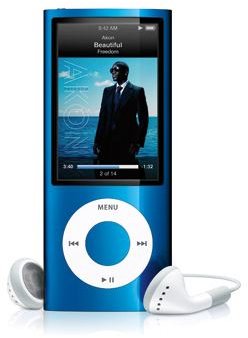 Personally, I think the iPod Shuffle is better suited for outdoor use like running, but the Nano comes in a close second with its screen and movie playing ability. This thing would be perfect for a treadmill or some other stationary type device, or you could still take it outdoors with a proper case that allowed for attachment somewhere on your person.
The new iPod Nano also works as a pedometer. Apple has teamed up with Nike to make some software that lets you turn your Nano into a workout routine analyzer. It's called the Nike + iPod Sports Kit and it costs $29 extra, but it's definitely worth checking out.
3. SanDisk Sansa Clip+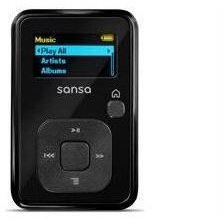 SanDisk makes a model called the Sansa Clip+ that is a perfect cross between the iPod Nano and iPod Shuffle. It is very small, but does have a little screen for showing MP3 information like artist and song name. It also has a built-in belt clip that lets you attach it to your clothing for a run. Right now, you can get an 8 GB model for less than $60, which is pretty awesome. The 2 GB models are less than $40.
4. Creative Zen Stone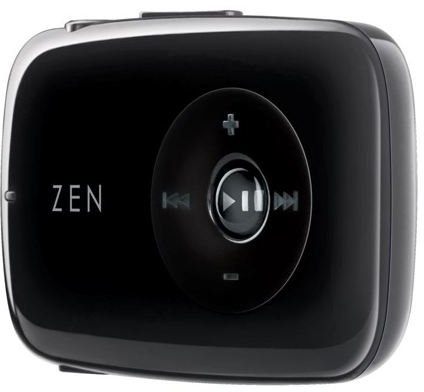 The Creative Zen Stone is great not only because it is very small, but also has a speaker built onto it. The speaker may not sound as great as a pair of headphones, but it is still a nice option. The iPod Nano has speakers, too. This MP3 player does not have a screen, but it does have a big button-based menu that is typical of these devices, so it's fairly self explanatory how to use. If you want to get a clip or case with a strap, it'll cost you a little extra.
5. Philips GoGear Clip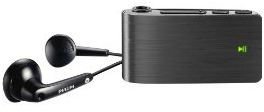 Philips blatantly ripped off the design for the previous generation iPod Shuffle, so much that at first glance you can't tell them apart from a design perspective. Even so, you can buy the 4 GB model for less than $50, which is quite nice. It has no screen, but it does feature a built-in clip for attaching to clothing. In addition to playing MP3's, it also has an FM tuner so you can listen to the radio while you work out.