iPod Touch Help: How to Switch Computers, Sync to Multiple Devices, Share Files & Fix Problems

iPod On the Move
The iPod was originally developed around the model that people have essentially a single home computer that they operate on. This computer is where they have acquired and collected their music collection, and so it made sense for it to be the single place where you sync your iPod to as its home base. That is no longer the case in many situations, and people may be plugging their iPod Touch into multiple computers as they travel around and even share media. This is fairly easy enough with the iOS and you can do it fairly regularly as long as you know how to sync an iPod to multiple computers.
Performing the Sync
The first, and primary, computer you sync your iPod Touch to is going to be your Home computer when you are in automatic mode. Here you will automatically sync the contents of the iTunes library to the iPod, making this a primary connection to between the two of them. When you sync to another computer you will then be asked if you want to make this new computer the Home computer, and you could then delete the audio off of your iPod Touch and replace it with the new library. You could also choose the Transfer and Sync option that would take the contents of your iPod, transfer them to the new computer, and then sync your iPod Touch to that computer. This automatic setting would then allow you to just move your media from one computer to another, syncing the contents over to that computer, and then acquiring the new contents from the computer. In this way you actually combine the contents of one iTunes library with another. When you head back to the
first computer you will be asked to do the same thing, and when you are finished there will be the same contents in the iTunes of both computers.
The easier way sync an iPod to multiple computers is to just go through the manual mode when you are first being prompted, and you do this by just selecting Cancel when you are being given the sync or erase options. Find your iPod under the Device heading in iTunes and select it. Go into Summary and then choose to "Manually manage music and videos," and then apply those changes. Now what you will be able to do is to drag music directly onto the device or even make playlists that are there for the device specifically.
Problems
It is not uncommon to find issues coming up if you are going to constantly sync things like Calendars, Notes, and Contacts between multiple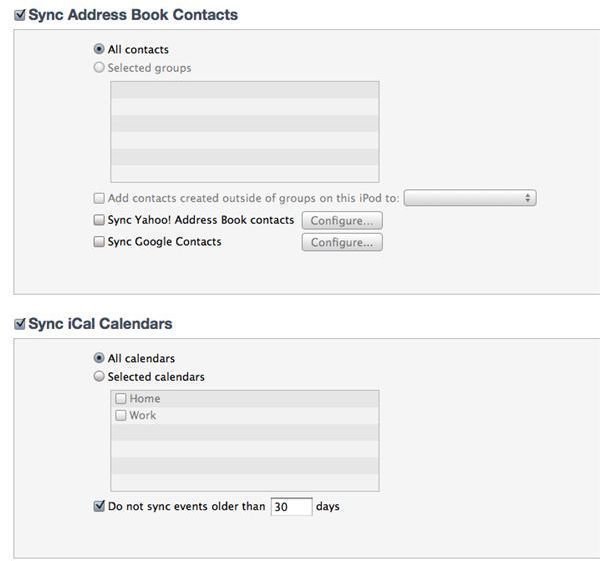 computers. This does not mean that a single sync so that you can transfer them from one computer to another will cause problems, but instead that you can expect losses of information if you do it continually. To get around this you can try to sync with MobileMe, Microsoft Exchange, or even using an Apple OS X Server. You should try to avoid this when possible, and you can choose to just use multiple computers for media and then to keep just your single Home computer used for things like Calendars and Notes. You can also bypass this by avoiding syncing to hard Calendar items and instead sync with Calendars in your Gmail or Yahoo! Accounts, which is the best option if you want to continue to be mobile. They are then designed to come from various sources and will allow you to centralize your entire system remote from a hard computer location, which will play better for a very mobile lifestyle. There is also an option for Contacts in Gmail and Yahoo!, but they may not be as user friendly and social networking connected as your regular iPhone Contact tool is.
Working It
When you are trying to sync an iPod to multiple computers you may not even be doing it so that you have access to the library, but instead so you can update, upgrade, or begin a new iPod Touch. Your Apple ID will allow you to use the device in conjunction with up to five other computers without any problem. What you will not be able to do when syncing multiple computers, however, is be able to simply use your iPod as a hard disc storage tool like a flash or thumb drive. It is not able to just handle random file types for storage, and unless it is jailbroken it will be specifically tied to the files that are supported for use on the iOS. These would be things like apps, videos, e-book, music, and photos.
References
Screenshots by Shane Burley