iPod Facebook Troubleshooting: How to Fix Common App Problems & Work With the Tools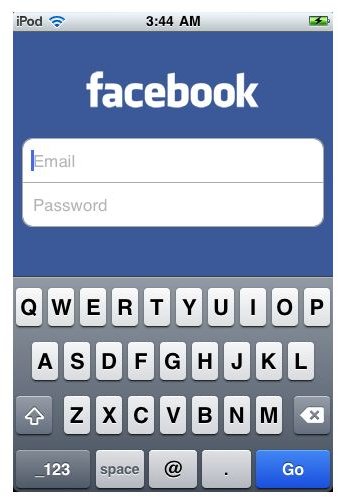 Social Networking
Facebook has become an iPod Touch social networking standard, mainly because its popularity extends far beyond the limits of your computer. With the standard Facebook app you have the ability to read and send messages, browse through posts, and essentially do all the functions that make Facebook the addictive gem it is. Since it is not really a built in function and relies on an app interpretation of a web service, you can find that there are issues that pop up that can be somewhat difficult to fix. Here is a look at some iPod Facebook troubleshooting methods to address common app related issues.
Running Slow
One of the more ambiguous troubleshooting topics is what to do if Facebook is slow on the iPod Touch, which is not a direct situation. The reality is that many things could be at play to make it slow down, but the first thing to check is your Wifi connection. If Facebook is slow on your iPod Touch see how your Internet connection is for other relevant applications or Safari. You may need to disconnect and reconnect to the network, which is a common issue when you suddenly have slow or no service. If this is not helping out you may want to simply try to delete and reinstall your Facebook iPod Touch app, which is simple enough since it is free and can be handled easily over a Wifi network from the App Store. You can simply press down on the app icon until it starts shaking and then hit the "X" button in the upper right hand corner of the icon. When you are asked if you want to delete it indicate that you do, then go and search for it in the App Store. Go ahead and reinstall it even though it indicates that it has already been downloaded, and then you will be asked to start out by entering in your Facebook account information. It should only take you a matter of minutes to get back to where you started.
The iPod Touch works in a similar way to a fully functional computer, and when the available hard drive space is close to full then all apps will begin to run slightly slow. You can begin to try to clear out space, yet if this is the case you should turn toward music and video media rather than apps since this takes up a substantially larger amount of your storage space. Try going at least half a gigabyte less than a full hard drive, do a full sync, and try opening the Facebook app again. Make sure to actually de-select the media from your computer's iTunes otherwise you cannot ensure that they will not be re-synced.
No Log In
Another fairly common iPod Touch Facebook app problem that comes up regularly is if you cannot log in with the Facebook iPod application. Again, this is not a straightforward issue and can be either with the app itself or your Facebook account. If on several
attempts you still cannot log in with the Facebook iPod application, move over to Safari and try to log in to Facebook manually. If you cannot do this then there is a problem with your account, and likely you have the wrong password or username. If it does allow you to log in then you are going to need to take a look at the app specifically, and this can be a problem. Often times once you log out of the Facebook app, which is easy to do on accident, it will simply "grey" out your account display and you will not get an option to log back in. To deal with this you will need to return to the same iPod Facebook troubleshooting method that you applied for a slow connection and uninstall and reinstall the application, as this is actually going to be the easiest solution to the problem.
The second thing that you have to note that is on a successful log out of the app the time that it takes can be substantial, so you should make sure that you watch it to ensure that it has successfully logged out. If another person attempts to then log in afterwards if it has not successfully logged out then they cannot log in with the Facebook iPod application, and instead it may just open up the previous Facebook account that was up on the app. The Facebook app is not generally used to log in and out of accounts regularly, and neither is most social networking apps. Instead, it is much better to stay logged in consistently with the same Facebook account for the entirety of use so that you continue to have easy access.
Frozen
The iOS is relatively stable, but apps still have a tough time staying open and operating correctly when there is an overload to the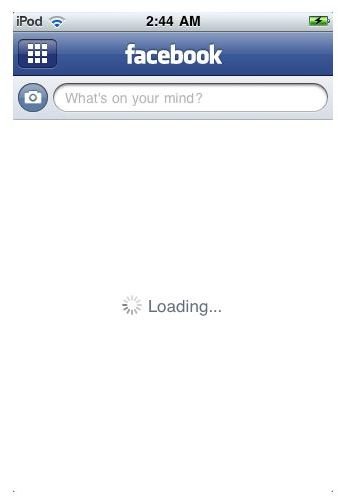 system. This can cause make Facebook frozen on the iPod Touch when you are using it, making it unable to navigate around correctly and possibly even to exit the program. This is especially annoying when Facebook is stuck on your friend's page, which can be embarrassing if someone else is to use it. This can be traced back to a number of iPod Touch Facebook app problems, usually either a problem with the system or Facebook itself. The best response is to try to close out by hitting the Home button, and if you can then to close out the app completely from your Multitasking. If Facebook is still frozen on the iPod Touch even after hitting the Home button then you will want to do a hard reset on your iPhone and turn it off and on manually. To do this you will hold down on the Home button and the Sleep / Wake button for a few seconds until the device turns off. Wait a few seconds and apply the same button combination to start it up, and you will know it has when you see the Apple logo in the center of a black screen.
If Facebook continues to be frozen on the iPod Touch, or your it's still getting stuck on your friend's page, then this could be a functional problem with your software. The best option is to change your app situation by first trying to update it from the App Store, which oftentimes fixes bugs that you are susceptible to. The second option is to uninstall and reinstall the Facebook app. If all else fails then this is likely an issue at Facebook itself, even if it does not have a problem when doing a standard log in from an internet browser. In this case you should simply wait a day or two to see if the issue is resolved, which is also an option when you cannot log in with the iPod Facebook application.
Chat History
Since Facebook acts as one of the many communication tools that we have on the iPod Touch, many people are interested in the ability to clear out Facebook chat history saved on the iPod Touch. This actually presents a little bit of a problem with the new additions to Facebook made recently where the Messages and Chat function are actually united into a joint message system. The issue here is that you cannot just get rid of Facebook chat history saved on the iPod Touch because it is actually just saved on Facebook, not the iPod Touch. To get ride of this chat history you will have to delete an entire conversation thread between you and another person, and it will not just be deleting it from the Facebook app but the account entirely.
The first option you have from your app is that you can Archive it, which takes it out of active accessibility yet is not a true "delete." To do this, go into the Messages section rather than the Chat section and locate your conversation. When it is open hit the button in the upper left hand corner with the curved arrow. The top option will be to Archive it, with other options such as Mark as Spam are more for internal messages rather than Chat / Message hybrids.
If you want to actually delete them then you will want to do this in your Facebook account in an internet browser. To begin you will take on the same process of going into that conversation in the Messages section. Go to the Actions option in the upper right hand corner of the display and you will get a number of pull-down options. Choose Delete Messages and you will get dual options for the conversation: Delete All or Delete Selected. You can then go through the conversation to choose what messages you want to be deleted or just to delete the conversation entirely. This will essentially strip the chat history from your account, and therefore from your Facebook app. You have another option from the Actions menu titled Move to Other that will essentially move the entire conversation so that it is removed from standard view and chat history, yet not technically gone in the same way as a complete delete would be. This is a better option if you do not want to get rid of it entirely, yet you want to not have immediate access to it or have it accessible to others. This may be important as all of your conversations are essentially now logged through the Message / Chat hybrid system that makes all conversations essentially continuous, in the same way that text messaging is.
Integration
Facebook remains an ever changing format, adapting itself to the new ways that people tend to use it. It was originally concieved of as a web based service, but now that mobile apps are a main way that it is employed then you will find that it will keep changing its interface and services to better utilize the mobile platform. The issues are likely to continue as no app, mobile or otherwise, is perfect, yet the basic functionality will only become more iPod Touch friendly.
References
All Screenshots by Shane Burley
Source: Author's own experience.
This post is part of the series: Troubleshooting iPod Touch Social Networking
Here are articles with "how to" guides, tips and tricks, and troubleshooting for iPod Touch social networking tools.