How to Find a Coby MP3 Player Driver for Your Coby MP3 Player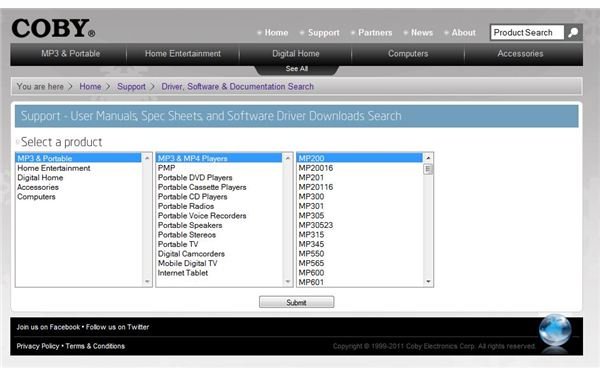 What is a Coby MP3 Player?
The Coby MP3 Player is a small MP3 player designed for those looking for something different to an iPhone but who are still huge fans of music. With a battery capable of over 8 hours of continuous playtime, and with its simplistic charging method and ease of use, there is a reason why the Coby MP3 Player remains a very popular choice for those looking for a high quality MP3 player.
The Coby MP3 player also boasts many easy of use functions including a 2-Inch LCD displayer, ability to view text files on the screen, and a touchpad interface. Another unique feature that it offers is an Integrated FM Radio allowing the user to listen to the radio if they feel like a change from their music.
What is a Coby MP3 Player Driver?
Like most hardware devices, the Coby MP3 Player uses drivers to interact with the computer. Without these drivers you would be unable to connect with your computer as it would not know what to do with the MP3 Player. The drivers are a type of special software that enables your computer to talk with the MP3 player. This in turn means that a lack of a Coby MP3 player driver would make you unable to move any music or songs to or from the MP3 player.
Where Can I Find a Coby MP3 Player Driver?
Coby MP3 Player drivers can be found in a number of different places, enabling you to download and install them. The best place to find these drivers is on the manufacturers website, you should then follow the step by step instructions to narrow down which type of Coby MP3 Player it is that you own.
First select "MP3 & Portable", followed by "MP3 & MP4 Players", and finally the exact make of player that you own. In the example shown on the left we have chosen the MP200 MP3 player. Then click "Submit" and some text at the bottom will appear showing "Available Downloads for…." depending on which MP3 player you chose. If there are drivers available for this product then they will show up here.
How Can I Download and Install a Coby MP3 Player Driver?
To download and install the Coby MP3 Player driver simply follow these instructions. Click on the download link that appeared above and your computer will begin to download the driver. When the software has been downloaded you should then double click on the "Setup" file to begin installing the driver, simply follow the step-by-step instructions during the installation process by choosing where you want the drivers installed.
Once the installation is complete, you will have the Coby MP3 Player driver on your computer and so will now be able to use your Coby MP3 Player to easily transfer music and synchronize with your computer.
References
Coby MP3 Player Website Screenshot - Leon Eardley
White, Mitchell - "Installing a Driver for a Copy MP3 Player" - eHow